On a day when we normally would have been surrounded by kids and grands, Dan and I packed our Thanksgiving feast into the wilderness and spread it out on a tablecloth overlooking a snowy landscape.
Chai tea, turkey sandwiches, potatoes and gravy, and veggies never tasted better.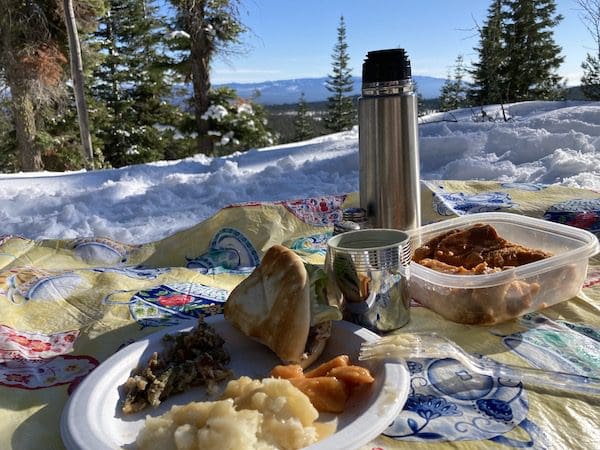 Oh, and pumpkin pie. Pumpkin pie never tasted better.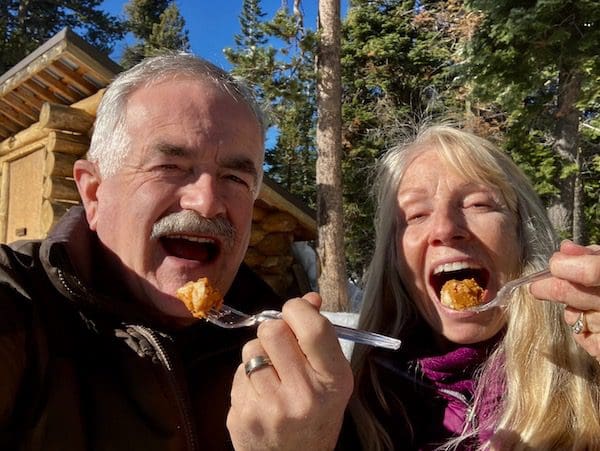 There on the side of a mountain, Dan and I talked about the things we're most grateful for.
Honestly, 2020 has been an epic year for us in more ways than one. (This is not to discount the hardships COVID-19 has inflicted upon so many people—physically, mentally/emotionally, and financially.)
I discovered a meme the other day: "Not everything is cancelled …" and then it listed a few not-cancelled things, like, love, and reading, and naps, and kindness, and hope. (Although one friend wrote: "My kids have cancelled my naps for about 6 years and counting.")
Which made me think of other things that COVID hasn't been able to cancel for Dan and me on this Thanksgiving Day …
Our ability to walk in oversized shoes on snow is not cancelled.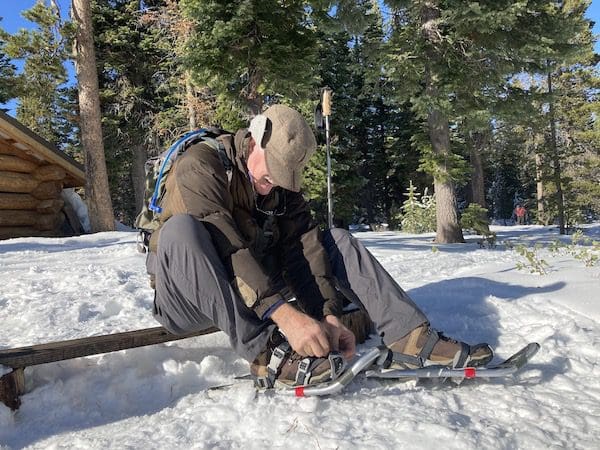 Our Thanksgiving feast—and our tastebuds—are not cancelled.
The fresh air is not cancelled.
FaceTime calls from family members are not cancelled.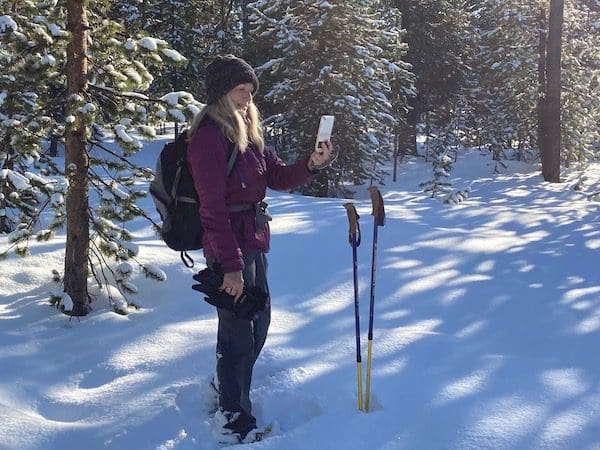 Our conversations are not cancelled.
Dan's life—even with recently-detected cancer—is not cancelled.
"Our marriage license was not cancelled!" chimed in my husband.
"Christmas movies are not cancelled!" my sister-in-law Cheryl contributed earlier in the day.
It's human nature, isn't it, to give more weight to our hard places—to the impossibilities and heartaches and struggles. To allow them to take up large amounts of space.
It's not human nature to speak gratitude and thanksgiving to God for all the taken-for-granted blessings that make up our everyday lives.
This admonition from Psalm 100:
Enter his gates with thanksgiving and his courts with praise; give thanks to him and praise his name. For the Lord is good and his love endures forever; his faithfulness continues through all generations.
"Negative things come up front more easily," my very wise husband Dan noted. "But even in challenging times, we can find positive things to give thanks for."
Agree.
One of the best quotes for 2020:
This is not the year to get everything you want. This is the year to appreciate everything you have.