"Wow. Didn't expect this much snow." Dan and I hadn't brought our snowshoes. Because our intent was to hike. In hiking boots.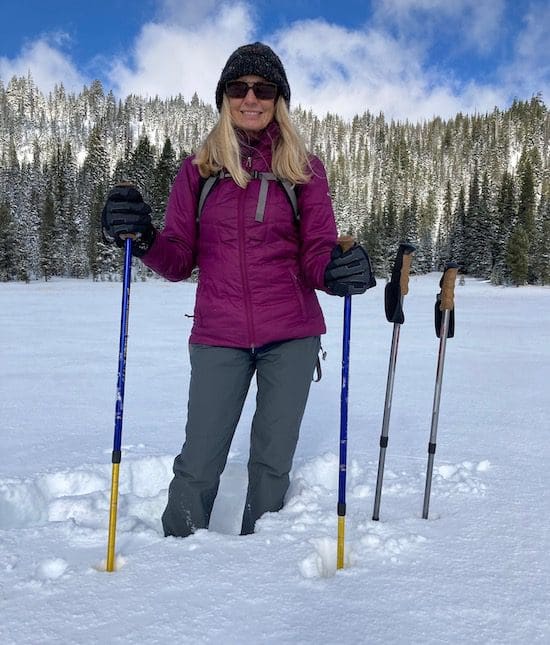 Plan A was a trek out to Todd Lake from the Dutchman Flat parking area. But the trailhead hadn't been cleared of snow.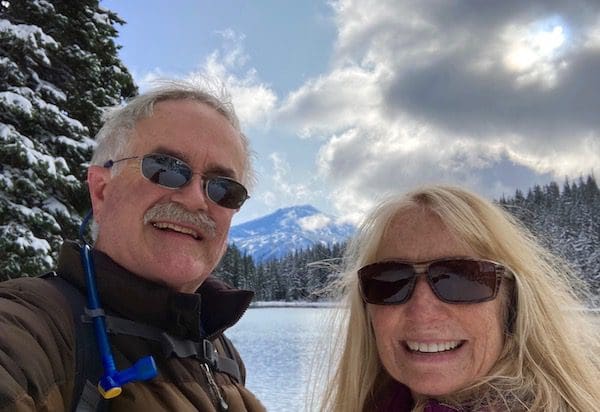 Plan B was to pick up the trail from Mt Bachelor parking area. But it was closed.
Plan C was to schlep up to the lake in the tracks of 4-wheel drive vehicles where we warmed our hands over mugs of Chai tea and shared our lunch with the gray jays and traipsed the perimeter of the lake in a crusty path as the sun shone in between bursts of clouds. And it was a glorious "Plan C" day.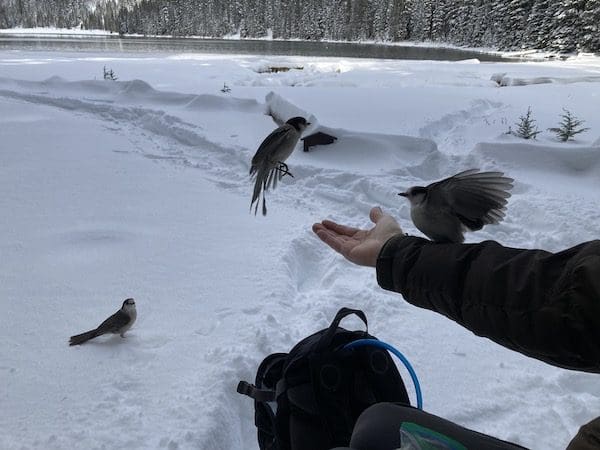 While we're on the subject of plans …
Staying single was my Plan A. Widowhood was a content place. I was my own person.
Some time passed and the opportunity to date presented itself. Plan B and then Plan C as I stepped into that scary minefield.
It didn't take long to burrow back into Plan A. Singleness. Really, the easiest route.
I didn't need permission from anyone to go wherever and whenever. I could write for long hours and forget to eat lunch and then have popcorn for dinner.
But then Plan D presented itself ("D" as in Dan).
Doing life with someone who's easy to do life with. The delight of taking adventures together. The joy of helping people in hard places … because we've experienced hard places.
God wrote Plan D and it was a better story line than I could have ever imagined.
These words from a letter to the ancient church in Corinth:
As it is written, 'What no eye has seen, what no ear has heard, and what no human mind has conceived'—the things God has prepared for those who love him. – 1 Corinthians 2:9
What if?
What if we can learn to accept the fact that not all our first plans are necessarily for our good? What if God's understanding of what's best for us is more far-reaching than our own understanding? What if God's Plan C—or D, or M, or Z—could be so much better than our Plan A?
We can. It is. It could.
This wisdom from Claire Cook:
If Plan A didn't work, the alphabet has 25 more letters.
Last week's Plan A was a hike from Dutchman Flat to Todd Lake.
Plan B was the same destination, but a different route.
Plan C was a snowshoe trek around a mountain lake in the cold and wild beauty—without snowshoes.
Funny how that happens, but this snowy adventure will be one of our favorite memories for a long time to come.
Side note: My honey carved our initials in the snow. And then he finished it off with a heart.
"Racking up the points, Lawry," I said with a grin.
Dan: "I might need them someday."