While my fiancé Dan and I were out on Hosmer Lake, eleven ducklings swam toward our kayaks.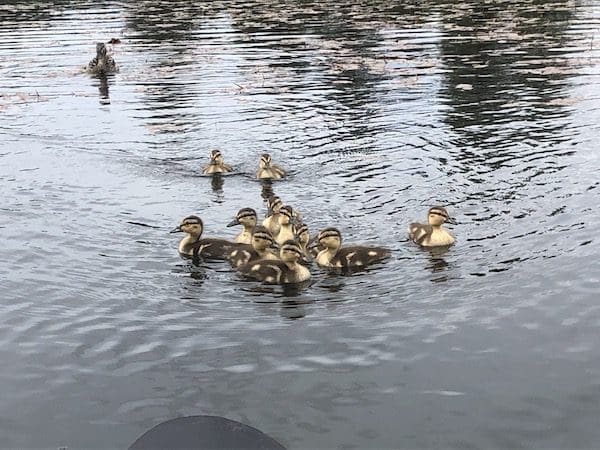 Their mama made haste to line up her little ones into a row, putting some distance between us and her brood.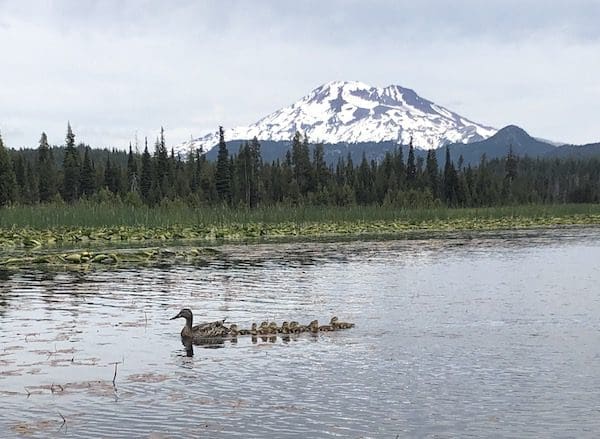 According to Quora, when someone says you have all your ducks in a row, they mean you're a "reliable, proactive, logical, level-headed person."
But is there such a thing as being too efficient, too organized? Having too many lists going at once?
Dan and I are both list makers (although I derive much more satisfaction from checking items off lists than he does). He's simply organized while I'm, um, possibly … neurotic or OCD or something.
But I digress.
Dan and I have been planning a wedding, a honeymoon, and an addition/remodel to his house.
You can imagine the number of to-do lists running into each other.
We've already checked a number of items off the pre-wedding to-do list (5 more days, but who's counting?!):
Apply for marriage license.
Book the photographer.
Line up a caterer.
We have an inventory of things to bring to the wedding—not your typical list because this wedding is sandwiched into a weekend with our kids and grandkids in cabins along the Metolius River:
Firewood, marshmallows, chocolate, and graham crackers for s'mores before sending the grands back to their respective cabins at bedtime. Sugared up. (The Parents have been warned.)
Fishing gear for the nearby Metolius pond for kids under 18.
Wedding rings and a white dress and a signboard created from old fence pickets.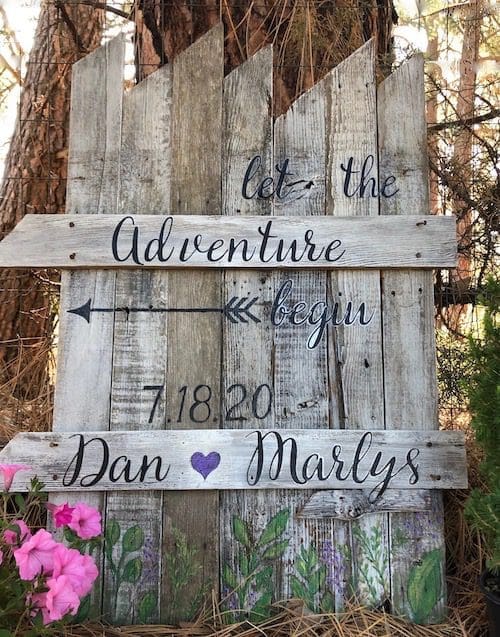 And we've drafted lists of things to pack into Dan's fifth-wheel trailer—a.k.a., the honeymoon carriage—which we'll drive north into Washington and east toward Montana's Glacier National Park:
Camp chairs
Kayaks
Hiking boots
So, back to the question: Is there such a thing as being too organized?
Possibly yes. If we're making everyone around us crazy.
Is there such a thing as having too many lists going?
Never. (Smile.)
What if?
COVID-19 hurled a lasso, caught the world by the horns, and stopped its horse suddenly to throw us to the ground.
It seems that one of the results is this: quite a few people prioritized what's truly important when it comes to family and schedules and obligations and taking on too much.
What if lassoing our crazy schedules into submission allows more time for water color painting and canoeing and planting seeds in rich soil?
What if getting our kids' activities under control allows more time to play with them: corn hole, cycling, Monopoly?
What if being organized and prepared for major events helps alleviate the stress?
This thought from an ancient proverb:
The ants are not a strong people, but they prepare their food in the summer. — Proverbs 30:25
Dan and I are primed for this next season.
We've drafted lists. And checked items off those lists. And prepared for a future together.
And what should be nerve-wracking—wedding-planning, house remodeling, consolidating two households into one—has been fun. And stress-free. And peaceful.
What if getting our ducks in a row helps create peace and harmony and sweet anticipation? It does.