While undergoing cancer treatment, 15-year-old Jan-Willem Knapen (JW) had the idea for a "home away from home" – a welcoming place close to the hospital with overnight lodging where families could stay together during a medical crisis.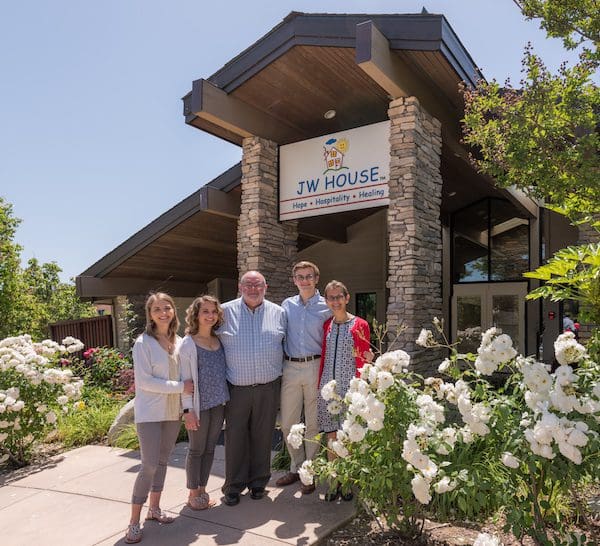 But first, back up a few years.
During the cancer years, my husband, Gary, and I understood that giving back from a hard place was part of living well. We wanted to inspire others with cancer to look for purpose and meaning. And we wanted a variety of stories—all ages, all cancer types, all regions of the country.
We somehow learned of Jan-Willem's incredible story. I connected with Anne Marie over the phone and we've been friends ever since.
JW was diagnosed with leukemia at age four. Chemo and radiation were prescribed, and the young boy was eventually declared healthy.
In his freshman year of high school—after some unusual symptoms and extensive tests—he was diagnosed with brain cancer.
Just before his sophomore year, JW was doing better than his doctors had hoped, and the Knapen family planned a trip to their native Belgium. Instead of making the rounds to see everyone, which can be exhausting, they would invite family and friends to a reception.
It was customary for guests to bring gifts. But instead of gifts, JW asked if their family and friends could contribute toward his vision of a respite house – an idea he had shared with his oncologist, Dr. Alan Wong.
When JW's health took a turn for the worse, the trip to Belgium was cancelled. His biggest disappointment was that now there would be no funds for Dr. Wong and their dream project.
But word got out, a Belgian newspaper ran the story, and contributions came in from all over Belgium.
In May 2004, JW presented a check for $10,000 to Dr. Wong.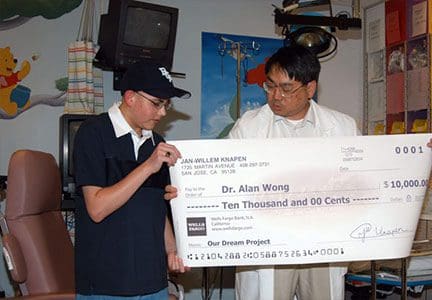 Another $5,000 came in from Belgium, and from that time until he died on August 3, 2005, JW fundraised in a variety of ways: at schools, by selling blue bracelets, you name it.
The hospital where JW was treated jumped on board, a nonprofit was created, and with the help of American friends, neighbors and colleagues, JW's seed money grew to $2.2 million.
JW House opened its doors to its first guests in 2008. The House contains four studio apartments for overnight accommodations. And day use space is available for families to hang out in between medical appointments, to shower, do laundry, eat, and simply be together.
Guests are welcome to access the kitchen for breakfasts and lunches, helping themselves to food from the fridge.
But dinner … now that's a different story. JW House provides dinner 365 days of the year. These evening meals are prepared by service groups and families. The JW House Young Professional Advisory Council (YPAC) and the student board take their turns cooking. Sometimes even a local restaurant will get involved.
The House was a big part of Knapen family life when Jan-Willem's younger siblings were growing up, and Anne Marie has been a dynamic force from the beginning.
All three siblings, during their junior and/or senior years of high school, served on the student board, which actively raises funds. And Anne Marie serves on a couple of the JW House boards and as a volunteer. "It's a nice way to stay connected because you get to meet staff and other volunteers," she said when I talked with her earlier this week.
A little more than ten years in operation, the House statistics are incredible. Number of overnight stays provided = in the thousands. It's the same with the number of dinners served, day use visits, number of volunteer hours. All in the thousands.
"JW's and our goal is to take care of the caregivers," said Anne Marie, "so that they have renewed energy to take care of their loved one who's sick or in the hospital."
This undertaking has been an amazing team effort. A big-hearted teenager had a dream. His native country of Belgium generously built on it. Fellow Americans contributed in volunteer labor and financial gifts ("And still do!" said Anne Marie).
And it was all held together by Anne Marie and her remarkable family who carried their son's — and their brother's — vision forward.
"After JW died, we were able to continue to build," said Anne Marie. "Not only a house but also relationships. And that has been a blessing to us."
If I were to pronounce a house benediction on this warm and welcoming "home away from home," it would be these words by Mary Anne Radmacher:
May your walls know joy, may every room hold laughter, and every window open to great possibility.
P.S. If your heart was tugged by the story of this incredible teenager and his family, please consider making a donation at JW House to enable them to continue serving families in medical crises.