Someone handed a baby turtle in a small container to me. "Give him a name," she said. And of course what popped into my head was 'Gary.' As in, my deceased husband.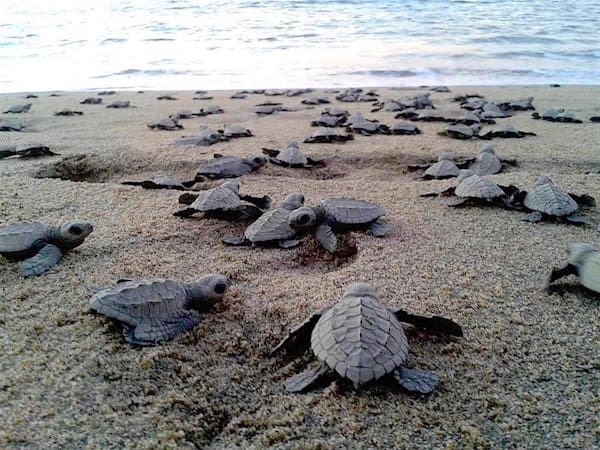 Photo: Campamento Tortugueros Sayulita
This past week I was in Sayulita, a sleepy little seacoast village in Mexico, where my friends, Tom and Rose, go to escape the Rocky Mountain winters. Fabulous hole-in-the-wall restaurants. Gorgeous beaches. Great water for surfers of all ages. And home to Campamento Tortugueros Sayulita, a sea turtle preserve.
I released Gary the Turtle and watched him scurry toward the pounding surf, falling headlong into indentions in the sand, resting for a moment, and then slogging onward.
Ten minutes later, the little guy finally reached the place where the waves crashed over him and carried him out to sea.
It turned out to be a moving experience that involved a little misty-eyedness on my part. Which puzzled me, because I'm through with the sorrowful slice of grieving. So why this emotional response to a sea turtle named Gary?
I recently read a piece entitled, "4 Tasks of Mourning," by Dr. J. William Worden. The 4 tasks are:
1. Accept the reality of the loss. "It is often very painful and sad," wrote Dr. Worden, "when we cannot just pick up a telephone … to share the news of our lives."
Loss accepted. Check.
2. Experience the pain of grief. According to Worden, this can include physical and emotional pain, depression, sadness, tears, anger, guilt.
Pain experienced. Check. Check.
3. Adjust to an environment in which the deceased is missing. I'm remembering to fill my gas tank; learned how to look helpless when stranded on a busy highway with a flat tire (not because I've never changed a tire, but because I couldn't find all the stowed-away bits and pieces of tire-changing equipment that are hidden all over my rig); and learned how to know if the chimney flu is in the open or closed position before lighting a fire (this learned the hard way) — all chronicled in a blog post: 17 things I lost when Hubby died.
Adjusted to new environment. Check.
4. Find an enduring connection with the deceased and move on with life. I stumbled across this concept a few months ago (and wrote a blog about it), which at the time, sounded a little communing-with-the-dead-ish.
Enduring connection. Done. All four tasks completed, even before I knew they needed to be.
So why this emotional response to a sea turtle named Gary?
Perhaps because Gary the Turtle's persistent quest reminded me of how valiantly Gary the Husband lived and died with cancer. Resolutely. Uncomplainingly. Courageously.
I loved my husband very much, and his life and death inspires me in my widow years. His courage makes me want to live fearlessly, audaciously; his persistence stirs me up in the direction of tenacity.
::
Rose was throwing Tom a milestone birthday party this past week. Close to 125 people showed up — local Sayulitans, U.S. snowbirds who winter there, and a number of family and friends who flew in from the states.
This is how loved Tom and Rose are.
The week included leisurely barefooted walks in warm sand (think: foot massage) …
… and falling asleep each night to the crash of Pacific waves in this beach bungalow …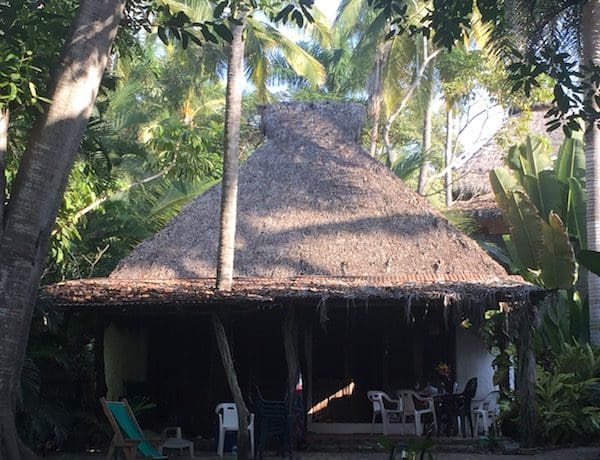 … with my bedroom located in the thatched loft at the end of this ladder (how cool is that?!).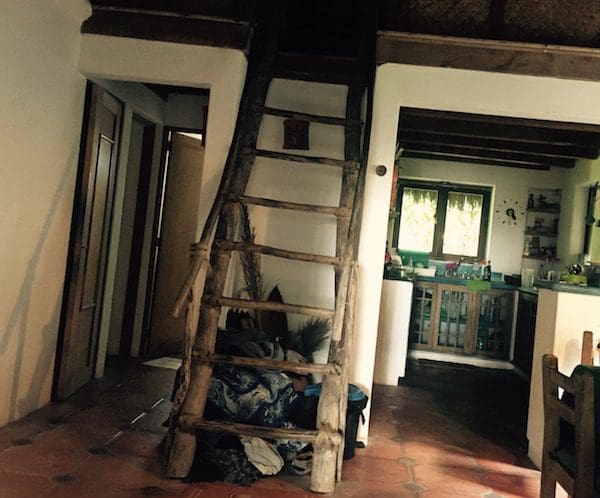 Tom and Rose rented the bungalow and dubbed it Party Central because this was where they hosted the celebration. Incredible local food. A delightfully talented street musician. Dancing under the stars to the background beat of waves hammering the beach.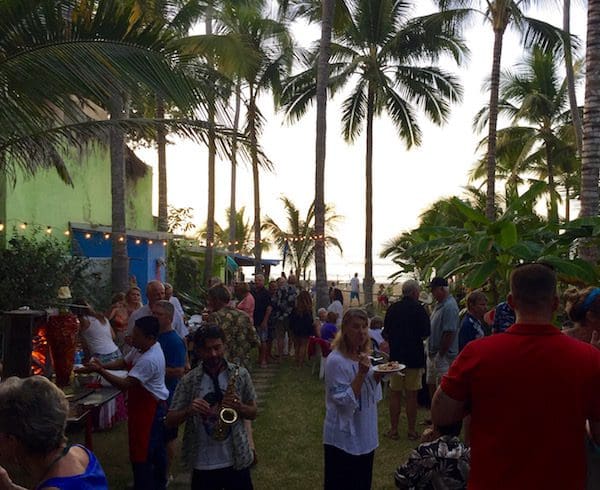 I almost declined the Mexico invitation. Because I couldn't find a reasonably priced flight. After a conversation with a financial-advising family member, and one more quick flight search, I said Yes.
This lesson from a turtle release:
What obstacles?! Head in the direction of your God-breathed destiny. With tenacity. While you still have life. And take as many side adventures as possible.
P.S. If you know someone who needs to release a turtle, please share, tweet or pin!