A blog reader recently sent email about his wife who died too quickly after a cancer diagnosis. "I was unprepared and now alone. My awesome wife and friend … was now missing from my life," he wrote.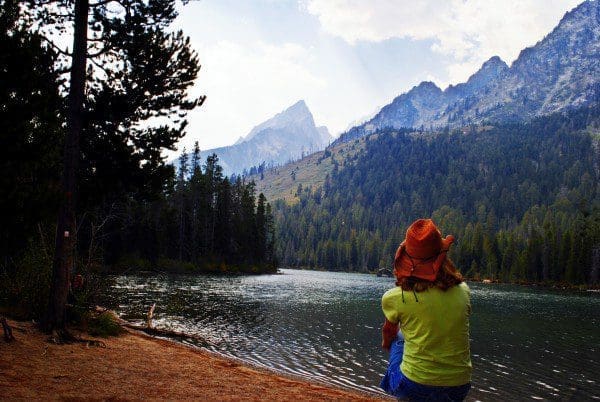 Photo: Gary Johnson
His email reminded me that when we lose someone of infinite value, we don't just lose a spouse, a child, a sibling, a parent, a friend. These people are so much more to us: Listener and Good-Advice Giver, Income Tax Preparer, Cheerleader, Fix-It Guy, Personal Nurse … the list is actually quite long.
As a reminder of what roles a loved one can play in our lives—and how wise it would be to notice and speak gratitude. now. while they're still alive—here are a few things I lost when Gary died:
17. Errand-runner
I've always thought of running errands as a time-wasting, necessary evil. After Gary retired, he didn't mind picking up prescriptions and mailing packages. And occasionally, while out on a mission, he'd stop by my office with his cute grin, packing a Chai tea.
16. Personal data processing manager
Gary's career was with computers. Which means I lost the person who handled my computer issues, and website-management challenges, and the remembering-to-renew-domain-name details. Quite a valuable thing — one's very own personal data processing manager.
15. Car maintenance guy
You mean I'm supposed to watch the gas gauge? My rig needs regular oil changing? And a 105,000-mile tune-up? Someone in our marriage knew all this, but it wasn't me.
14. Garbage taker-outer
It's not as if taking out the garbage is demanding, but how nice was it to have the garbage disappear regularly without a thought as to where it went?
13. Fellow cook
I miss cooking full meals for a man who appreciated my cooking. And I miss having that man in the kitchen with me — slicing, dicing, kissing, stirring, tasting.
12. Travel agent
Gary always made travel arrangements, checked us in for flights, and rolled me out of bed in the early dark hours to get to the airport on time. (Although once, Gary got me to Los Angeles International at 5:30am for a 7:00am flight, and when we checked in, the attendant said, "You know this flight leaves at 7:00pm, right?" Gary almost … almost … lost his travel agent status.)
11. Personal masseuse
Gary gave the best massages. Enough said.
10. Road trip companion
Hubby and I road-tripped well together. Our last adventure before he died was the best ever. Hiking in the Tetons; riding horses in the Rockies; and exploring around Arches, Moab, Zion, and Canyonlands. Since being widowed, I've logged thousands of alone-miles — to SoCal twice; Boise countless times; and my recent, epic Oregon-to-Idaho-to-Utah-to-Colorado-hiking-visiting-family-friends road trip. And there hasn't been a single adventure where I didn't wish Gary was my road trip companion.
9. Hiking partner
I still hike and snow-shoe in the wilderness — sometimes alone and sometimes with my amazing, cancer-kicking, courageous, audacious hiking/snow-shoeing posse. But I miss those lace-up-boots, toss-backpacks-into-rig, spontaneous weekend treks with my favorite hike companion.
8. Date night collaborator
Keeping Friday date night isn't quite the same without my husband. I still do it because it's fun, and it gives me an excuse to eat out. Oh, but how much more fun to have an actual person along on the date.
7. Escort
I loved linking my arm through my husband's to cross a parking lot toward a football game, movie, concert, church. There's something so incredibly comforting about physical touch, about being held by someone who was the best thing that ever happened to me.
6. Advisor
There were so many things I ran past Gary. Shortly before he died, he was still offering words of wisdom: You probably shouldn't make any major decisions for six to twelve months after I'm gone, he said. Which is wise advice. And I usually took his advice, but I resigned my job and moved out of state right after he died. And I'm pretty sure he was pleased with the opportunity that allowed me to do that.
5. Cheerleader
Gary believed in most of my wildly epic ideas. Like wanting to write a book. And fundraising and chaperoning high school students on international adventures. He usually pointed out what could go wrong — this logical-thinking, data-analyzing husband of mine. But once we talked through all the angles, he was my strongest cheerleader. He believed in me.
4. Fun-planning co-conspirator
Cancer prompted us to make more memories, take more risks, create more fun. Which means the last ten years of our marriage — the cancer years — were the best. Imagine.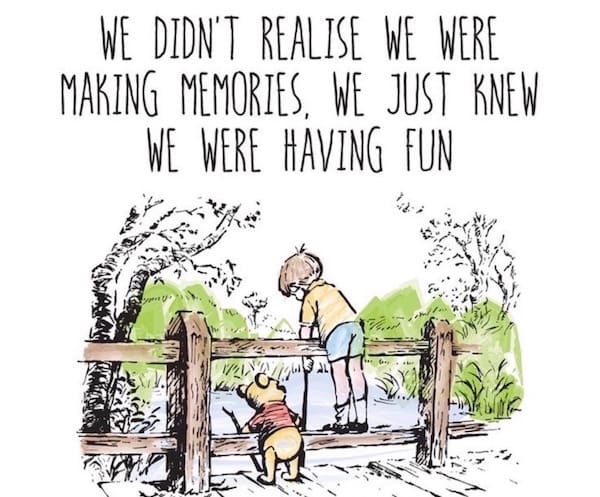 Wisdom from Winnie the Pooh
3. Fellow conversationalist
I married a quiet man. Some people thought he was shy, but he was simply content to let others have the spotlight. He was a good listener and I can never remember a time when he complained that I talked too much. (Which we all know I've done. Often.) In the cancer years, things changed. He became more talkative, and I loved listening to his thoughts and ideas. I miss that. So very much.
2. Physical-affection giver
My grand-dogs love me dearly, but their sloppy licks on my face just aren't quite the same as Hubby's affections. Sigh.
1. Closest friend
Gary once said, "If someone gave me two football tickets and told me to invite whoever I wanted, I'd want to take you." Correct answer, hon. We truly enjoyed doing life together. And I miss miss miss that companionship.
* * *
Someone named Paul Valery said this:
A great man is one who leaves others at a loss after he is gone.
So much is lost when we lose a loved one. And while I didn't mean to, I'm afraid I took too many of these things for granted. Which is a reminder for me to look around and express gratitude for what I have in the people I'm closest to.
P.S. If you found this post helpful or inspiring, please share, tweet or post!