Four more days until the September 22 Porch Fairy Challenge!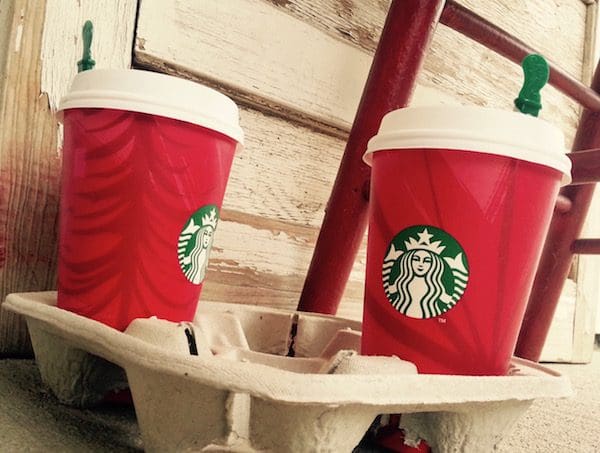 All photos: Marlys
A Porch Fairy is someone who leaves thoughtful gifts on a front porch—or on the hood of a car, or on the desk of a co-worker—when the occupants of the house, car, desk could use some encouragement.
In our case, Chai tea was left on our porch so as not to disturb the guy occupying the hospital bed in the middle of our living room. And after Daughter Summer arrived from New Jersey to stand watch as her dad was dying of cancer, Americano coffee was added to the mix.
Every morning. For several weeks.
Porch Fairy History
By day, the Porch Fairy is a mild-mannered cancer survivor, wife, mom, grandmother, hospital volunteer, and frequenter of gyms for 6:30am work-outs.
But once she detects the slightest sign of distress in anyone, she dons her Porch Fairy cape—very similar to the Wonder Woman cape—and stealthily leaves all manner of comforting items on front porches. Stealthily.
Some of you followed our adventures with the Porch Fairy in fall 2014 as cancer was stealing my husband, Gary. The Porch Fairy left soup in Mason jars, breakfast breads, and chocolate on our front porch; she delivered mismatched socks, beautiful bouquets of flowers, and equally beautiful bouquets of autumn leaves.
And daily 7:30am hot designer beverages.
So how do you pay someone back who has shown you the most amazing of kindnesses? You don't. You can't.
Which reminds me of this John Bunyan quote:
You have not lived today until you have done something for someone who can never repay you.
But what about paying it forward?
Which brings us to Gary's birthday and our anniversary. This Friday — September 22 — will mark another birthday/ anniversary not together. And it would do my heart so much good to read about front porch deliveries done in Gary's memory.
Let your creativity kick into gear.
In that last fall of Gary's life, there was a gift bag of yarn and knitting needles left on our porch with this note: "With love from the Knitting Fairy."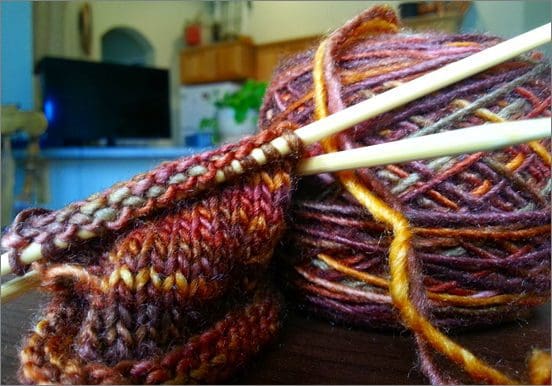 And this rather odd message: "The Marketing Fairies have landed," whereupon we checked the front porch and these pumpkin-themed gifts from the marketing team at our local hospital.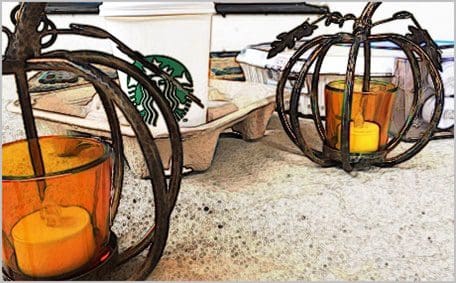 And later, this crazy gorgeous Christmas wreath, hand-crafted by a co-worker at the cancer center and left on our porch.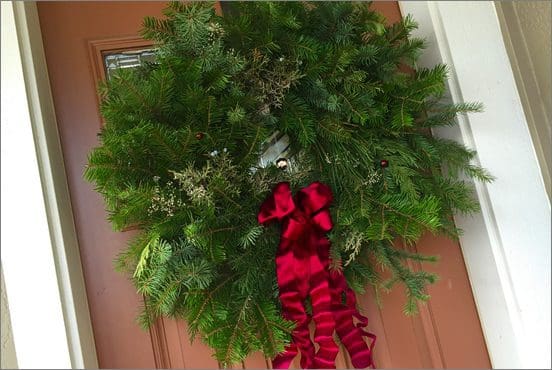 Porch Fairy Challenge
Is there someone you know—a friend going through a struggle, a co-worker who took in an aging parent, a neighbor with a colicky baby—who could use the encouragement of food? Or a hand-picked bouquet? Or some other thoughtful gift that says, "I'm thinking of you," or "Thank you for being you"?
On September 22, leave a small gift on his/her front porch (car hood, desk); take a photo of your drop-off; and then run!
Most of you would rather do this anonymously, but I would love it if you'd post your photo to my Facebook page with a little blurb about who and why. Because I can't think of a better way to celebrate this monumental day than to read about the random acts of kindness done in memory of Gary on his birthday and our wedding anniversary.
Porch Fairy News
That first year in 2015, the Porch Fairy was seen as far away as Lijiang, Yunnan Province in China. Tom & Bina left a gift of a special sesame cake for someone who had been helpful in a land so far from home.
Mary wrote from the John Day Wilderness: "I committed to being a Porch Fairy, and contributed to the fire victims in John Day."
Marci reported that she and her son left a little surprise on his tutor's front porch: "Thanks for the challenge! What a great way to remember and celebrate!"
"I chose my dad," wrote Janelle, who posted a photo of a gift bag on her parents' country porch, right next to the dented milk can with the sunflowers.
"Took flowers to these lovely ladies at Meridian Dental in honor of Gary," wrote Karen, who included a photo of a gorgeous bouquet surrounded by three equally-gorgeous dental techs.
Chris wrote: "Yesterday I extended my porch to a couple in town for physical therapy … so does it count?" Of course it counts. And what a lovely gesture of hospitality!
Cheryl chose her neighbor. "She is my yard fairy – I'll catch her planting or pruning flowers in my yard. I've never had a live plant in my yard before and now it looks like a magical garden." Cheryl left sunny blooms on her neighbor's porch.
"Porch mission accomplished," wrote Nancy. "Fresh local produce and homemade cookies on fellow travelers' doorsteps!"
Becky left a gift on the original Porch Fairy's front porch, which brought a smile to my face.
Meanwhile, the original Porch Fairy reported that she prepared chocolate thank-you gift bags for their garbage man, mailman and newspaper guy. But she dared not leave the gift on top of the garbage can for fear it would get dumped right along with the garbage. Smile.
And Roxanne mailed a lovely card with a surprise check. "I loved your idea to do something for someone else – it does help get our focus off of our own stuff!" (Roxanne obviously didn't read the rules correctly, because Porch Fairy gifts aren't intended for me. Please follow directions, people!)
And so the Porch Fairy, unwittingly, still brings great joy by inspiring the annual September 22 Challenge that has blessed people around the world.
P.S. Please help spread the Porch Fairy Challenge by sharing, tweeting, or pinning this post!