One of the things cancer did was motivate Hubby and me to establish a standing Friday night date. I've blogged about this in the past, and how — pathetically — I've maintained date night alone most Fridays since Hubby died.
This week's date seemed more important to me. Perhaps because I've been out of town the last couple of Fridays, and I'm headed out again on Monday for a couple weeks.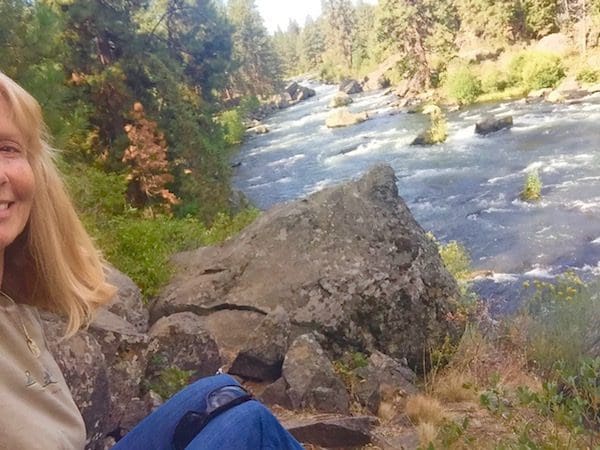 Deschutes River trail
And so I laced up my trekking shoes and headed to the Deschutes River trail. I can't tell you how many times Hubby and I hiked along this river. Close to half a million times. Roughly. Give or take a few.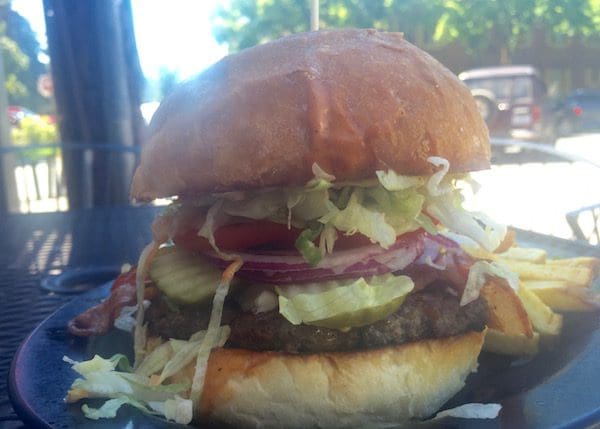 Broken Top burger with bleu cheese and smoky bacon from Bend Burger Co.
My date also included a stacked burger. Eaten outdoors, of course.
Many of you know that Hubby and I changed our diet when cancer showed up. Simple stuff. More fruits, veggies, whole grains, legumes. Healthful fats and sugars. Smaller portions of mostly poultry and seafood to complement dishes, instead of large chunks of meat.
Which emboldened Hubby to write a birthday rule. "On my birthday," he declared one day out of the blue, "I get to eat whatever I want." Well, OK then.
Gary was with me everywhere this past Friday night. Not just on the river trail and at Bend Burger Co. … but later as I was reading in Drake Park overlooking Mirror Pond, he was in the music – Supremes, Beach Boys, Righteous Brothers – that floated in my direction, beckoning me further into the park to where classic car owners were setting up for the big show on Saturday.
And there was Hubby. Hanging out near this gorgeous burgundy-colored convertible GTO. Because Hubby once owned a '66 GTO. With the same beautiful front nose and grill.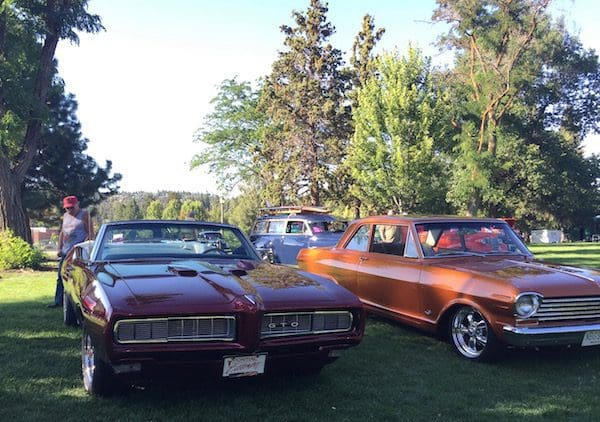 Hubby's '66 GTO was a pale yellow non-convertible
I don't think Hubby and I took each other for granted all those years of marriage, but we didn't live as fully and intentionally as we did when cancer hit.
We didn't pay as close attention to the simple pleasures of life — things like back country roads, children's laughter, fragrance of homemade soup simmering, candles and fireplace lit against falling snow.
We were rearing a family. And making mortgage payments. And staying tightly budgeted to a single income so I could be home full-time when the kids were younger.
We were probably a little too concentrated on working and saving for someday — when the kids are grown; when we have more time; when we have more money; when …
And we didn't live appreciatively. By that I mean, we were generally appreciative people, especially when things were going well.
But when Hubby first lost his job, for example, rather than looking around to see all the good that still surrounded us, we whined about our losses; about the necessity of selling our home; about having to trade a nice, almost-paid-off vehicle for an older, less dependable one. I spent more time counting our losses than counting what we still had left.
In time, cancer taught us to take a deep breath, step back and reassess what is truly important. And our marriage, and family, and taking adventures and making as many memories as possible topped the list. Which is when we began to live more purposefully. And more appreciatively.
* * *
A friend whose husband died of cancer – a year or two before Gary – recently told me that as time passed, she became lonelier. And I get what she means.
There was no sorrow sitting by myself eating a burger Friday evening, walking a trail alone, admiring old classic cars without someone beside me drooling all over the 1960s series. But there is definitely a jagged crater somewhere in the general vicinity of my chest.
And while I'm not looking for someone to fill that void, there is a sense of What a shame not to be sharing all this with someone who would totally appreciate it as much I do. 
Hubby would have loved this week's date.
What about you? Who (or what) do you need to appreciate more? Do you have a regular date night? Family night? Annual family reunion? Are there traditions you can establish with the very most prized people in your life? While they're still in your life?
* * *
I can't end this blog without posting photos of a couple of atypical vehicles you wouldn't normally see at a classic car show.
Like this 1947 Buick Super pulling a 1948 Palace Royale Flyte Camp. This is almost cooler than a Airstream. And Airstreams are pretty cool.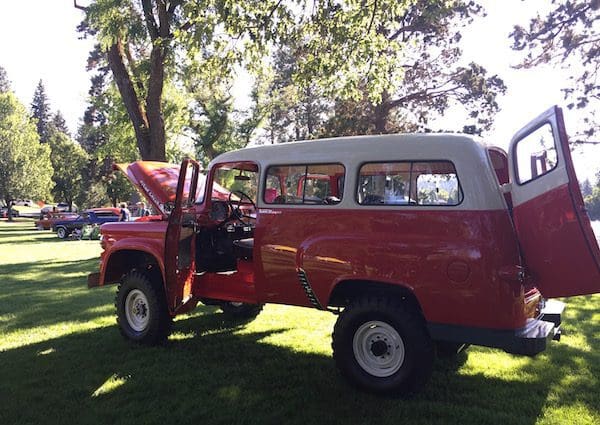 And what about this 1960 Dodge Town Wagon. Its tires suggest a utility vehicle, like a crummy transporting loggers up into the woods. But the name — Town Wagon — suggests maybe it was the grandfather of today's SUV or mini-van.
Pretty amazing stuff happening this weekend in my hometown of Bend, Oregon.
P.S. If you found this blog inspiring or know someone who would appreciate the classic cars, please share, tweet or pin!