A few years into Hubby's cancer diagnosis—after we had started eating more fruits, veggies and whole grains and fewer chocolate chip cookies, chocolate cake and chocolate ice cream—Hubby makes up a rule. "On my birthday, I get to eat whatever I want."
OK, I'll allow one rule.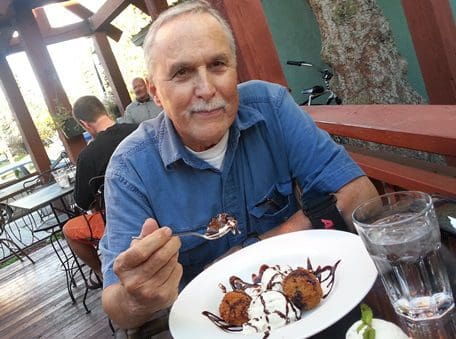 September 22, 2013 – Steamboat Springs, Colorado
Hence, the ganache. Essentially dark chocolate rolled in a light dusting of crumbs and quickly deep fried. With gelato on the side. And drizzled with additional dark chocolate.
I don't make these things up.
Time passes and Hubby comes up with a second rule: "On my half-birthday, I get to eat whatever I want."
Piece of advice, wives: If you let your husbands write more than one rule, make sure you place a restriction. Or things can get out of hand. Pretty. Fast.
OK, (and here is where you would sigh deeply and put on your best raised-eyebrow look) but there will be no quarter birthdays. Whereupon, Hubby grins his irresistible grin and, had he been any more intuitive, would've known he could've gotten away with monthly birthday celebrations with that grin.
Actually, this isn't so much about food as it is about celebrating milestones. Which brings us back to September 22. Hubby's birthday and our anniversary.
If you read the August 25 blog about the amazing Porch Fairy entitled "The September 22 Challenge", then you'd know that I'm encouraging folks to morph briefly into a Porch Fairy and leave a gift on the front porch of someone who could use a bit of love and encouragement. In honor of Hubby. (The August 25 blog lists some ideas. Although it's a bit early for Thanksgiving pie or a Christmas wreath.)
But before you knock on the door and run (or not run), please take a photo of your gift — whether it be food, Chai tea, flowers, gift certificate, chocolate or whatever your creative brain comes up with.
Please post your photo to my Facebook page on September 22 with a little blurb about what and why.
Because it would do my heart a world of good to hear about the love you spread on Hubby's birthday/our anniversary.
Mark your calendars!
P.S. If you found this post interesting or helpful, please share, tweet or pin!