There's an old proverb that goes like this: "Death and life are in the power of the tongue." Words are powerful. We have the capacity to speak death and discouragement, or life and hope to the people we love.
Here are 7 life-giving sentences that I spoke to Hubby. Often. But they're not just for cancer caregivers; they can be modified and spoken by anyone, anywhere:
1. Thank you for asking me to marry you. And, by the way, it still baffles me how you got the nerve to propose after our first date.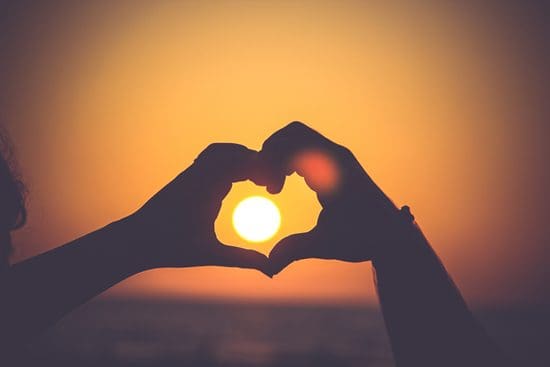 Courtesy Unsplash Stock Photo
2. You're my hero. This said most frequently after news of cancer progression. Or during a particularly trying time of hospitalization. And it would almost always generate that cute grin that Hubby did — you know, the one where he's trying not to grin.
3. I would rather be with you. This usually said in response to something Hubby would say, like, "I hate that I'm holding you back from doing the things you enjoy." Or some such foolish statement.
4. This did not catch God by surprise. As a general rule, no spiritual clichés. But this one puts everything in perspective. Because of course God was not asleep when cancer metastasized. Which meant there was purpose. Even in this.
5. I love our life together. Said frequently. Because Hubby felt fully responsible for leaving me in what he considered to be a not-so-great financial state. Although I knew I would be fine.
6. I wouldn't trade these setbacks with you for a life of ease with someone else. This was oftentimes tagged onto the sentence above.
7. I love our love story. All love stories are beautiful, but ours is my favorite.
I came across this anniversary card two months after Hubby died:
I love living life with you. … I can't imagine anyone who would've been a better companion and friend for me along the way.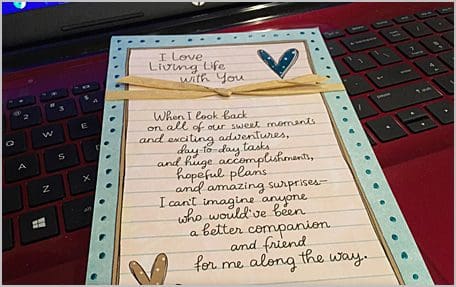 And even though Hubby never received this card—because I purchased it months earlier, because I hid it too well in my sock drawer and then forgot about it—he knew I loved living life with him.
He knew because I told him so. More than once. And in many different words.
So, what's the big deal about our words? Like the old-timer who said about his wife: "I told her once I loved her. If I ever change my mind, I'll let her know." Isn't once good enough?
Once isn't good enough. Because we all long to know—over and over—that the people who matter to us think we're heroic, beautiful, worth pursuing, irreplaceable.
How about you? Do you have someone you love living life with? Have you told him/her so lately? What's keeping you from saying something today?
P.S. If you found this post helpful or interesting, please share, tweet or pin!