I wanted to hike alone on this Friday date night so I could talk with Hubby out loud without anyone knowing how weird I really am:
"I remember the last time you and I hiked this trail. The chemo had almost worked its way out of your system, but you were exhausted from radiation treatments. You decided we'd walk part way before we turned around. We sat on the outcropping of rocks on the east side of the river and ate our lunch. And you were in good spirits, even though we didn't make the full 3.2-mile loop.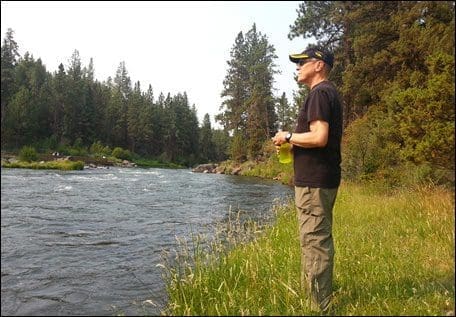 "The times I've cried since you've been gone are when I think about how much you suffered at the end. You are still my hero. And I'm grateful for so many fabulous memories along so many trails. In the Cascades. The Rockies. The Tetons. With you."
This is what I said out loud to Hubby this evening along the Deschutes River trail — a trail we've hiked a couple hundred times together. And it was not sorrowful to walk alone and remember.
One of the things cancer did was spur Hubby and me to establish a standing Friday date night. The perfect date was anytime we could hang out near a body of water, followed by a delicious meal. Like hiking along the Metolius River and fresh-caught trout at the Kokanee Café afterward. Or wandering near Elk Lake before chowing down on elk chili at the lodge.
Our favorite in-town trail was the South Canyon Reach of the Deschutes River. This evening I stopped at that same outcropping of rocks on the east side of the river to write. Because there was much on my heart. And I loved how the sun glittered gold on the water below.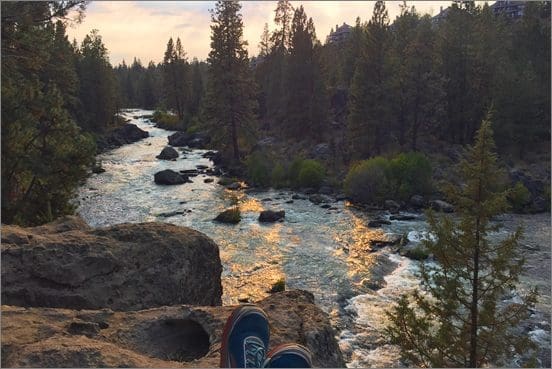 I can think of at least 5 reasons why every couple should have a standing date night (and why date night should include something outdoors, if at all possible):
1. It helps relieve stress. One of our dating rules was that we couldn't talk about cancer or work-related stress. Or our finances. Dates don't have to be expensive. On summer evenings, we'd pack lawn chairs down to Drake Park overlooking the river. Sometimes we'd buy something light for dinner; sometimes I'd bring a simple meal from home — whatever sounded good to Hubby.
2. It creates anticipation. Early in the week, start planning what you're going to do. Because half the fun of date night is anticipating it.
3. It releases endorphins, which are your body's natural feel-good drug. That is, if you've scheduled in some movement. (Once upon a time, Hubby and I headed out to do some moonlight snow-shoeing for our Friday date. We were at Dutchman Flat after dark, wondering where the full moon was. Come to find out, it wasn't scheduled to make its appearance until 3:00 that morning. Small detail.)
4. It shows your kids how to do romance. I wish we had started our tradition while our kids were still at home. But we were such penny-pinchers back in those days because we were saving for someday. For some of you, it's not too late.
5. It creates fabulous memories. Which is really the main point of this blog — to make memories now while your loved one is still here. It's about cherishing those memories long after your loved one is gone. And about not being afraid, as a widow, to return to those happy memories. Alone.
How about you? Do you have a standing date night? What are some of your favorite dates?
Side note: This evening's hike allowed for some photo ops. Just south of the footbridge, I caught a trio of kayakers in action.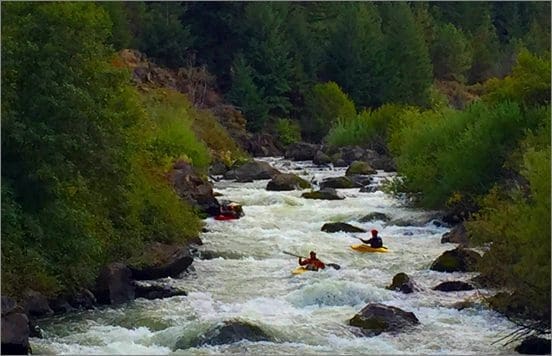 Not sure this guy was having a stress-free Friday night.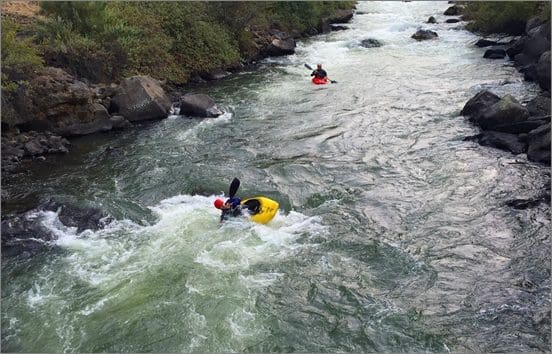 But just think of all those endorphins from the excitement!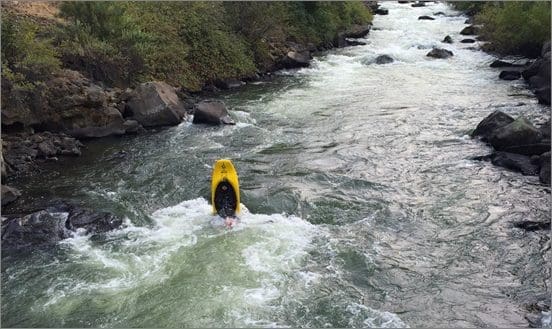 P.S. If you found this post interesting or helpful, please share, tweet or pin!