My Grandpa Mallory was one of eight children who grew up on a dairy farm in Marengo, Wisconsin. I remember my dad's stories of sneaking away to go skinny dipping in the river as a brief escape from all the work that came with being a boy on that same farm.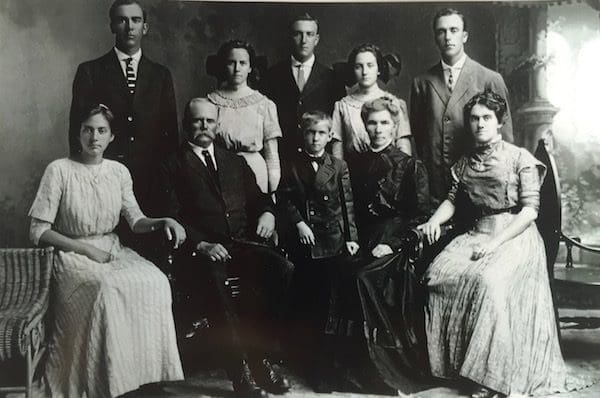 The Mallory clan – my grandfather is standing back row, middle
Not too long ago, my brother sent a photo of an out-dated Mallory family reunion flyer. I recognized the name on the flyer – Lee Westlund. Westlunds were first cousins to the Mallorys. And so I did a little online sleuthing and found myself talking with my cousin. A cousin I hadn't seen since I was in junior high. Pretty incredible thing, right there.
"I'm going to try and attend the family reunion this year," I told him.
But the airline-miles thing wasn't going to work. And then I ran into a friend who was excited because her husband had just heard from some long-lost family.
"Oh, Marlys," said my friend when I told her my own long-lost-family story. "Forget the airline miles. Use your credit card. Because this is important and you might not have this opportunity again."
Somehow I knew she was right. It's a funny thing about opportunities. They don't always roll back around, do they?
And so, I just spent an amazing weekend with some fabulous cousins in beautiful, green, rolling-hills-and-forested Wisconsin. Land of cheese and bratwurst and Green Bay Packers. Go, Broncos! (Sorry, Mallory family.)
The big house where my father grew up had been abandoned and then vandalized. And then later still, someone seeking shelter on a cold winter day built a fire inside and … yeah, the house burnt down.
The farmhouse where my dad grew up in Marengo, Wisconsin
My cousin Lee took me out to explore around the old Mallory homestead this past weekend. We tramped through the waist-high grass and brush, and pressed through thickets as Lee pointed out where the barn and outbuildings used to be.
And then we came to a clearing of tall grass and Black-Eyed Susans. And this was where the big beautiful old house held court.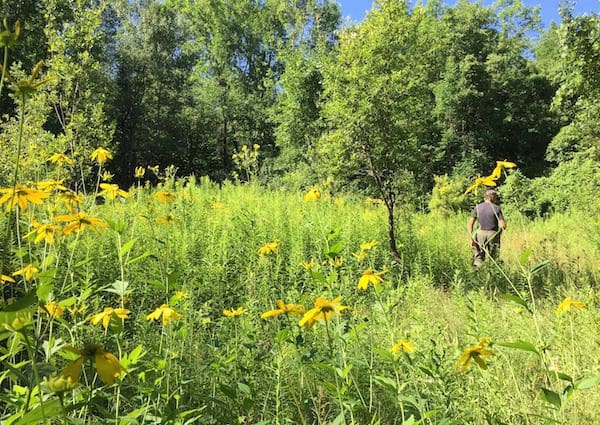 It was incredibly moving to poke around on the property where my father grew up and learned to milk cows, where the present generations still own parts and pieces of the original 1140 acres their forebears made a living on.
One of the lessons cancer taught Hubby and me was to make the most of opportunities while we still have life. To not wonder at coincidences, but to see them as divine appointments. And here I had almost forgotten this valuable lesson.
Stephen C. Hogan says it well:
Most people miss great opportunities, because of their misperception of time. Don't wait! The time will never be just right.
There's not just the opportunity itself, but there's also the ability—the freedom, the health, the whatever-it-takes—to actually say Yes to the opportunity. If too much time passes, these things change, as well.
And so, even though I'm writing this from the San Francisco airport because my flight out of Chicago yesterday was late, which means I missed the last connecting flight home to Ory-gun, and who knows where my luggage is, it has given me the opportunity to reflect on this past weekend's activities.
My heart is overflowing with gratitude and amazement at how I accidentally divinely connected with my father's side of the family; for my friend who admonished me not to let this opportunity slip by.
I'm grateful for cousins who offered to be my airport shuttle service and bed-and-breakfast hosts in a beautiful log cabin in the Wisconsin woods.
Grateful for blueberry-picking and gazebo-sitting and a multitude of conversations over good food and hot tea.
Humbled and grateful for being part of something larger than myself—family—as stories were passed around and new relationships were forged, as if we'd known each other for years.
What about you? What opportunity are you missing because you think you still have all the time in the world? What do you need to chase down before it's too late? 
* * *
Side note: My cousin Lee, and his wife, Ronda, took me out for an evening ride into town—Ashland on Chequamegon Bay on the great lake of Superior—where we had dinner overlooking the water and watched the sun set, the clouds tinging up with pinks.
Pretty sweet ride, right?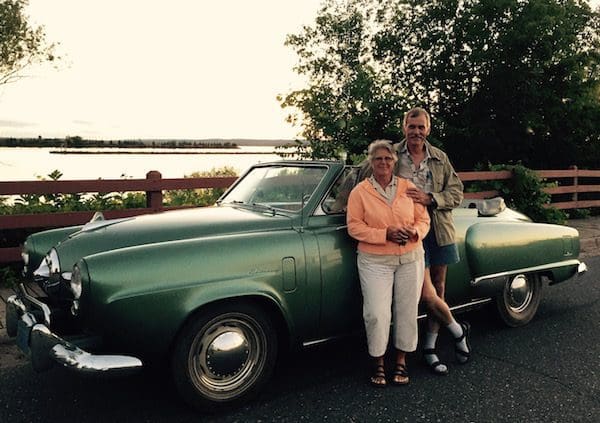 Cousins Lee and Ronda with the classic convertible Studebaker that belonged to Ronda's father
Wisconsinites have a hard time saying Oregon correctly. They say Ora-gone. "No," said the girl who knows (more than once because some of her twin male cousins are slow). "Repeat after me. Ory-gun."
And then of course these particular twin male cousins had to get smart aleck about it: "G-O-N is gone, not gun," said the two experts. "We don't say Wis-cun-sin."
Sigh.
You think Oregon is hard to pronounce correctly, though. Try Chequamegon Bay on Lake Superior. It's She-wah-me-gun, for those curious minds who need to know.
Notice the pronunciation gun vs. gone at the end of the word. I rest my case.