I have no idea what's happening this year with March Madness. And it's all Hubby's fault. He used to set up a Johnson family March Madness pool each year. The winner received acknowledgement and a coveted small trophy at the annual family reunion.
This recent post to Facebook from Brother-In-Law #2: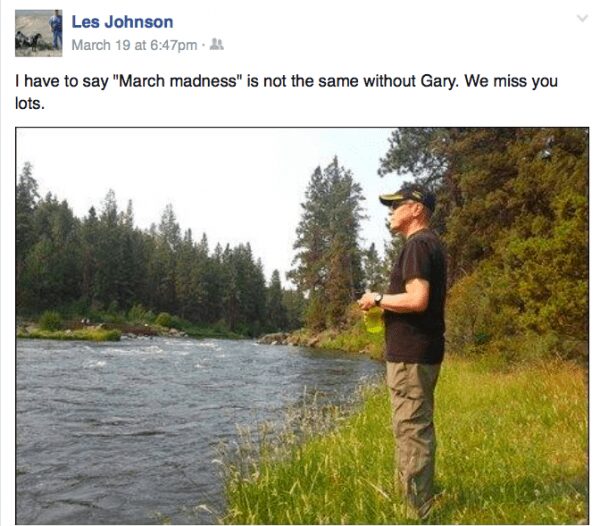 Photo credit: Marlys Johnson
What an honoring thing to do, as far as I'm concerned.
Earlier, BIL #2 had pointed out that Gary's computer nerd-ness (my word, not his) had kept us all together, even though we're spread across several states — tracking each other's standings, watching the games, trash-talking each other online (in a nice way, of course). One year when a great-nephew's team and mine were facing each other for the championship, he posted something like: "Marlys who? She's going down!"
So, what are some thoughtful ways to honor our loved ones? Here are a few ideas from my experience:
1. Consider staging something benevolent as a way of remembering significant days. Given the e-world we live in, it's easy to encourage family and friends to do something purposeful in honor of your loved one on the anniversary of a significant date. On Hubby's birthday last year, I started the first annual Sept 22 Porch Fairy Day. The idea was for family and friends to leave a thoughtful gift on the porch of someone they appreciate. (Watch for a full explanation and reminder when we get closer to September 2016!)
2. Purchase a memorial item that has meaning. Is there a location or activity that carries a special implication to you and your loved one?
Park bench. My hometown parks and recreation district manages 65 miles of trails, and along those trails are benches. And with the benches, an opportunity to have a bronze casting featuring your loved one's name. How meaningful to honor a husband along a trail that you and he hiked regularly.
Brick walkway. When the new St. Charles Cancer Center was being built, central Oregonians were offered the opportunity to purchase a personalized brick as part of the walkway in the lovely garden. This brick was our tribute to the cancer center staff who treated Hubby with so much kindness and compassion. And its message was how we lived our lives with cancer.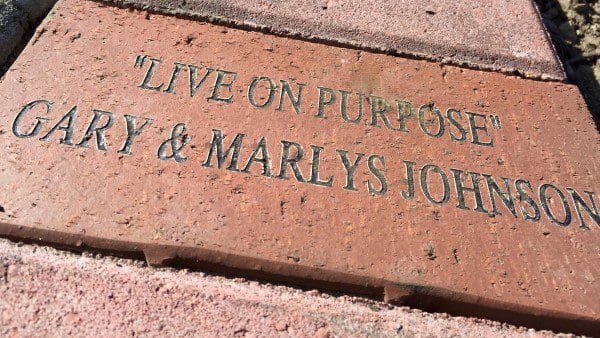 3. Scatter ashes in a meaningful place. I snow-shoed out to Todd Lake from Mt. Bachelor a year ago in January. It was one of our favorite snow-shoe trails. I found a sheltered area above the lake, and had a sweetly sorrowful time alone with God and Gary before letting go of what remained of his earthly body, keeping some ashes to scatter in the Swiss Alps since we had planned to hike there next. I booked a walking tour of Switzerland a year after his death. But forgot the ashes.
Meanwhile, this suggestion from BIL #3: "What if you scattered the rest of Gary's ashes where you were married?" I loved the idea. Hubby and I exchanged wedding vows in the park above his parents' ranch in the beautiful remote hills of northern California. Beneath towering redwoods, fir, pine and cedar. (Now all I have to do is decide between the beautiful hills of northern California … and the Swiss Alps. Hmmm.)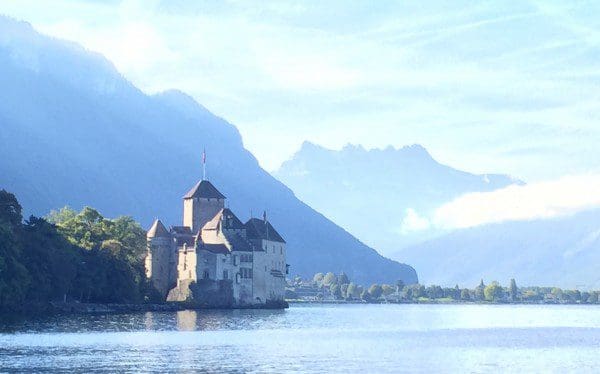 Photo credit: Marlys Johnson
4. Make a video — starting with baby photos — of your loved one's life. Son-In-Law Josh created a heart-warming video that was shown at Hubby's Celebration of Life service. My three Ugandan-born grandboys didn't get to meet their grandfather. But they ask about him and I respond with enthusiasm: "Do you want to watch a movie of him?" And of course they are delighted and as we watch the video they want to stop it in several places so they can study what is happening in the photos. Each time I watch, or show, this short video with its stirring music, I honor Hubby.
5. Share the *fun* and the *funny.* For some reason, I kept talking about Gary after he died: "Do you remember when Grandpa said …" or "Your Dad used to …" No one told me I should do this but, in time, I think it gave unspoken permission for others to talk about Gary in front of me. (One never knows if the widow/er is ready to have these public conversations.) I will always love hearing other people's remembrances and stories about Hubby. I think these conversations—along with the social media posts, as in BIL #2's Facebook comment—are honoring to Gary. And to Gary's wife.
Here's the challenge: What if you determined to honor someone now—someone who is still with you—instead of waiting until they're no longer here? What would that look like? I'd absolutely love to hear your who, what, why, where and how.
P.S. If you found this blog helpful or inspiring, please share, tweet or post!