What is self-care, and what does it have to do with you or me? I like this simple explanation from Family Paths:
Self care includes any intentional actions you take to care for your physical, mental, emotional and spiritual health. … It can also be an important part of the healing process.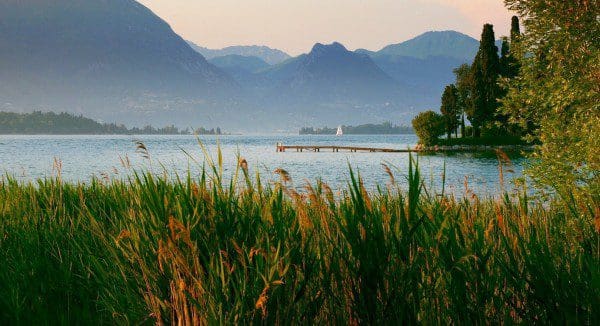 Photo credit: Unsplash
Self-care is not only for the sake of our own health recovery, but it's a good idea if we want to be on top of our game as caregivers.
And not just caregivers for our loved ones with illness, but also caregivers for our children; caregivers for our patients, students, passengers, parishioners, clientele, those we protect through law enforcement and rescue missions, and our customers (where would we be without baristas who took good care of themselves, I ask you?).
I didn't do a very good job of caring for myself in the final months of Hubby's life. I dragged my tattered super hero cape in the mud far too long.
But as a widow, I've learned that my quality of life is greatly dependent upon making time for my physical, mental, emotional and spiritual health.
Here are 34 incredibly effective tips for taking good care of yourself — whether your life has been touched by cancer, or you're learning how to survive widowhood … or even if you're the parent of a teenager:
1. Take a walk, preferably near a body of water. Notice everything around you. How many different bird songs can you hear? What sound does the water make? Does the path smell like pine? Eucalyptus? Magnolia?
2. Make a cup of tea. I recommend Bigelow Vanilla Chai tea with a bit of milk and honey. Sip slowly wrapped in a fleecy blanket on the back porch in early morning light. This reminder from Thich Nhat Hanh:
Drink your tea slowly and reverently, as if it is the axis on which the earth revolves – slowly, evenly, without rushing toward the future. Live the actual moment. Only this moment is life.
3. Make a *deposit-here* box. Find a decorative box or tin and label it: "Things I Will Eventually Get To, But Not This Day/Week/Season." Write down those things that are pressing heavily upon you, but don't necessarily need to be done immediately — like sorting through your deceased husband's belongings. Put the pieces of paper in your box instead of carrying the weight around with you.
4. Soak in a bubble bath. Light candles. Play your favorite music. Don't fall asleep.
5. Start a gratitude list. Purchase an attractive journal—Barnes & Noble has some great choices—and start numbering one thousand things you're grateful for. It will take a while, so as the calendar pages turn, write each new month at the top of the journal page.
6. Adopt a dog. Give a rescue dog a home and your undying devotion. And see if he doesn't rescue you in the process.
7. Settle in near a body of water. Along a river. At the end of a dock. On a Pacific beach. Bring book, camera, healthful snacks. Or unhealthful S'more ingredients. Read. Munch. Snap photos. Help a grandchild roast marshmallows.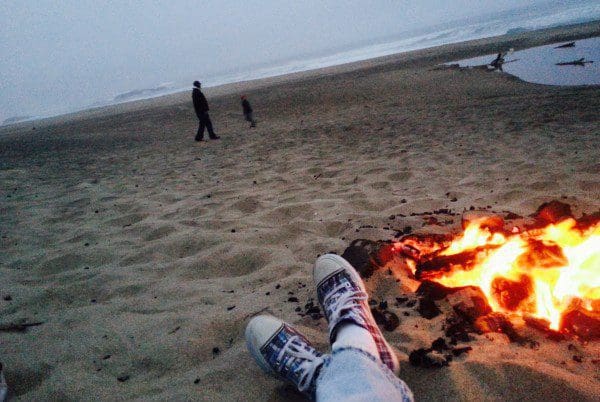 Sharing a dusky Pacific beach with Hubby and grandson (photo credit: Marlys Johnson)
8. Keep a journal for one week. Record the progress you're making in dealing with your challenges. Journal your fears and joys, frustrations and successes. The first thing I do every morning is make a cup of tea and write in my on-line journal. It is part diary, part Bible study, part prayer journal.
9. Treat yourself to chocolate. Look for high quality chocolate — at least 70 per cent cacao content. Try one of the dark chocolates coupled with raspberry, mint or salted caramel. Make an occasion of it, like after the dinner dishes are done and the fireplace is lit. Notice the deep, dark richness; any added flavors; the creaminess on your tongue.
10. Start a book club. Contact two or three other book-loving friends and schedule a regular time to meet. Here are a couple of books I'd recommend: I Am Malala, about a young Pakistani girl who was shot by the Taliban for speaking her mind on education for girls; All the Light We Cannot See, a fiction based on World War II history about a blind French girl and a German boy whose paths collide; any of the Alexander McCall Smith's No. 1 Ladies' Detective Agency series, although you'll want to start at the beginning.
11. Play in the park. Borrow a child. Swing on the swings, slide down the slides, and cross over the monkey bars with your borrowed child.
12. Learn how to knit. It's incredibly therapeutic to create something lovely out of a fuzzy ball of yarn. Join a knitting group, but make sure it's not one of those *stitch and @itch* groups. Because being a good listener to a friend who is going through a hard time is one thing; listening to an entire group of women complain about husbands, jobs, kids, co-workers is quite another. Self-care is the goal.
13. Put on soaring music. Something by Il Divo. Sarah Brightman. The film score to Pride and Prejudice. Grab headphones and turn up the volume. See how many instruments you can identify. Violins. Cello. French horn. Oboe.
14. Join a Bible study group. These usually run six to eight weeks. Make a one-time commitment, and if it's beneficial, commit to the next study. This not only nourishes your spirit, but also provides new friendships, which nourishes the rest of you.
15. Sign up for an arts/craft class. Water colors. Ceramics. Calligraphy. Clock-making. Whatever it is, creating something of beauty, or something useful or unique brings deep satisfaction and joy.
16. Plant a flower bowl. Start with a large container that has good drainage. Plant something tall and stalky in the middle. Work out from there with smaller plantings that are indigenous to your area. Water. Enjoy. (You can also plant a vegetable or herb garden in a container.)
17. Visit your favorite coffee shop with book in hand. Sit long. Sip slowly. Raise your eyes from time to time to notice your surroundings.
18. Start a weekly Classic Movie Night. Invite a friend over. Make popcorn. Begin with Charade, starring Audrey Hepburn and Cary Grant. Next, Cary Grant and Grace Kelly in To Catch a Thief. Move on to Rear Window with Grace Kelly and Jimmy Stewart. And then branch out to Humphrey Bogart and Ingrid Bergman.
19. Play fetch with a dog.  This simple game is incredibly inspiring — the tenacity of the dog, his deep pleasure at the chase, the constant wag of his tail. I have learned profound life lessons simply by playing fetch with a dog.
20. Write a poem. Here's my attempt: "Roses are blue, violets are red; this is exhausting, I'm going to bed." What do you think?
21. Rediscover your buried talents. What are your gifts that have taken a back shelf? Would you benefit from joining a meet-up group with the same interest? There are meet-up groups for outdoor activities, board-game players, people who love to cook, inventors, African drummers and dancers. Rediscover and cultivate your hidden talents.
22. Engage in a snowball fight. Even if you throw like a girl. (I write this on the first day of spring, but it's still winter here in beautiful central Oregon. Smile.)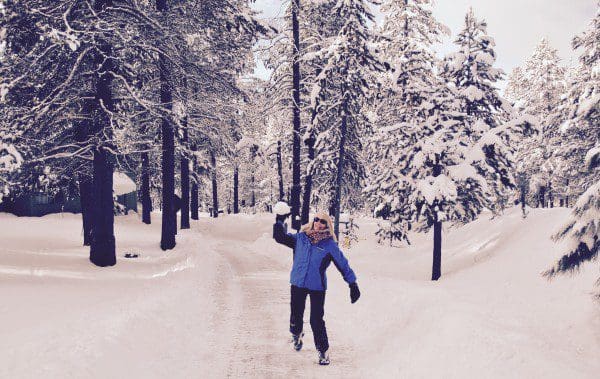 Photo credit: Gary Johnson
23. Keep a food journal for one week. Set a total number of fruit-and-veggie servings for the week. Meet your goal.
24. Sign up for an activity. Something you've always wanted to try — hula hooping, stand-up paddle boarding, helicopter skiing. Even though a new adventure can be stressful, the pleasure of conquering your fears and gaining more confidence is definitely self-caring.
25. Cultivate girlfriendships. Having fabulous girlfriends is one of the best things we women can do for ourselves as we reciprocate encouragement, wisdom and love. Meet regularly one-on-one — over coffee or Chai tea on back porches, at cafés, along river trails.
26. Get a massage, pedicure or manicure. If spa treatment is out of your budget, figure out a trade with a friend. Share lotions and nail colors.
27. Memorize a favorite poem or scripture. Repeat it to yourself often. Here's the start of Psalm 23: "The Lord is my shepherd; I have everything that I need."
28. Learn how to snow-shoe; make a snow angel. You've not made a snow angel until you've made one while wearing snow-shoes and hydration pack. Don't try this alone as you'll need help getting up.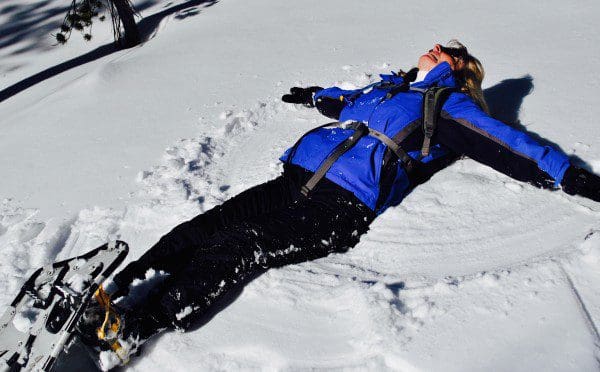 Photo credit: Gary Johnson
29. Commit short-term to a community group. Join a cancer or widow support community. Or a support community for adoptive parents. Or for people with red hair and freckles who were teased incessantly by brothers. Commit to at least six weeks. If it's a good fit, commit to longer term.
30. Watch an inspiring movie. Here are a couple of sports movies to start with: Miracle, about the US ice hockey team that beat the Soviets at the 1980 Olympics; and Josh Lucas in Glory Road as the Texas Western coach who led the first all-black starting line-up to the NCAA national championship.
31. Listen to a child read. You'd be amazed at how reaching out to others in need — helping a second grader read, organizing donations or helping cook a meal at a rescue mission — can take the focus off our own challenges and lift our spirits, which is definitely part of self-care.
32. Laugh. The next time you're in a private place with a group of friends, challenge each other to laugh. At first it will sound fake, but see how quickly it turns into real laughter. And see how good it feels.
33. Treat yourself to outdoor music and food. My hometown hosts Munch 'n Music on Thursday evenings in the summertime. A free concert in the park along the river. Bring your own blanket and dinner … or buy dinner from one of the food trucks. If your town doesn't offer free outdoor concerts, consider moving.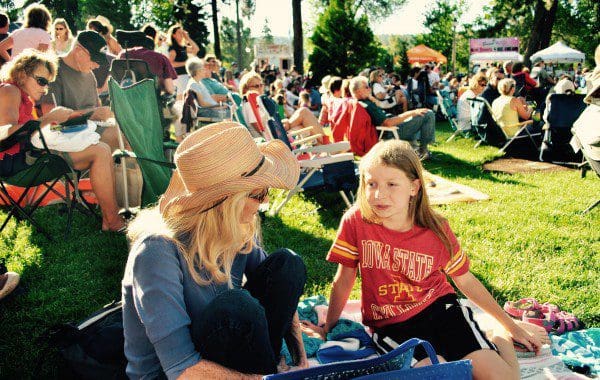 Munch 'n Music in Drake Park with granddaughter Lilly (photo credit: Gary Johnson)
34. Get out in nature and count all the ways God loves you. Here is a suggested start: 1) All this beauty for my enjoyment; 2) Legs to walk this trail; 3) The sound of water rushing over large boulders; 4) This breath; lungs that work.
I'm living proof that each of these self-care tips can be effective in helping deal with the hard things of life. I've done them all. Well, except the helicopter skiing. And I may not have ever joined a red-hair-and-freckles support group, but I certainly could have benefitted from one. (You don't know my brothers.)
Now to hear from you — what has worked for you in caring for yourself physically, mentally, emotionally and spiritually? Please comment to my Facebook page. 
P.S. If you found this post helpful or inspiring, please share, tweet or pin!