Today I visited the Museum of Tolerance in Los Angeles, named after the famed Nazi hunter and a Nazi death camp survivor, Simon Wiesenthal.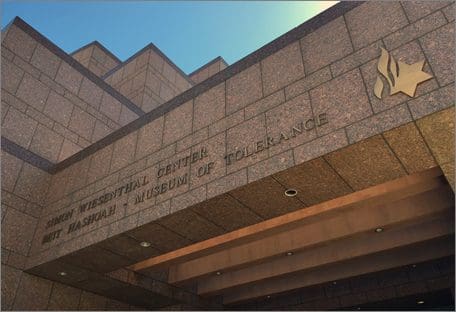 In a previous life, I chaperoned teenagers on educational tours of Europe. On two different occasions, the trip included a stop at Dachau, a Nazi concentration camp. It was impacting to have a full hour to walk the somber grounds and envision what went on in these barracks, this crematorium.
No matter that you've seen photos or video of a professional basketball game, or a mountain climber summiting Mt. Everest, or what the Nazi concentration camps looked like – it's never quite the same as being there in person. Seeing the ballplayers, the mountain, feeling the heat of the brick ovens up close and personal.
At the beginning of today's Museum of Tolerance tour, each visitor was given a photo passport card with a child's name and picture. My child is Helena Weissblatt of Warsaw, Poland. In 1940, at age 12, Helena and her family were rounded up with nearly half a million Jews and forced to live in the Warsaw Ghetto.
At the end of the tour, I would find out if Helena survived.
The tour is a series of exhibits, guided by light and sound, that begin in 1920 and include the history of how Hitler came to power.
It takes you into one of the death camps where there are two brick archways with signs over the doors. If you were under 14 years of age or over 60, or a mother carrying a baby, you went through one door. And you were exterminated within 4-6 hours.
Also on exhibit is Simon Wiesenthal's Vienna office, which includes his original documents, artifacts, furniture and books. Because of Wiesenthal's efforts over the years, nearly 1,100 Nazi war criminals were rounded up and brought to justice.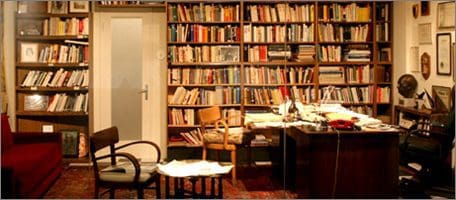 The tour ends with a wall of stories of how one person can make a difference. No names on the plaques, but here was a woman who hid her Jewish employer in her home; here was a man who smuggled food to Jews in hiding; here was a government official who provided his stamp and signature to documents allowing hundreds of Jews to escape Poland before he was found out.
My little girl – Helena Weissblatt, age 12 of Warsaw, Poland? I inserted my passport card into the machine and this page churned off the printer. Helena and her family did not survive the Holocaust.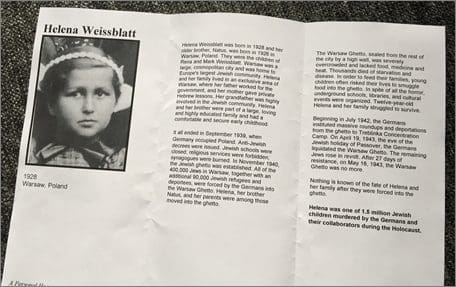 It was Anne Frank who wrote:
How wonderful it is that no one has to wait but can start right now to gradually change the world.
And Mother Teresa tells us how:
If you cannot feed a hundred people, then feed one.
I think Mother Teresa and Anne Frank would have been good friends.
I have friends and family who are going about the business of changing the world. A friend who is starting a non-profit to stave off human trafficking and aid women in Africa with education and micro-loans. A couple of families that are adopting sibling groups. A former student who just moved her two young sons to Ethiopia where her husband will serve as a hospital administrator. Friends who are raising funds for the digging of wells in third world countries.
Heroes — all.
Which begs the question, What can you and I do to gradually change the world?