Hubby's favorite music was from his high school and college days. Think "North to Alaska" by Johnny Horton. And Marvin Gaye in "How Sweet it is to be Loved by You."
There was no sleeping in on Saturday mornings for Daughter Summer in her teen years. Hubby would slip in an Everly Brothers CD, quietly open Summer's bedroom door, slide the CD player into her room and hit the play button. "Wake Up, Little Susie." On full volume.
Summer usually jumped out of bed.
I'm writing in my neighborhood Starbux Café and the first strains of "Unchained Melody" begin playing on the overhead speaker.
I stop and hold my breath. Because it was one of our favorites. Because we had once attended a Righteous Brothers concert. Because, oh how I've hungered for Hubby's touch.
Oh, my love, my darling, I've hungered for your touch.
I need your love, I need your love, God speed your love to me.
Yesterday I went to see an afternoon matinee of McFarland, USA. It's based on the true story of a high school football coach, played by Kevin Costner, who started a cross country team in an unlikely place.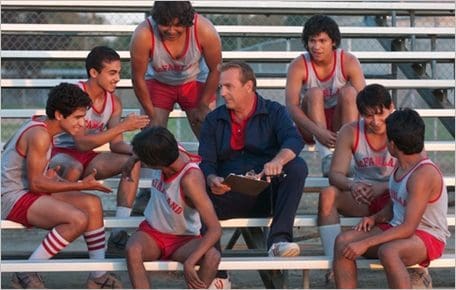 Photo credit: ncronline.org
Hubby would have enjoyed it. Because he ran cross country in high school. And because it's our favorite type of movie: a true-to-life David and Goliath story.
I snuggle with the lap quilt that was sewn together from Hubby's shirts, and inhale deeply because it still smells deliciously of him. (Impulsively I kissed the quilt two days ago. Who kisses quilts?)
Even though I'm doing well—truly am—I long for Hubby's touch. For the discussion following a good movie. The snuggling up to a real man wearing a shirt instead of a quilt made of his shirts.
I received an unexpected package in the mail last week. A beautiful soft-bound journal with a bike on the front cover that looks an awful lot like mine. And the most perfect title: Enjoy The Ride.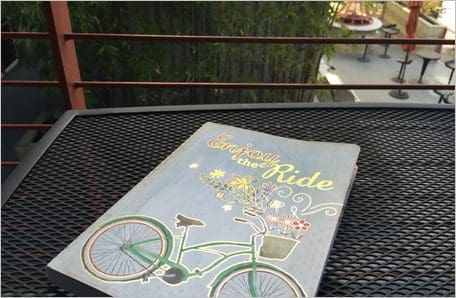 The thoughtful note inside the card read, in part: "My niece and I were shopping when I ran across this little journal, I immediately thought of you and the feeling was so strong that I just had to get it for you. There are times when writing words are more personal than working with your laptop."
True, what she said. I will cherish this beautiful little book, and fill it with hand-written words. First entry:
Every love story is beautiful, but ours is my favorite.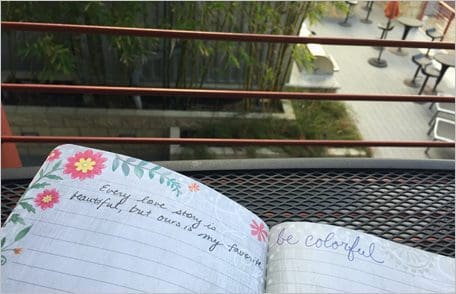 These breath-holding strains of music from Hubby's era, movies I know he'd like, reading back through the adventures we created together – these things don't hurt my heart.
Instead, they remind me of how I had a really good thing. And how cancer was the wake-up call to not take that really good thing for granted.
Remembering Hubby with sweetness; enjoying the ride.