I've been writing from my apartment in the mornings (notice how it's not only my bike, by also my apartment now). As after-lunch drowsiness creeps in, I pack up my laptop and head to my second living room – the neighborhood Starbucks. Because no one at Starbucks will let me get away with falling asleep and drooling on the table.
I recently had a conversation with my two favorite baristas and learned that we have a couple things in common. Holding large dreams, for one – large dreams shaped by cancer.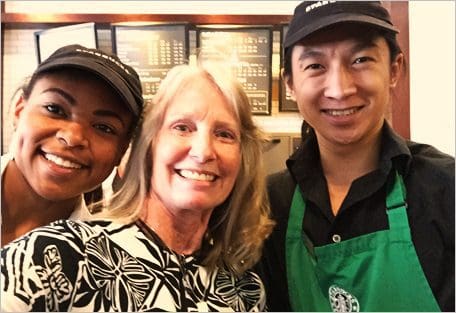 Nicole is a dancer, attends Santa Monica College, and works as a supervisor at Starbucks. At age 15, she became her mom's nurse – bathing her, dispensing meds, managing the frequent seizures.
Edward was born in Vietnam and, along with his sister, was adopted by an American family. At age 18, he watched his dad go from being a relatively healthy man to a walking zombie.
Nicole and Edward both lost a parent to cancer.
Nicole had younger siblings at home, which meant she became the mom when her mother died. A week after the funeral, Nicole started her sophomore year of high school. She struggled, making frequent trips to the counselor's office in tears. Her GPA fell to 2.8, but by the time she graduated, she had brought it back up to a 3.5. "It was a really tough time for me," says Nicole. "A make-or-break experience."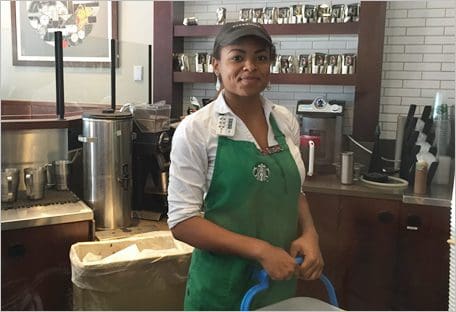 Edward said his father worked hard at a job he didn't like, pinched pennies and saved for the future. But he never got to his future. Edward said it taught him to work hard, but to pursue something he loves. And to enjoy the journey. He had his own marketing business—it's what his dad wanted for him—but turns out, screenwriting is really Edward's passion. He recently sold one of his screenplays and is scheduled to fly to Thailand and China next month to begin filming.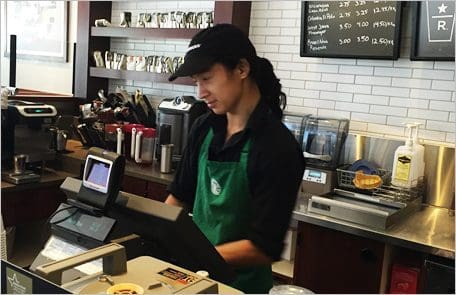 Nicole says she gets a lot of her personality from her mom. "She would walk into a room and light it up." Nicole originally wanted to be an actress or newscaster: "Because I love talking!" She pauses reflectively and adds, "But nursing called me. My mom was next to me when I took my first breath, and I got to be next to her when she took her last. I wouldn't change that honor for anything."
Nicole is planning to transfer to the UCLA nursing program and hopes to work at Cedars Sinai Medical Center after earning her bachelor's and master's degrees. She is also in training to try out for the Clipper girls.
My two favorite baristas—at the Starbucks Café on the corner of Lincoln and Maxella in Marina del Rey—are pursuing large dreams. And cancer played a significant role in their choices.
This from Marianne Williamson, quoted by Nelson Mandela in his inauguration speech:
We ask ourselves, who am I to be brilliant, gorgeous, talented and fabulous? Actually, who are you not to be? You are a child of God. Your playing small doesn't serve the world. And as we let our own light shine, we unconsciously give other people permission to do the same.
Here's to the success of the brilliant, gorgeous, talented and fabulous Nicole and Edward.