This bracelet  showed up in the mail. A reminder to embrace the journey. The journey might not take you where you wanted to go. But surely there is something in each turn of the road that can provide opportunity to speak gratitude.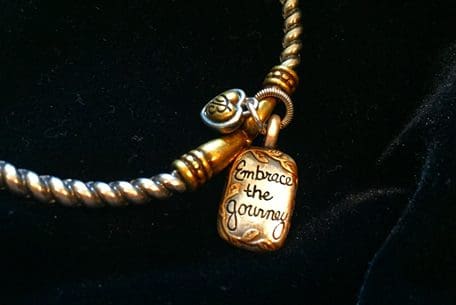 The tiny heart has a cursive "B" engraved on it. It may stand for the name of the jewelry company for all I know. But I interpret it as the word, "Be." As in, be joyful. Be grateful. Be a friend. Be available. Be a source of wisdom, of hope.
The word be suggests choice. I get to choose whether I want to be thankful or complaining. Kind or not-so-kind. Loving or selfish.
I sent a farewell letter to the full survivorship e-mail list at work on Friday, my last day in the Cancer Center. A friend wrote back, sharing the words that became his mantra during the journey of losing his young daughter to cancer:
Define your purpose; live your reason.
I have an idea of what my purpose is for this next season. I believe God gave me a love for writing, an ability to write, stories to tell. And so I'm placing all my eggs in one basket and giving it my full-time effort.
The "B" on the bracelet speaks to me in this endeavor. Be unafraid; be a risk-taker; be creative, it says. Be about finding your purpose and living it.