Temps in the single digits and I'm wearing extra layers. Celebrating the start of a New Year by snow-shoeing. Not forgetting anything important. The Camelbak for hydration. Snowshoes. Trekking poles. Homemade toasted nuts to feed the birds.
Glorious powdery snow. So much beauty along the trail. Fallen logs tucked in tightly with fleecy blanket. Christmas trees decorated all in white. A family of snowmen created by fellow snow-shoers.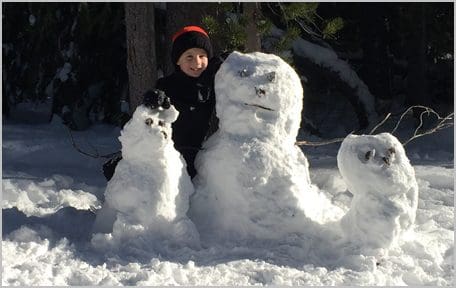 Much fun. Great exercise. Natural beauty. Four and a half miles round trip with plenty of uphill and down.
I wasn't, however, able to get any water out of the Camelbak bladder. Hubby was always the bladder-filler-upper while I was the packer of lunches. I never paid close attention to how he did it.
And then back at the trailhead, my vehicle wouldn't start. Because someone had left the lights on. Hubby was always the driver to wilderness trails. He never left the lights on.
Luckily I ran into a friend and her family in the parking lot. Alas, the jumper cables wouldn't reach from her vehicle to mine. (We even tried to connect two sets of cables together. Which almost worked. Not quite.)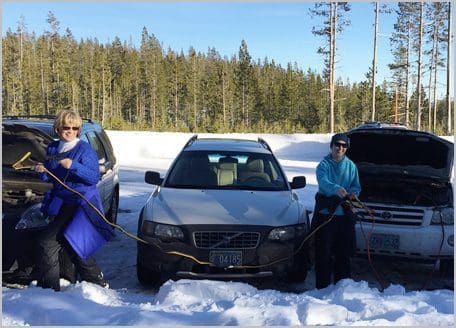 To the tow truck driver working on New Year's Day who happened along just then and who, out of the goodness of your heart, jumpstarted my vehicle – here's wishing you the happiest of New Years.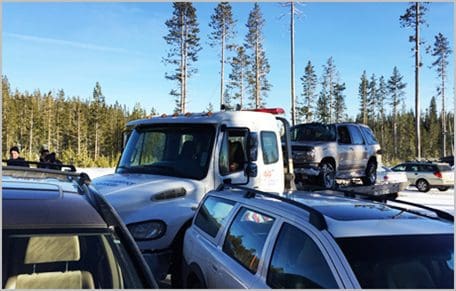 Glancing at the gas gauge on my way back down the mountain—which I'm not in the habit of doing because Hubby always kept my vehicle filled—the needle is awfully close to the little red "E." Made it to a gas station in town. Pulled into my driveway. The garage door opens exactly ten inches. Not nearly enough to drive my car through. Not nearly enough for me to slide under.
The door into the house from the garage was my only way in. I hadn't brought my full set of keys because who wants to pack extra stuff into the wilderness.
This is all Hubby's fault. He took too good care of me.