Incredibly fabulous costumes and sets. Music superbly rendered with beautiful African strains, with magical dance and drumming. The Parents and I went in together on Christmas gifts for the munchkins – tickets to The Lion King on Broadway, fourth longest running show. Going strong for seventeen years.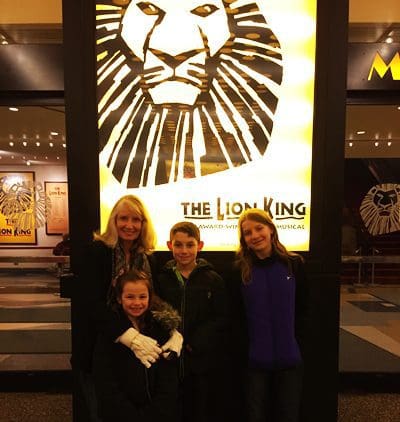 Best audience laugh: Zazu, captured by Scar, is singing, "Nobody Knows the Trouble I've Seen." Scar snarls at him to sing something more cheerful. Zazu complies and begins singing: "Let it go, let it go …" Six-year-old Lydia, who loves all things Frozen, laughed out loud.
As for fourteen-year-old Lilly, Timon and Pumba's lines make her smile. Which is the same as laughing out loud. She's fourteen.
After the show, the grands and I push our way through the Times Square crowds—darn tourists—and follow Daughter Summer's texted directions to the corner of Forty-Second and Seventh.
Me: "The subway entrance is somewhere here, but I'm not sure which corner."
Twelve-year-old Titus: "Grandma, would it be over there where it says SUBWAY in those big lights?" Smart aleck. See if I bring him next time. We catch the #3 to Wall Street where I must have looked like a seasoned New Yorker because I was asked by a tourist needing directions, "Excuse me, are you a local?"
The kids and I meet up for dinner at the Dubliner with The Parents and The Aunt&Uncle. And chicken pot pie never tasted better.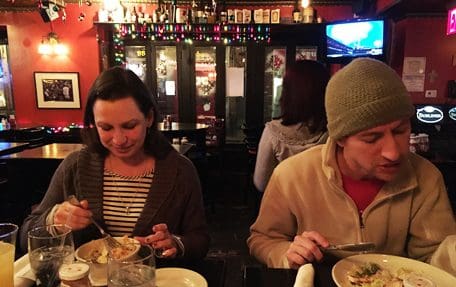 The Parents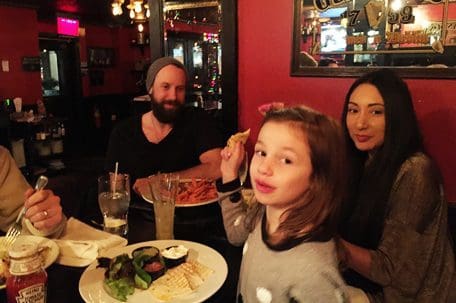 The Aunt&Uncle
It's good to be stretched beyond comfort zones from time to time. Finding my way through city streets and subway stops responsible for the safety of three grandkidlets isn't quite as comfortable as sitting at home with a good book. But the theater and dinner with family in the city is a memory I will carry with me forever.
Why do I have the feeling there is more uncomfortably good, adventurous, fun, intimidating stretching ahead for me? I know this for sure: I'm up for it. I have determined to live this cancer widow phase with courage – not afraid to try new things, to take risks, create new adventures. Even if I have to do them alone.
Here's my question for you: What's keeping you from planning your next adventure?