This first Christmas without Hubby. And still unexplainable peace. Christmas Eve service with several hundred other people. Notes to Santa and carrots for the reindeer. Cooking and savoring of delicious food. Putting together of puzzles. Playing several games of Sequence, through which The Parents gloat, which wasn't really gloat-worthy since it was against a feeble grandmother and two young children. (I'm thinking they need therapy.)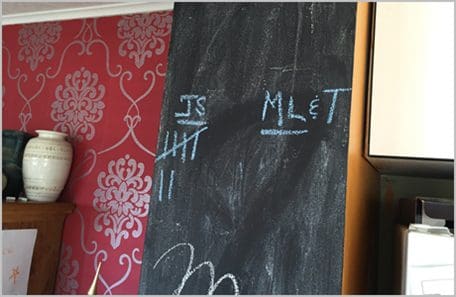 Wonderful family time together, this first Christmas without Hubby. So why hasn't this been a more sorrowful time for me? Why another day of waking up to peace?
Three thoughts captured in my journal this day-after-Christmas morning:
1. Prayer. So many people praying. People I know, but also people in places like Florida and Jersey that I met for the first time this past week. Imagine that. They don't even know me. And they were praying. Gift.
2. The passing of time surely has had something to do with it. Hubby and I had ten years to work through the grieving process. And when cancer took a sharp left turn in more recent months, again, time to say all the things we wanted to say. Cherishing one more day, and one more day. Gift upon gift.
3. Personal relationship with Jesus Christ. Who else but the Prince of Peace could grant peace during a time of irreplaceable loss? Priceless gift.
Dr. Rachel Remen writes this:
We are all here for a single purpose: to grow in wisdom and to learn to love better. We can do this through losing as well as through winning; by having and by not having; by succeeding or by failing. All we need to do is to show up openhearted for class.
We captured Hubby's handwriting a few weeks before he died. This throw pillow in muslin stamped in his declining handwriting. Gift from Daughter Summer and SIL Josh. I will cherish forever.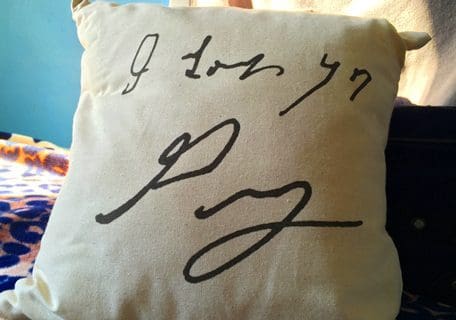 There is still much to learn, and I am planning to show up openhearted for class. But meanwhile, priceless gifts this holy Christmas season.