Sarah, my young cancer widow friend, stopped by with her six-year-old son, Oliver. She brought a gift that had been given to her last year from a fellow widow. With instructions to pass it along this year to another widow. Before Christmas.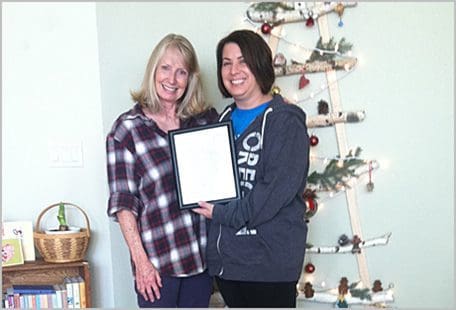 It was a lovely poem written from the perspective of the spouse who has gone on ahead to heaven. The first stanza reads like this:
I see the countless Christmas trees
Around the world below,
With tiny lights like heaven's stars
Reflecting the snow.
The sight is so spectacular,
Please wipe away that tear;
For I am spending Christmas
With Jesus Christ this year.
Our first Christmas apart, and here is a perspective I hadn't considered. When I come across reminders of Hubby—which is all the time, daily, everywhere—I mostly think of him cancer-free, pain-free, unencumbered with tubes and bags.
When you add the thought of his first Christmas in heaven with Jesus, how can your heart not be grateful?
I don't like the thought that another woman I know–with her husband beside her today–will find herself husbandless next year. But if losing loved ones is part of life, then I'm going to be the gift-bearer of the lovely framed poem. And hopefully provide a bit of comfort. As this lovely young widow did for me. Thank you, Sarah.
I'm not assuming widowhood will be this easy for the rest of my days. But for now, I am en route to visit brother and sis-in-law in Florida, and then north to the munchkins in Jersey. And still being held in so much peace.