Lovely, memorable, family-filled, fun-filled Christmas in the Far East Jersey. I'm amazed and grateful that it wasn't hard to be with family without Hubby. I had not expected this. I had always heard that the first holidays and birthdays and anniversaries would be the most difficult.
As always, it's good to be home. Some nice welcome-home gifts. Stacks of mail and packages. And this beautiful white fluffy stuff.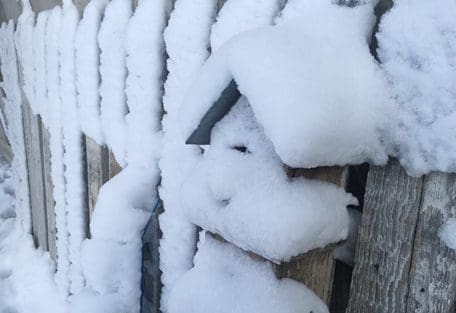 Even the red chair is wearing a lacey collar. (And this under a covered porch. How can that be?) Thank you, central Oregon, for this lovely welcome-home gift.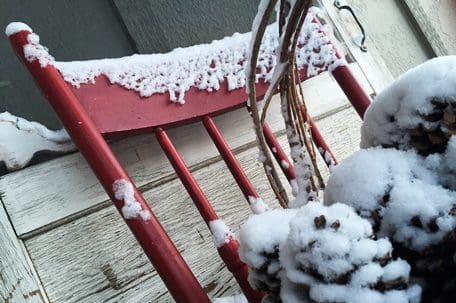 One of the things I feared about becoming a widow was returning to an empty house. Alone. And especially after dark. But it hasn't panned out that way. Perhaps because our home is and has always been a safe haven. Full of good conversations, good friends, good memories. And so much love.
It's good to educate ourselves on what to expect in widowhood. There are studies and statistics and experts who know what they're talking about. But I think it's also important to keep an open mind and not necessarily expect that we will fit into these neatly packaged statistics. That what most widows experience isn't necessarily what we'll experience.
I love busting widowhood myths … or at least the ones I had convinced myself were true. Grateful for being with family during this holiday season; grateful for a peace-filled home to return to, even though someone irreplaceable is missing from it.
Side note: There was one unwelcome home gift – my bag didn't make it on the plane last evening. I'm dressed for work, but no hair brush, no toothbrush, no make-up. (And since declutter is my middle name, why would I have a spare hair brush or toothbrush for just such emergencies?)