If you'll remember back a few weeks, Daughter Summer and three of her angel friends cleaned our place, set up the Christmas tree and rearranged the living room furniture. All rather secretively, and while Hubby and I were resting at Hospice House.
And then Summer showed me a photo posted to Facebook. I sent the photo to a friend, who is handy with tools and lives on property with plenty of fallen tree branches following a recent snow storm. This friend recruited another wood-working friend, and together, with the artistic lead of wife Carolyn, they built this beautiful piece of wall art out of white branches. Which I plan to decorate at each holiday and with each change in season.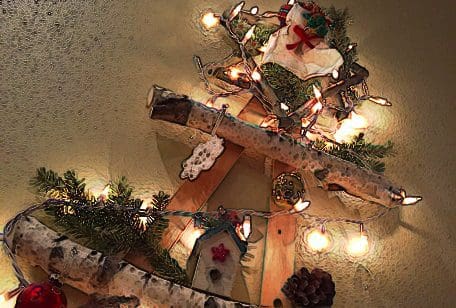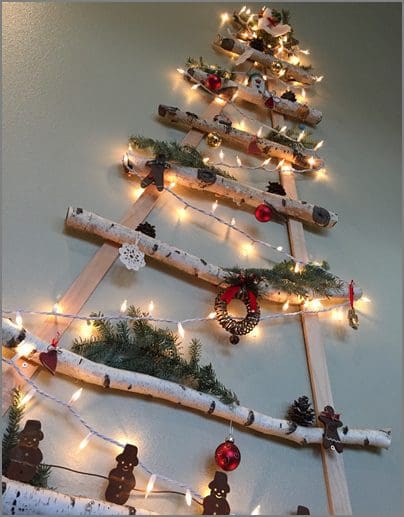 Meanwhile, since the Christmas Tree Decorating Fairies had gone to so much trouble, there was nothing to do but plant the tree smack dab in the middle of the hall where it interferes rather nicely with the flow of traffic.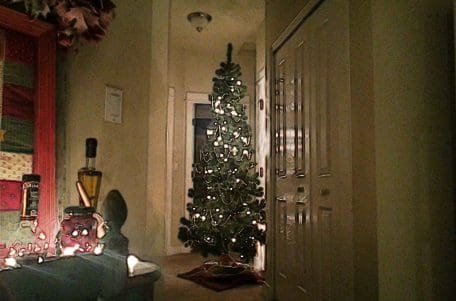 I think another reason I couldn't take the fake tree down is because it was assembled on Hubby's last day on earth. Little did Summer know that when she met the Housecleaning/ Tree Decorating Fairies in the morning, she and I would be coming home from Hospice House that evening. Without her dad, without my husband.
I have determined that cancer will not ruin this most favorite time of year, which begins with early autumn colors and runs through first snow, and Thanksgiving, and Christmas trees and lights and music. This will always be a sweetly remembered time of Hubby living life clear up until he took his final breath.
Merry Christmas, my love.