Our bathroom toilet clogged up the day Hubby went back into Hospice House. I sent a quick electronic plea. Tom and his lovely wife, Fran, showed up armed with all sorts of unclogging gadgets.
On his way out the door, Plumber Tom asked about our beautiful, old door propped on our front porch: "Hey, do you want me to fix this old screen door?"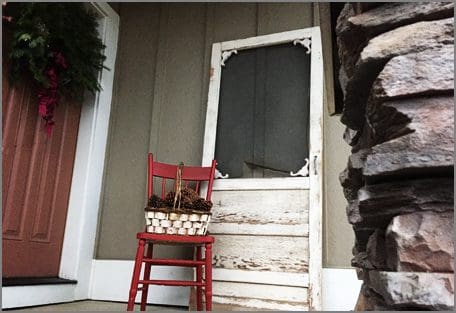 Now that's where I draw the line. The mesh may be torn, but don't be messing with my beautiful repurposed-into-front-porch-art screen door.
Last week as I was revving up into de-clutter mode, a friend said innocently enough, "Let me know if you need help with anything."
I pounced. Well, since you mentioned it … and together we de-cluttered the garage. Because I'm pretty sure I won't be using the chain saw. Or the pipe wrench. Or all the PVC pipe. And someone ought to be putting these things to good use.
Women are so good at the nurturing, meal-making, flower-delivering, house-cleaning show of love. And men tend to operate in fix-it mode. Which is also a good thing. Who says *angels of mercy* only come in the female version?
What I think I've learned in all this is what Daughter Summer has been lecturing me about saying. People really do want to feel useful. Accept their offers of help.