Daughter Summer recommended a book a while back by Jon Acuff entitled Quitter: Closing the gap between your day job and your dream job. It's a how-to-quit-your-day-job-the-right-way book. The first chapter is entitled, "Don't Quit Your Day Job."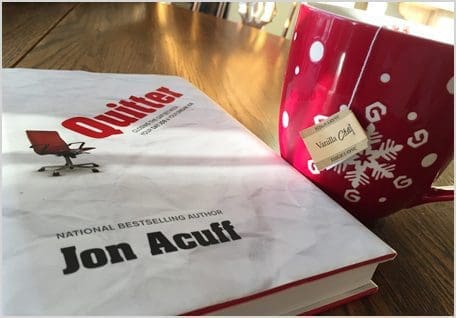 Hubby and I spent many hours talking about when I could resign and pursue writing full time. Unfortunately (or fortunately), my job at St. Charles Cancer Center included great healthcare coverage. And in case you didn't know, cancer is an unimaginably expensive disease.
Which means there would be no quitting anytime soon. Which was fine, because I loved the rewarding work, my incredibly caring co-workers and the local cancer community I served. And so it was with mixed emotions—elation, ecstatic-ness, astonishment, an ever-so-slightly painful tug on the heart—that I submitted my resignation this week.
Last evening was the annual Christmas dinner party hosted by our fabulous oncologists. Family friendly. Bring your kids because Santa just might be stopping in. A tough group to leave behind.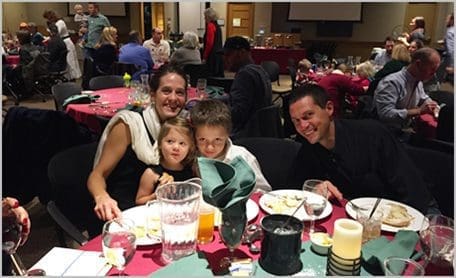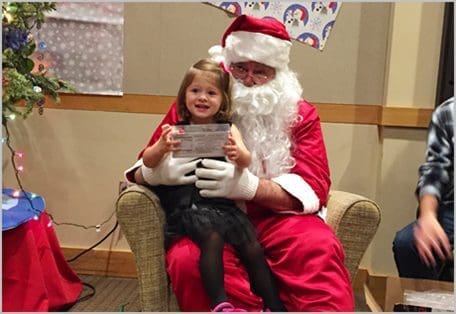 Before he died, Hubby and I had talked about not making any major decisions within the first six to twelve months of widowhood. Sound advice.
So I'm here to report that I'm not selling everything and moving to Switzerland, although the Swiss Alps call to me and I am planning to scatter some of Hubby's ashes in the Alps next fall after I scatter most of them in the Cascade Mountains, and here's what two of the Three Sisters in the nearby Cascades look like from downtown Drake Park this morning.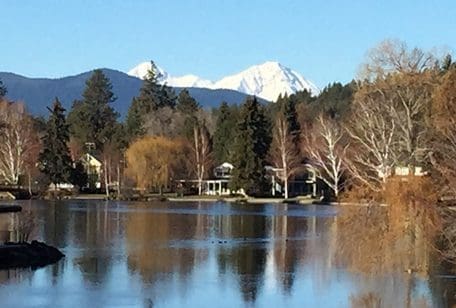 But I digress. I've decided to pursue the vision Hubby and I had together. (More about that in future blogs.) No rash decision. Something that's been brewing for a long time, one which Hubby encouraged. With family members detailing options that make it doable for me to take an early retirement, how can I not run with this opportunity?
So, tightening my belt to stay within a leaner budget. Rolling up my sleeves and working in the direction of my goals. Watching expectantly to see what God will unfold for me.