When we were growing up together as a married couple, Hubby's job programming large IBM computers required he work in cities. He chose to commute a little so we could bring up our kids in smaller towns and semi-rural areas. From time to time we've wondered out loud what we did wrong, because our children love big cities and crazy traffic and a faster pace of life. A friend, upon hearing we'd raised them in small towns, said, "Well, that's what you did wrong."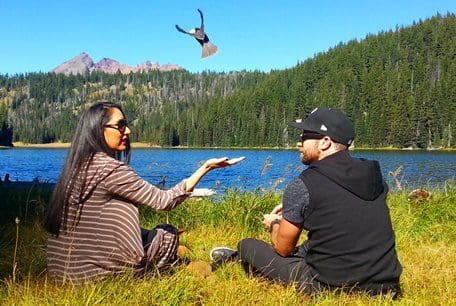 I'll say this about having city kids, though. It's easy to keep them amused when they come to visit. We simply introduce them to the local wildlife.
We're back in SunRiver celebrating a visit from Son Jeremy and DIL Denise. This little vacation cabin comes with bikes, but Hubby won't be climbing up on a bike this weekend. He has slowed way down in the two weeks since we were here celebrating our anniversary.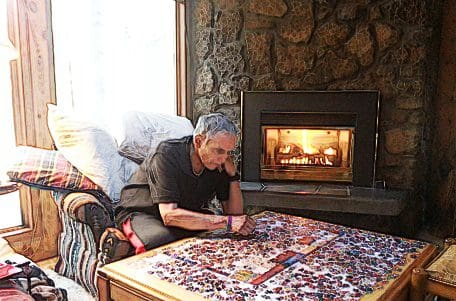 Our new best friend, Hospice Field Nurse Melinda, was here yesterday to test Hubby's blood. She ordered lymphedema massage—Hubby's legs and feet sort of resemble tree trunks—and now, in the comfort of our own home, Hubby will receive regular leg massage. Imagine that.
Hubby had ureteral stents placed not too long ago and hasn't been the same since. The theory was that the stents could possibly help with the nephrostomy tube issues. But they're causing more problems than he had before. My theory is that as soon as he can get the stents removed, he'll bounce back. Hubby isn't buying this theory.
Either way, whether this is a fixable issue, or the ongoing march of cancer, there is today. There is family time in a cozy cabin in the woods. A cheery fire burning. A puzzle waiting to be put together. Denise has offered to cook dinner again this evening. And—with one win for Team G&M and one for Team J&D—there is a championship game of Hand and Foot to be played tonight.
All is peaceful and well in our world. Because we have intentionally chosen to count what still remains, and not was is slipping away.