You'd never guess the photo shoot took place on a sidewalk. On a busy side street. Sis-in-law Cheryl wrote, "You guys even make living on the street look like fun."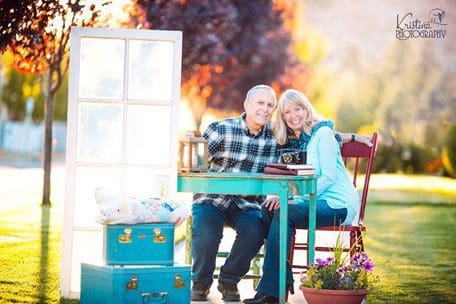 When our niece, Kris, first contacted us to arrange a family visit and photo shoot, I was pleased. I'd always wanted a professionally-shot picture of Hubby and me. Something a little nicer than the selfies we'd taken from the tops of mountains, dressed in layers and hiking boots.
As time passed and we couldn't coordinate our calendars, the thought of a visit and photo shoot began bordering on the stressful. On top of everything else. Perhaps this isn't as important as I thought.
And then it fell into place. But Hubby was feeling pretty punk. And so Kris quietly borrowed some pieces scattered throughout our home and ingeniously set up outdoors. All Hubby had to do was walk out the door, take a seat and in ten minutes we were finished. And even that wore him out.
Here's what I have to say: Sometimes the things that are important can also be inconvenient. And complicated. Do them anyway. Because nothing can replace these priceless gifts – this visit from family, these photos, these memories.