We didn't make it to Alaska to celebrate Hubby's birthday and our anniversary. Hubby wasn't up to it. Instead, we rented a cabin at SunRiver resort with wood-lined ceilings and nothing but trees out the front wall of windows.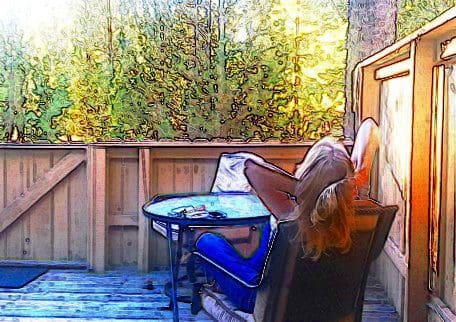 I brought homework with me this birthdayversary weekend. The hospice social worker handed me a booklet on death and dying. "This would be good to read," she'd said. Here's what it says about sleeping:
Interestingly, the normal sleeping pattern during the dying process is virtually identical to the normal sleeping pattern of newborns: off and on around the clock.
This describes Hubby's sleeping pattern. To a tee. But he isn't anywhere near the place described in the booklet.
We did a late-morning bike ride. Horses grazing along the trail. Purple mountains majestic in the background. I let Hubby set the pace and go the distance he wanted to go. From Harper's Bridge out to the marina. He probably rode too far. But it was what he wanted to do.
When we got back to the cabin, Hubby took his second nap, head resting on a pillow on the kitchen table. A newly-discovered sleep position that relieves pressure off his back and kidneys. As I write this, he's dozing on the couch next to me. His third nap of the day. And it won't be his last.
These frequent naps aren't because he only has weeks to live. His exhaustion and drowsiness come from cancer-related pain and meds. They're because he got out today and rode several miles on a bike. Because he's still enjoying life and living it as full out as possible.
I love this time of year. I love the colors, the cooler temperatures and new beginnings – as in school days and football season. I love Thanksgiving, the promise of snow and the thought of winter holidays just around the corner.
One more birthday, one more shared anniversary. Priceless gifts, these. Because Hubby wasn't suppose to live this long. Happy first day of autumn. Happy birthday. And happy anniversary, my love.