It might not have been the best timing to help load up a U-Haul truck and drive back through three states over multiple mountain passes. But we were glad to assist.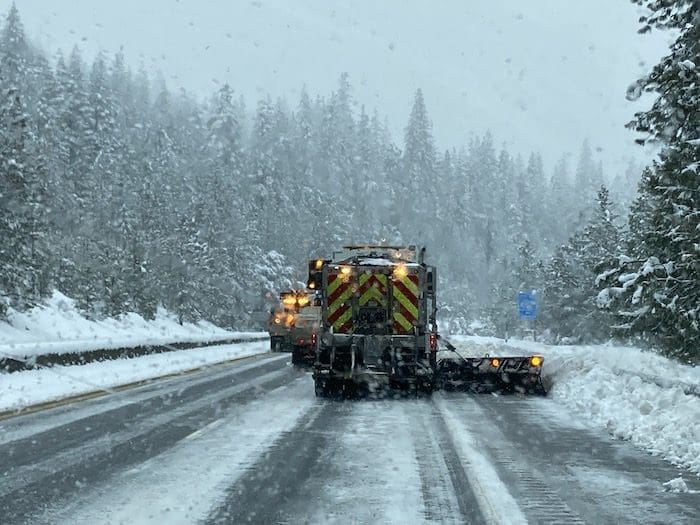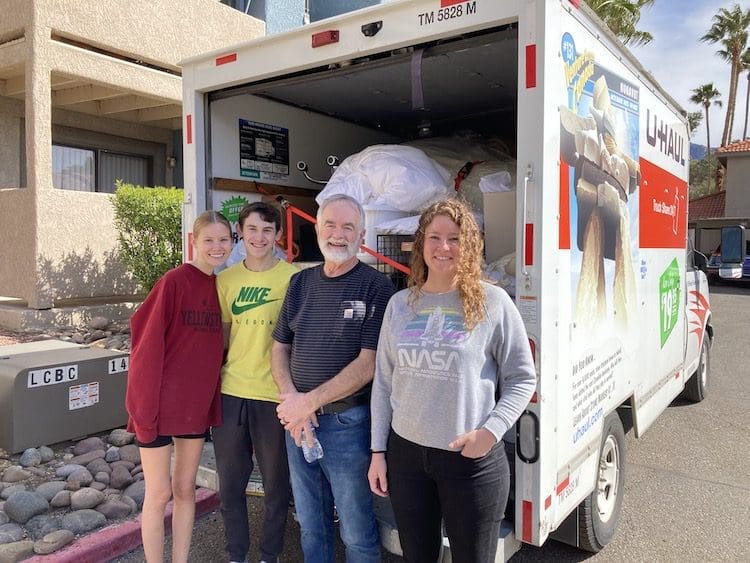 We purchased an airline ticket to Tucson to help our grandson and his wife move to Oregon. Our destination at the end of that loading-up-the-truck day was Blythe in southeastern California.
The original plan was to head northwest toward Tehachapi where we would pick up Interstate 5 near Bakersfield, thereby missing the traffic and congestion in Los Angeles. But the pass was closed due to blizzard conditions. And then we learned that blizzard conditions had also closed the Grapevine on I-5.
We were re-routed through Los Angeles and over to Highway 101 on the coast. By the end of that first day, we had navigated north through San Francisco and over the Golden Gate Bridge in beating-down rain—a 16-hour day because of frequent stop-and-go traffic.
Getting an early start the next day, we drove past the Clear Lake turn-off only to learn that the 101 just closed due to snow.
Let's see … what plan are we on now? Oh, yeah, Plan D.
We backtracked to take the road past Clear Lake over to I-5 after perusing the CalTrans website. Chains were required over the Siskiyou Mtns, which meant a side trip to purchase, install, and rumble on toward Oregon at an average speed of 25 mph.
Life's road closures
I think it's safe to say that most of us have experienced road closures and detours and failed plans. Most of us have had to backtrack every now and then. You've always wanted to be married, but the groom hasn't introduced himself yet. You're married, but you can't seem to carry the longed-for child to full term. A spouse walked out, leaving you as a single parent with impossibly tight finances. You were let go from a sought-after job or a place of ministry.
We know what these things feel like. We know the sound of a door as it slams in our faces.
I wish I could say that by putting in so many extra miles and spending all those extra hours—oh, and the $150 chains—I wish I could say that this happened because if we had been on I-5 in southern California, there would have been a horrific multi-car-and-truck pile-up and we would have been caught in it.
But I can't say that.
In fact, it's likely that wasn't the reason. And it's likely we'll never know why these road closures, why this cancer, why this child born with special needs, these mental health issues, these slammed-shut doors.
But isn't that where faith comes in?
Not knowing why these painful events, but knowing God, the One who walks with us through barren places. The One who doesn't always explain the "Closed Road Ahead" signs, but the One who does know the number of hairs on our heads. The number of freckles on our faces. The number of dollars in our diminishing bank accounts.
Being known by the One. And knowing the One. Having a personal relationship with our Creator. Listening for His quiet voice. Reading His words of life. Talking to Him about the hopes and dreams that didn't survive. And leaning into Him in deepest trust, this heavenly Father who always and only chooses for our highest good.
Home again
Dan and I are pleased to report that we arrived at our destination, hours later than we had planned, but still … safe and sound and with a story to tell.
I captured a few thoughts from the passenger seat of the U-Haul truck on the long, slow, snowy drive home. Even though we went approximately 300 miles and quite a few hours out of the way, none of it was wasted. We pray for these grandchildren all the time, and these miles, these long days provided the perfect way to put our love for them into action.
Service is the opportunity to put wings to love. And wings can fly over any signs that indicate "Road Closures Ahead."