"I don't have to drive home by myself!" We were in Idaho. Extended family members were eager to meet this man who'd won my heart.
For the past five years, I drove this route alone. And now I had a husband for the long road home.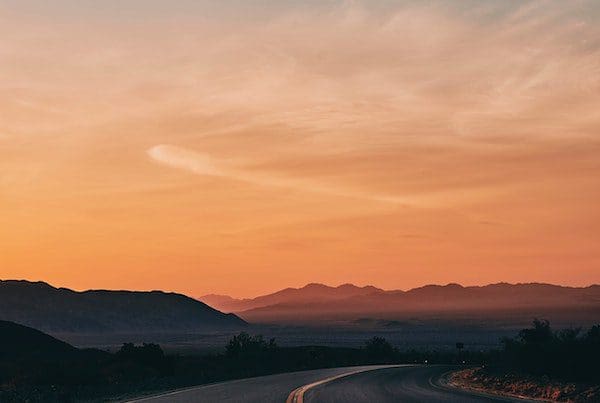 Leaving Idaho and crossing the high desert of eastern Oregon, Dan and I talked about the simple pleasures we stumbled into with this new life together—simple things, like, exploring back roads on a motorcycle, cooking together in a full kitchen, walking through the yard with mugs of Chai tea—checking out the garden, the raspberry plants, the pair of ducks on the tiny pond.
Brooke Hampton said this:
Fancy things never appealed to me. I like the sweet, simple things. I like to watch the sunrise on my old front porch with a warm cup of coffee. I like good books on rainy afternoons. And I like the way it feels to be surrounded by real friends and people I love.
Fancy things never appealed to me either. I'm a simple pleasures sort of girl.
The long weekend in Idaho held its own simple pleasures: riding the perimeter of bro- and sis-in-law's ranch, hiking the Jeep tracks, spotting deer, harvesting marionberries and honeydew and nectarines.
But especially catching up over good food with siblings and nieces and nephews and cousins and friends.
These are the things that appeal to me.
This challenge
Our nation is experiencing a long and uncertain season. What will normal look like after COVID-19 simmers down? How will the racial tension wracking our nation be rectified? How will the upcoming presidential elections affect our country? When will the fires burning up our beautiful state of Oregon come to an end?
It's challenging for most people to speak gratitude in times like these.
But I wonder if gratitude doesn't start by noticing the simple pleasures and calling them out while we still have them.
(Confession: I took for granted having a road trip companion all those years of my first marriage. And then there were the widow years of traveling mostly alone. And now—oh, sweet and simple pleasure—someone to share the road with again.)
There is a letter written by the Apostle Paul to the church in ancient Philippi that contains guidelines on how to have our mind set—in good times and when things are going sideways:
Finally, brothers and sisters, whatever is true, whatever is noble, whatever is right, whatever is pure, whatever is lovely, whatever is admirable—if anything is excellent or praiseworthy—think about such things. – Philippians 4:8
Interestingly, Paul wrote this letter from prison—encouraging the believers in Philippi to live out their faith in joy and unity.
Who does that?! Who writes joyous and encouraging letters from prison, knowing this is as good as it's going to get here on earth?
This isn't a Pollyanna-ish attempt to get us to think positive thoughts.
The challenge is to practice a principle that helps provide quality of life—not only during the easy, comfortable, undemanding, uncomplicated seasons. But also during frightening and uncertain times.
A principle of having our minds set on noticing the simple pleasures that make up our full lives.
A principle of practicing gratitude.
Of thinking about and speaking what is true and lovely and excellent.
What is it you enjoy and appreciate? What are you grateful for? What would you miss if you no longer had access to it?
Consider compiling a list—on your phone, on paper, in your head—and sharing it with someone important in your life.