"Have you heard of this?" my daughter asked. The link was to the 52 Hike Challenge. According to their website, it's a movement to get people outdoors. (Not sure if that was an intended pun. Movement, get it?).
And so I took up the challenge to do 52 hikes in 2020. I even (nerdily) created a spreadsheet with columns that add up the mileage and ascent.
The website includes six different options. One of them involves 52 hikes in a year of at least one mile each with our four-legged furry friends.
Another is comprised of 52 outdoor activities with our kids in one year.
There's even a challenge to hike in at least 52 nationally designated parks in our lifetimes. (I want to do this one!)
After taking up the challenge, a friend of mine, Dan—who is now my fiancé as well as an outdoor trail junkie—joined me on almost-daily hikes and snowshoe treks.
And the miles began adding up.
Turns out, it's not just about the miles. It's also about the mental health benefits of being outdoors in God's soaring creation.
It's about paying attention and noticing our surroundings—in our case, the majesty of the Cascade Range, the frozen-in-time lava ridges …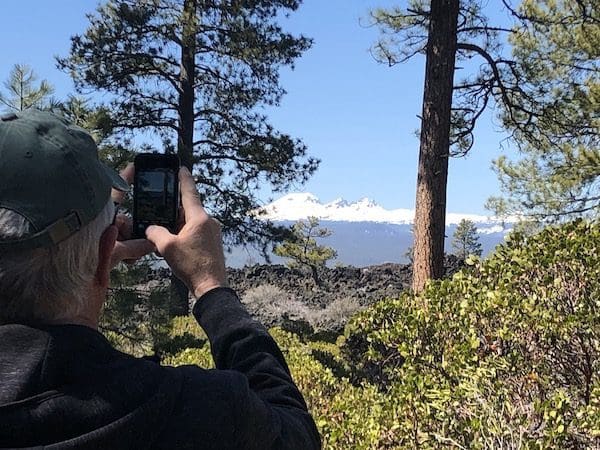 … and the wildlife, i.e., this osprey bringing lunch to her offspring.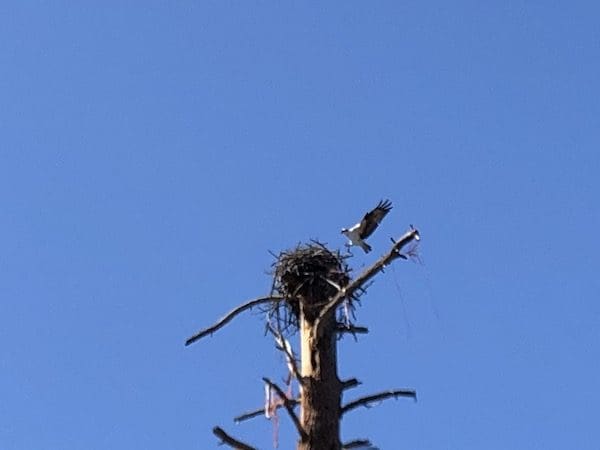 Back when my husband, Gary, was diagnosed with late-stage cancer, hormone therapy was the treatment of choice. It causes osteoporosis, which is why we took up pounding the trails. Frequently.
Gary and I didn't think hiking and snowshoeing would cure his cancer, but quality of life was one of our goals. And outdoor physical activity lends itself to QOL.
An article posted to the U.S. National Park Service website, titled "Benefits of Hiking," cites a study done by researchers at Stanford University:
Spending quality time in the great outdoors reduces stress, calms anxiety, and can lead to a lower risk of depression.
All those accumulated miles of circumnavigating lakes and crossing streams and summiting mountains most certainly increased our quality of life.
After Gary left his cancer-ridden body for heaven, I continued outdoor activity. Which was part of my quality of life during the widow years.
I'm currently heading into a new season, getting ready to tie the knot with a good and kind man who loves getting outdoors as much as I do.
As of today—twenty-one weeks into the year—Dan and I have hiked a total of 39 snowy, dusty, and pine-needled trails since January 2020.
(On the route from Benham Falls to Dillon Falls, Dan decided to climb to the top of this tree to impress me. But with all that weight … well, you can see what happened.)
John Muir said this:
Of all the paths you take in life, make sure a few of them are dirt.
What if?
One of the positive things about being in isolation these days is seeing so many people and families with young children taking advantage of the time to incorporate outdoor movement into their lifestyles.
What if we could take the challenge to get outdoors at least once a week—with our pets, our kids, our friends and fiancés and spouses?
And what if that could increase our mental, emotional, and physical health for the long run?
We could. It will.
Side note
Tiny houses tend to catch my eye. And my usual comment is something like, "I could live in that!"
Well, Dan and I noticed the tiniest of tiny homes across the Metolius River on a hike this week. It even had its very own solar panel and TV antennae.
Um … don't think I could live in this one.