Five years ago this month, I had head surgery. My husband—dealing with cancer and the side effects of wretched chemo—whisked me away to a resort village in the mountains with a tiny tree, a few lights, and a couple of gifts. It was a blissful, healing time.
We didn't know it would be our last Christmas together.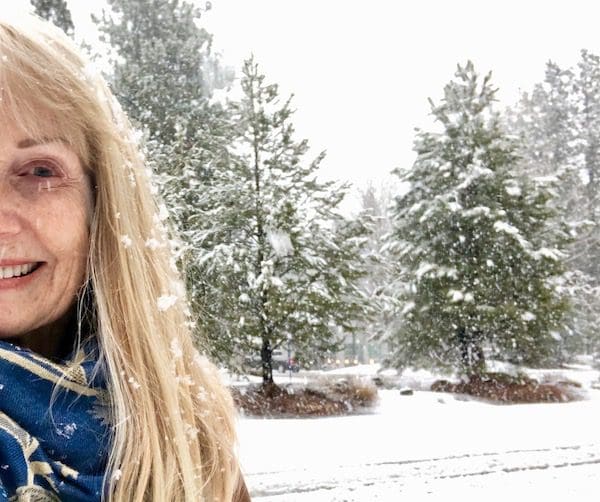 Ever since stumbling into widowhood, I've wanted to return to SunRiver on Christmas Day. Because when I do things alone that I've only ever done with my husband, then I come away a little braver, a little more resilient.
This was the year.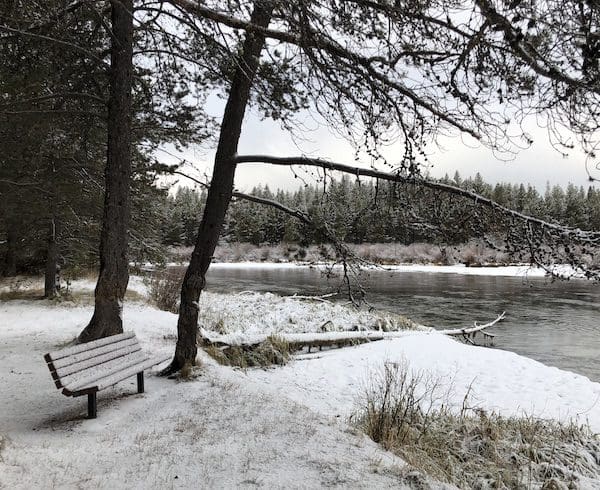 Before heading out into the swirling snow to walk the river trail this morning, I watched a short video recommended by a friend. It depicted the nativity story from the vantage point of a partially-lame shepherd.
The young man had presented one of his lambs to the religious leader in the village of Bethlehem. Loudly berated for bringing a less-than-perfect animal, the lad was turned away. His fellow shepherds distanced themselves from their disgraced comrade.
On his own in the crowded marketplace, the shepherd bumped into a dusty traveler with a very pregnant wife on a donkey. They asked where they could find water. The lame shepherd, having recently filled his water pouch, offered a drink to the thirsty young woman.
This humiliated, left-behind herder-of-sheep had no way of knowing he had just provided refreshment to the girl who was chosen to bear the Christ Child.
That night, after a visitation from a choir of stunning angels, the shepherds ran down the hillside toward town as the disabled one tried to keep up — breathing heavily and struggling with a foot that wouldn't cooperate.
And then—running with a slight limp.
And then—wonder of wonders!—tossing aside his crutch and running in full healing with his friends.
The shepherds found the stable where the baby lay in a feeding trough. And the once-crippled lad held the newborn, wonder radiating from his face. Because of the angels' astonishing announcement, he knew this was the long-awaited Messiah who would be the perfect Lamb as the ultimate atonement for all mankind's sins.
Seven hundred years before the fictitious lame shepherd found a baby lying in a manger, a prophet spoke of this child:
For to us a child is born, to us a son is given … and he will be called Wonderful Counselor, Mighty God, Everlasting Father, Prince of Peace. — Isaiah 9:6
Back to 2018: This Christmas Day of intentional solitude has not only been a brave-making venture—doing something alone I'd only ever done with my husband—but also a time to be still and ponder all that's unfolded since he exchanged his earthly body for a cancer-free, pain-free, eternal life with Jesus.
It's been sweetness to reflect on how good and full my current life is, even as a widow, and to think about what the future may hold for me with a ministry vision that seems rather large and impossible (except, isn't impossible what God specializes in?).
I've written a good deal about community and staying connected. Just as critical as families and tribes and networks and teams are, it's also important to know how to be content alone.
I am learning to embrace—yes, and even create—times of solitude.
Even though no other human is with me on this holy day, I'm not lonely. And I'm not really alone. Because the Prince of Peace is here with me.
This thought from Vina Mogg:
For solitude is peace when we are content to be alone.
Can we really be this brave?
Absolutely yes. When we know this Prince of Peace and invite him into our days, it is never fearsome to be alone.