Yesterday I hiked up to Misery Ridge and sat for a while, doing absolutely nothing. Well, except for munching fistfuls of nuts, and crunching on fruit, and slugging back cool, refreshing water.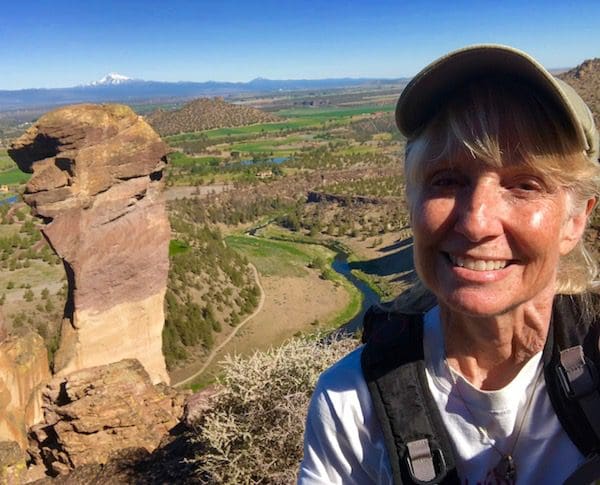 All photos: Marlys
My husband, Gary, and I crested this ridge a number of times. Since his passing, I've been revisiting some of our favorite trails, and Misery Ridge is one of them.
I'll confess I had a bit of apprehension in the early morning before leaving home. Not about the actual hike, but about driving to the trailhead alone. And hiking alone.
But the day didn't end up being anxiety-worthy.
This thought from Marlys—borrowed from Blaise Pascal, a 17th century physicist, inventor, and theologian—who wrote, "Most unhappiness comes from not being able to quietly sit in a room" (but my version is better):
Most unhappiness comes from not being able to quietly sit on top of a ridge.
And so, the reasons Misery Ridge isn't all that miserable:
4. The trail is a great work-out — my cell phone indicated 4.9 miles and the equivalent of 82 floors.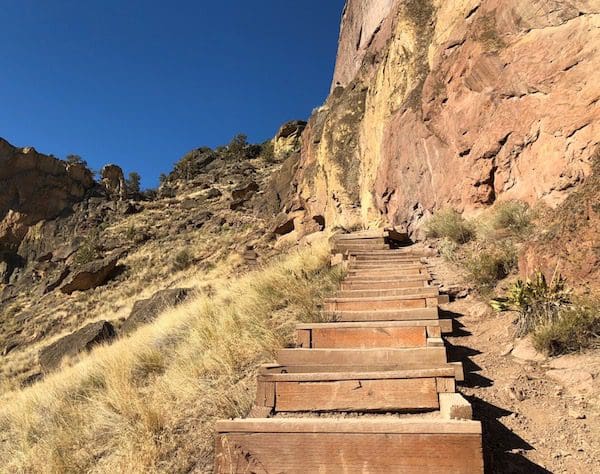 The dusty trail is strewn with intermittent steps
3. The top of the ridge is the perfect picnic site. Mid-morning toasted almonds, red grapes, and chunks of cantaloupe never tasted better.
2. On the return loop, the trail follows the river and provides some great entertainment as rock climbers edge their way up and down the steep cathedral walls.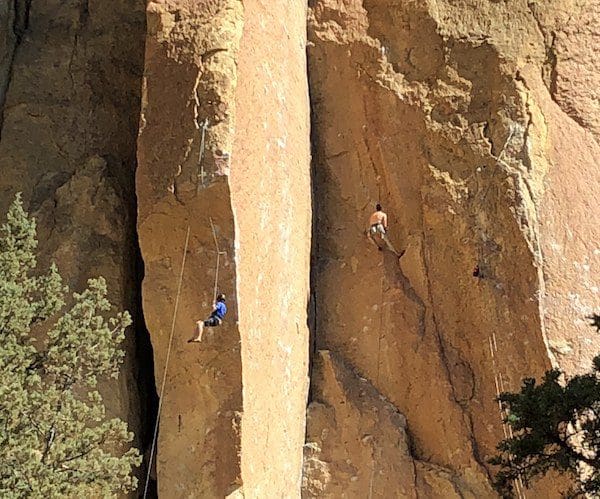 1. Misery Ridge affords the opportunity to sit still in God's unrivaled, astonishing nature.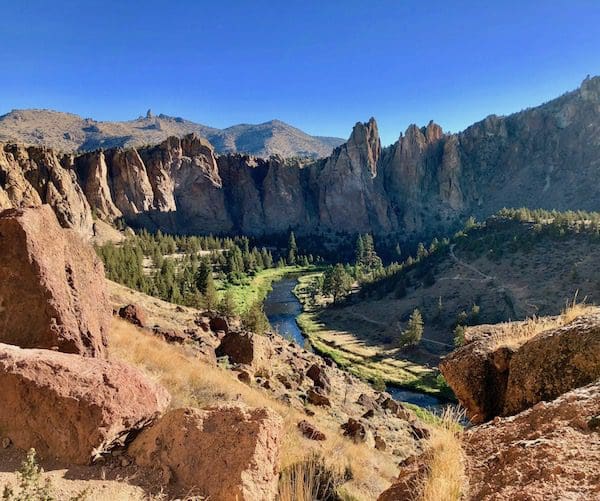 The view from the northeast side, on the way up to the ridge
This familiar, ancient psalm:
Be still and know that I am God.
Out of curiosity, I looked up the meaning of the original Hebrew for be still. It translates, "to sink, relax, let drop." This psalm isn't about being quiet; it's about relaxing in the presence of God.
Yesterday, I sat on top of a ridge and dropped all my cares, and sank into the sweetness of hanging out with God.
This wisdom from Winnie the Pooh:
Don't underestimate the value of Doing Nothing, of just going along, listening to all the things you can't hear, and not bothering.
My recommendation for this coming week?
Pack water and snacks or lunch. Find a ridge of your own. (Or front porch swing. Or park bench or fallen log.)
Sip.
Munch.
Be still.
Repeat often.
P.S. If you know someone who needs to climb a ridge, please share, tweet or pin!