Last evening, the rain stopped; the Pacific waves were calm; and just before the sun went to bed, she gave one final brilliant show. All for my enjoyment while standing at the window of my cute little vacation rental.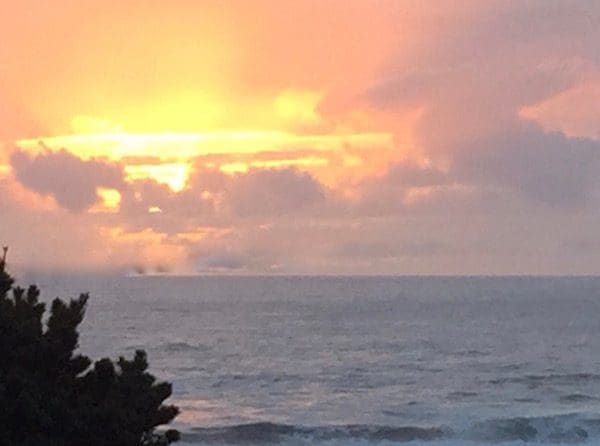 Pacific view from my window
Today, it's raining — a hard, driving, slanted rain coming off an ocean dancing wildly in a white frothy dress.
I just extended my stay here at the Oregon coast by one more day. Maybe because I put the finishing touches to my new book and submitted it, like, seven minutes ago, to an editor who asked to see additional projects.
Or maybe I extended my stay because I've not yet had the chance to start knitting the bulky mismatched fingerless mittens — a new pattern I brought with me.
Or maybe it's because I'm sipping a homemade Chai tea and the fire is lit and I'm in the middle of a  book.
Probably it has something to do with not wanting to pack up the car in the epic rain.
Where is Hubby when I need him?!
Speaking of roaring fires: I know how to build a fire, and I know the damper needs to be open when a fire is lit.
Per the homeowner's directive, I brought fake logs.
Scrunched up paper. Laid out small pieces of driftwood just so. Tore the paper off one of the fake logs. Laid it on my carefully arranged paper and kindling.
Pushed the flue handle in the opposite direction (guests are instructed to open the flue before lighting a fire, and close it when they leave).
And then I lit my perfectly-laid fire.
When the smoke alarm went off, no amount of opening windows, flapping smoke away with a kitchen towel, or pushing the button on the alarm would stop its bleating.
Turns out, the flue was already open. Of course. 
As for the fake logs, you're not supposed to remove the paper covering. And you don't need newspaper or kindling. You simply lay the wrapped log on the grate, light the three places indicated on the wrapper, and enjoy.
If all else fails, read the instructions.
Where is Hubby when I need him?!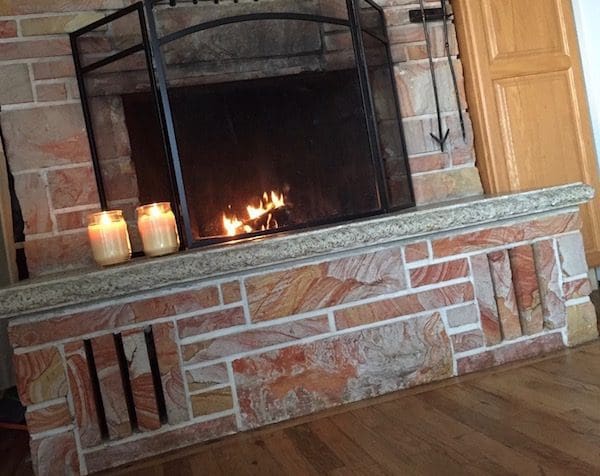 Evidence of my fire-lighting skills – there are no smoke alarms sounding in this photo
Yesterday, I walked along the Pacific waves. On the way back, I sat on a fallen log, mesmerized by the motion of waves roiling in with bluster, backing out meekly.
Gary and I used to take long walks on the beaches when we visited the coast.
And we'd pick an evening to eat dinner at Mo's, home of the world's best clam chowder. This time, instead of my usual bowl of chowder, I had the blackened salmon dinner. Because that's what my husband always ordered.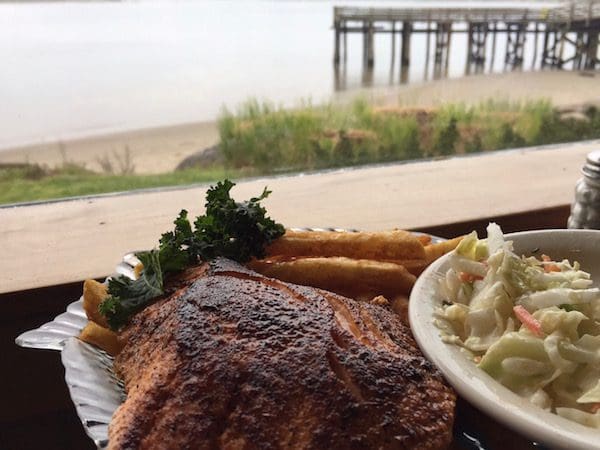 Blackened salmon at Mo's
I sat long at the window overlooking a wharf that extended into the small bay, thinking about all our road trips and ventures and hikes and meals out and running from waves and exploring lighthouses and building beach fires and roasting *grandkid food* over the flames and chasing seagulls and exploring tide pools. Hubby and me together. And sometimes with the grands.
Being here has made me contemplative. But it isn't a sad contemplativeness. More like sweet remembering.
Back when Hubby finally got a job after two years of unemployment and then cancer showed up, my initial thought was, now that we have two incomes, we need to stash away every penny against the unknown future with terminal disease.
Gary, in his wisdom, gently said, "But I want to live and make memories with you while we still have time together."
So we stayed budgeted, and Gary's income went toward double payments against debt reduction. And after debt was cleared off, we took more road trips, and hiked tall mountain trails, and explored the orange canyons of Utah, and drove across Alligator Alley, and hiked in the Tetons, and investigated New England's back roads during leaf season, and rode horses in the Rockies, and peeked over the edge of the Grandest Canyon.
And we ordered the blackened salmon and the clam chowder at Mo's.
It's these recollections that I carry close to my heart.
I still need Gary. But it's not because it's nice to have a husband who will pack up cars in the rain. And it's not because he could take charge of all fire-building. It's because he was kind and fun and funny and companionable and easy to do life with.
But if death is part of living—and it is—then I continue to weather the loss well, and it's been good to return to the gorgeously rugged Oregon coast carrying a heart full of riveting, high-volume, gleeful remembrances.
Which begs the question: What memories are we making with the people closest to us?
P.S. If you found this blog helpful—like, maybe helpful in lighting a fake-log fire—please share, tweet or pin!