It's gorgeously stormy and gray out. I can hear the pound of the Pacific, even though this tiny quaint vacation rental with its hardwood floors and stone fireplace is shut up tightly against the rain.
My husband, Gary, and I loved coming to the Oregon coast. I haven't been back since he died, but it's been on my brave-making list. And so, here I am.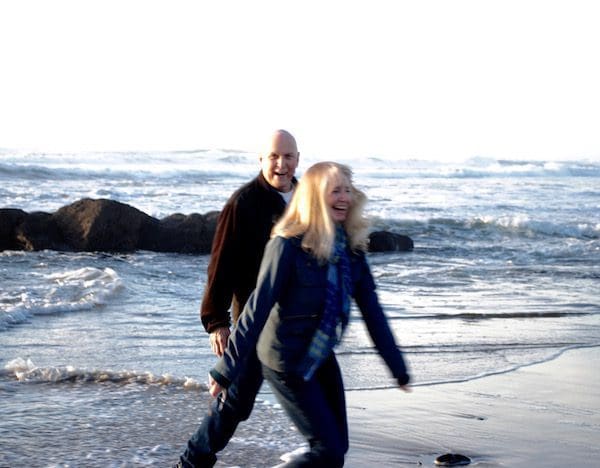 Hubby's hairstyle designed by chemo
A brave-making venture comes from hard places that steal our audacity and hope: a cancer diagnosis. job loss. financial reversals. broken relationships. death of a most loved, irreplaceable, wildly sweet person.
Brave-making involves going places alone I had only ever been with Gary; signing up for adventures we talked about doing before we ran out of time; participating in events that scare me.
But I would never be so arrogant as to say every widow ought to try this.
I have a young friend, Charity, whose husband and 3-year-old son were swept out to sea a couple months ago. On the Oregon coast. Right in front of her eyes.
She won't be visiting the coast anytime soon. And I would never encourage her to do so. That's something she'll get to decide to do – or never do – on her own. And it won't be a right-or-wrong decision.
On the way here, I stopped to have lunch with Charity. She spent the first two months of widowhood on the couch. Sleeping away the pain.
But she is strong and amazing. She's on her way to earning her astrophysics degree; spent 3 months working at NASA last year on an internship; is overseeing a research team at University of Oregon understanding how galaxies change with time; is about to have a paper published in the Astronomical Journal with her name as lead researcher; and has a verbal invitation to an astrophysics grad program in Chile.
Charity is amazing. And she spent the first two months on the couch. Not suicidal, but not sure she wanted to go on living. Suffering survivor's guilt. After all, she was standing right there.
My young friend is going to be fine. Every time I hang out with her, I see movement back toward "maybe I can go on living after all." She just started journaling — capturing memories of her husband and son, writing openly and honestly about how difficult the journey is. This, after she said she wasn't a writer.
Charity is also an outdoors lover. She and her husband—with baby in front pack and then later, toddler in backpack—hiked and swam and camped and counted stars in the Cascade Mountains and central Oregon's high desert. After two months on the couch, she's starting to think about hiking Spencer Butte in the college town where she lives.
But she isn't ready to visit the Oregon coast. And she may never be. Which is fine.
Charity gets to choose how she processes her grief as long as it does no harm to her or anyone else. And no one has the right to say to her, "Shouldn't you be over this by now?"
All the things that have helped me live forward, including my brave-making ideas, are meant for me. If I share some of them in these blogs and if that helps someone else, well, then … good. Because that's what motivates me to write.
But there are no quick-fix lists for all widows everywhere; no right and wrong way to grieve; no five stages and if you skip a stage you better go back or you won't have grieved correctly.
A widow said recently:
Love doesn't die because the person is gone.
And if love doesn't die, then the pain of death also doesn't die. It can certainly lessen with the passing of time, but the bittersweetness of walking beside a husband slowly dying of cancer, the experience of witnessing the horrific tragedy of losing your entire family to the sea, those types of things will never be completely erased from a life.
Anthony Hopkins had this to say about loss:
Why love if losing hurts so much? I have no answers anymore; only the life I have lived. The pain now is part of the happiness then.
* * *
On a different brave-making note: For all my bluster about conquering fears and stepping outside comfort zones, I'm sorry to report a major fail.
Even when I tell myself in advance: We're ordering something different from the menu; now don't argue with me, I always order the fish tacos at Spork Restaurant, a favorite Friday date night stop after a hike. (No, I'm not dating, but I still keep Friday date night.)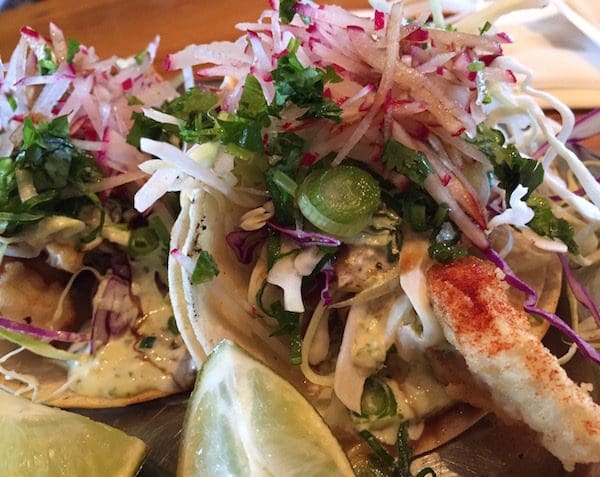 Spork's fish tacos — photo credit: Marlys
There are a number of tempting fanciful tantalizing offerings on Spork's eclectic menu. West African Peanut Curry with chicken, chickpeas, yams, jasmine rice. Mexican stew with pork, roasted peppers, hominy, cotija cheese, cilantro. Korean BBQ Short Ribs with fried organic egg, kimchi, jasmine rice and toasted sesame.
You'd think with all my bravado about brave-making campaigns, I'd step out of this comfortable rut.
You'd think.
But apparently I'm a hypocrite.
I can't make myself order something different when I love the fish tacos and they're only $3 apiece and two fill me up and where else can you get a full meal with a fun ambience for $6 on Friday date night?
P.S. If you know of someone who's trying to become braver or get out of a rut, you probably won't want to share, tweet or pin this.