While heartless unfeeling inconsiderate friends continue sending photos of piles of snow back home, I'm spending Christmas in New Jersey where there is no fluffy white stuff adorning the landscape.
But there's been plenty of playing, laughing, squealing, listening to Christmas music, gift-giving, nerf gun wars, good eating, Chai tea sipping, Lego building, book reading going on here in Jersey.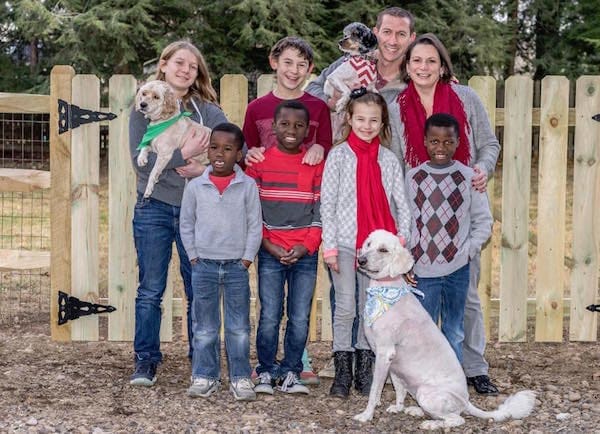 Photo credit: Doug Oines
Which has contributed to 5 observations on important life issues this Christmas:
1. Men don't seem to outgrow their competitiveness.
SIL Josh and all six grands got nerf guns for Christmas. And Josh showed no mercy to his brood of kids. Not even to his wife who was innocently (or maybe not so innocently) watching from the sidelines.
2. Children like one-on-one attention.
No matter how old or young they are, no matter how old I am, it seems my grandkidlings love that I take each of them out one at a time. I'm getting the better end of this deal.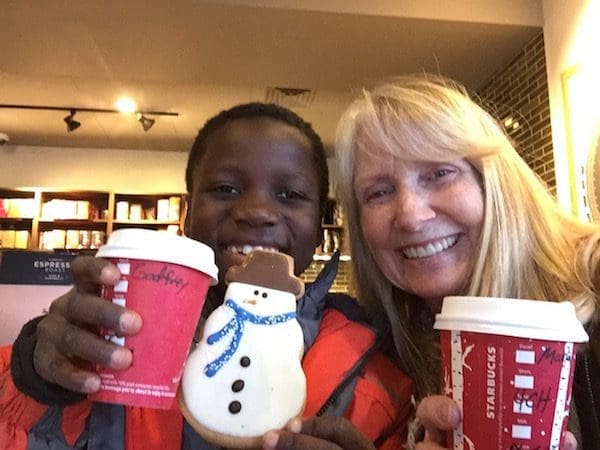 Photo credit: me
3. Staying in pajamas all day can be an exercise in bonding.
It's evening on Christmas Day as I write this, and it's way too late to get dressed because I'll just have to change back into pajamas in a couple hours. All of the adults and teens in the house have been in pajamas all day.
When in Rome …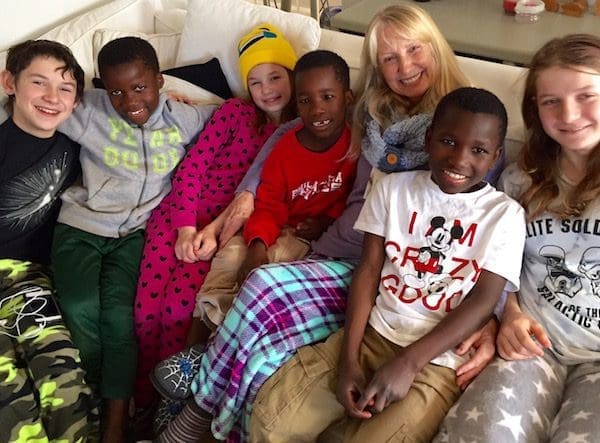 Photo credit: Josh Conn
4. The hole in the shape of Hubby is diminishing.
Perhaps it's this family gathering season that's caused me to reflect upon the continued diminishing of the sorrow distress loss lonesomeness of widowhood. How lucky am I to get to spend time with my busy adult children and the grands. (Jeremy & Denise flew me to LA twice this year.) And even though Hubby is still missing from us, so is the ache in the general direction of my heart.
5. I've started wishing for a male friend.
I've noticed that I've begun, oh so slightly, wishing for a kind, wise, active man who could tackle tall mountain trails with me, a friend to share a cup of coffee or Chai tea or a simple lunch. And that thinking-about-wishing-for surprises me. But I think it's tied to #4, and although I have no plans to pursue a male friendship, it will be interesting to see what might unfold in time.
* * *
This quote from Ann Voskamp:
Remembering is an act of thanksgiving … this turn of the heart over time's shoulder to see all the long way [God's] arms have carried.
I wish I could say to Hubby on this splendid Christmas Day, "I loved sharing life with you; and I am grateful to you and God for every last minute of it. And I'm happy, paying attention, taking adventures, counting blessings, living forward with purpose."
But somehow I think Hubby knows all that. And I think he would approve of a male friend for me.
P.S. If you found this post thought-provoking or helpful, please share, tweet or pin!