Two years ago this weekend, Hubby and I rented a small cabin in SunRiver Resort to celebrate his birthday and our anniversary.
The cabin came equipped with bikes, and Hubby wanted to ride. "You set the pace, I'll follow," I said to the man who had grown considerably weaker and was losing muscle mass; the man who only had two months left to live, which we couldn't have known at the time.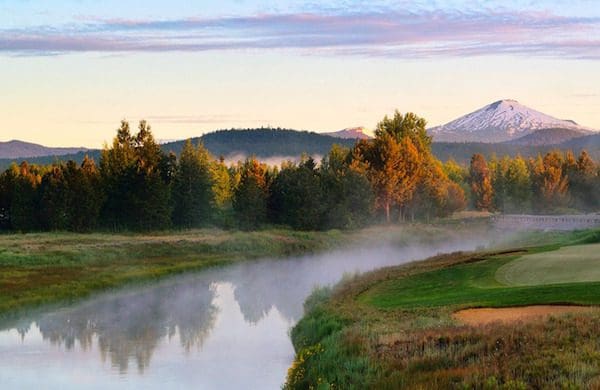 Photo credit: SunRiver Resort
We ended up riding out to the marina. About five miles from the cabin.
As part of my brave-making campaign—doing things alone that Hubby and I had done together—I retraced that bike route this past Thursday, our anniversary.
Getting closer to SunRiver, there was the oddest sensation coming from the general vicinity of my heart. I think it must have been bittersweetness. Distress alloyed with pleasure; sorrow closely blended with the sweet.
Distress at knowing my husband suffered, although he rarely complained. The pleasure of so many good memories in SunRiver that last year of his life = weekends with children and grands, a full week with Hubby's sibs and mom, our anniversary weekend.
There was the sorrow of losing something so irreplaceably irreplaceable—(redundant?)—along with the sweetness of each day I had with Hubby. I counted those days, taking none of them for granted.
Recently I came under fire from an online group of widows. "There were a few [in a closed group] who appeared to be angry and jealous in not understanding your positive attitude," wrote someone who was trying to be a peacemaker.
I'm sorry to say my first reaction was something along these lines: Why, you judgmental, small-minded people, you. 
The truth is, once we've lost something valuable — a loved one, our health, a way of life — things will never go back to exactly what they were before.
Grief is a natural and healthy response to loss. Everyone grieves differently, and everyone needs to take all the time they need to grieve well.
But if things aren't ever going to be the same again, then in time, should widows in an online group — instead of complaining in private about other bloggers — set aside their mutual negativism and make some choices? Can we choose gratitude? Can we choose to get off the couch and do something challenging?
Riding a bike — alone — along the Deschutes River this week was sweetly sorrowful. Because the last time I rode this path, Hubby was with me. But I had choices on my anniversary:
1. Stay home alone with discouraging thoughts of how things won't ever be the same without my husband.
2. Retrace a bike route Hubby and I rode on our last anniversary to show myself that I can be brave on this day that commemorated our years of marriage.
Option #2 seemed to make the most sense — especially given I have arms and legs, a dependable vehicle to get me to SunRiver, fresh air to breathe, lungs that work, eyes to see the beauty along the bike path, no enemy bombs falling from overhead, the warmth of intermittent sunshine, the anticipation of treating myself to Chai tea afterward.
If I write about the things that have helped me in dealing with the hard — like, counting blessings instead of focusing on all the losses, or like, doing things to make me braver — then don't criticize me for wanting to share what has worked. Because I'm an encourager by nature.
And so I broke up with the online widow group because my writing isn't a fit for their community.
* * *
The online widow conversation also included this comment: "I am annoyed by someone telling their story — which is fine — and then asking questions of the reader as if they are counseling them with their questions to think about. I don't come here to be preached at."
I think this particular critique had some validity. I've re-examined the questions I pose at the end of my blogs, and some of them do sound rather arrogant, as if I think I'm a psychologist or something. So, point taken.
But I'm still going to end this blog with a question. Because I can. Because it's my blog. Smile.
If you encountered a hard situation — say, diagnosed with a terminal disease, or found yourself widowed or divorced or unemployed — was there anything you did that helped you face down your fears? I'd love to hear about it.