It's New Jersey's spring break and I'm vacationing somewhere in the United States with Son-In-Law Josh, Daughter Summer and the six grands.
Hint: 1) The tallest brick lighthouse structure in the U.S. is in the vicinity; 2) We are in a house on stilts; and 3) There are quite possibly more seashells on our back patio in plastic buckets than on the entire beach at this point.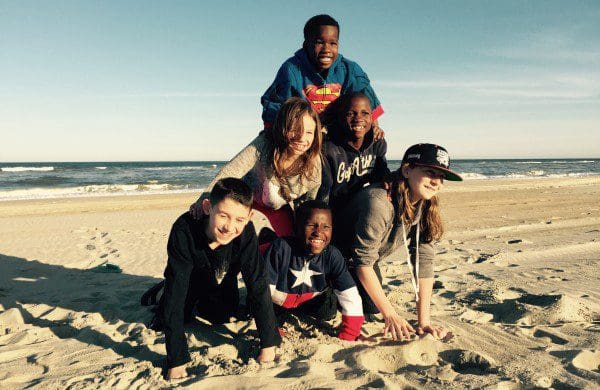 If you guessed the Outer Banks islands in the Atlantic off the coast of North Carolina, you would be right.
After The Littles go to bed, the teens and adults have been playing games of Hearts. Much laughter and silliness, which actually ended on a different note last night. We paused the card game to watch a short DVD of how the three Ugandan-born grandboys were brought to the attention of the local authorities and eventually placed in SIL Josh and Daughter Summer's home.
It is an amazingly beautiful and heart-tugging story.
Looking back at the crazy past sixteen months since J&S received the call from the adoption agency—while Summer was with me as her father was dying—there is no doubt these boys belong in this family. There are no coincidences in any of the details and timing and miracles. Which is a story I'll let Summer tell someday.
But for now, suffice it to say there were so many *had-this-not-happened-then-this-wouldn't-have-happened* moments in the story. And none of these six grandkids or my four adult children or any of the other important people in my life will I ever take for granted.
So, how not to take things or people for granted? Here are four thoughts:
1. Pay attention. Notice the important people in your life. What do you love about them? What would you miss about them? Notice the simple pleasures. Running barefooted in sand. The crash of waves as bedtime lullaby. Home-cooked meals in a vacation house overlooking breakers. Endless card games of Go Fish (which youngest grandson calls "Goldfish") and War (which same grandson refers to as "Roar").
2. Make memories. Sit long and leisurely over conversation at a local coffee shop. Put together puzzles. Fly kites. Take The Teens out for Breakfast; The Littles out for fruit smoothies and then find a run-out-their-energy playground afterward. If you receive an invitation for an adventure, figure out how to get there. And then go make some memories.
3. Track those memories. Take photos of piles of kids on a beach. Of kids on playground equipment. Of mustachioed family members at pizza parlors. Document your fun in a blog or photo album or journal or video. Look back over your stories. Frequently.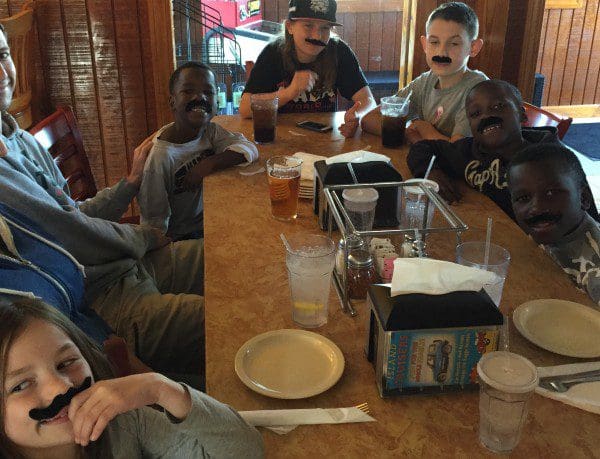 4. Speak love and appreciation. Tell the circle of people nearest your heart what they mean to you. Write their name in the sand. Because nothing says love like "Grandma" engraved in a sandy heart on a Carolina beach by a beautiful boy from Uganda.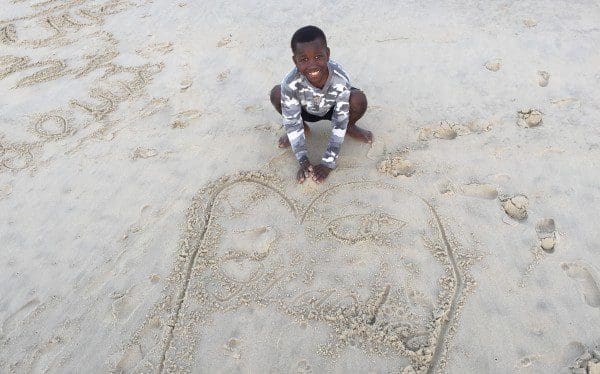 I took a few minutes to read back over blog entries from a year ago. This time last year I was writing in a coffee shop in Southern California when the first strains of "Unchained Melody" started playing. Which caused me to hold my breath because Hubby and I had once attended a Righteous Brothers concert. And because, oh how I've hungered for his touch.
Since that time, I've heard more breath-holding strains of music from Hubby's era. I've seen a movie or two that he would have liked, that I wish I could have discussed with him afterward. I've looked back through photos of our adventures together during the cancer years.
These remembrances don't hurt my heart. Rather, they serve to remind me of how I had a really good thing; and how cancer was the wake-up call to not take that really good thing for granted; and how it spurred us to live the last ten years of Gary's life – the cancer years – more generously and graciously, more grateful for what we had together.
And now that Gary is gone, I have determined not to take what is left in my life – which happens to be much – for granted.
What about you? What or who do you need to quit taking for granted these days? What memories should you be making with the people you love?
P.S. If you found this post inspiring or helpful, please share, tweet or pin!