The perfect winter—as I used to imagine it—would be Hubby and me snowed in at one of the mountain lakes in our area. With an overflow of firewood stacked on the front porch of a woodsy cabin. Reading. Writing. Knitting. Cooking. Putting together puzzles. And a daily outing that would require strapping on snow-shoes — to identify wildlife snow-prints and refill the bird feeder emptied overnight by the deer.
And then sitting here — alone — in my lovely living room with the tall pine growing just off the second-level balcony rail and the expansive views across the valley, I discovered something about myself. I would never survive the winter scenario as painted above. With Hubby, yes. But alone, um … no. Because as much as I relish my alone time, I also need to be around people.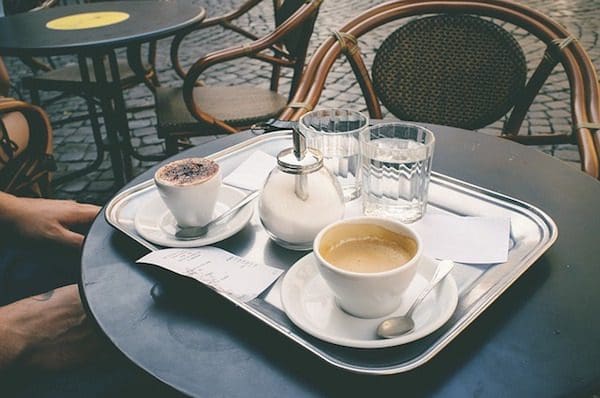 Photo credit: Pixabay
And as lovely as my living room is, there are those days when I pack up laptop and head for one of the coffee shops that sells a good cup of Chai tea. On more than one occasion, I have settled in near the fireplace at a local café — pleasant chatter all around — and written several hours without realizing the passing of time.
A couple months ago, I listed 7 lessons cancer taught me. Lesson #6 was, "People are our most valuable assets." From my personal experience, the right kind of people in our lives can serve as:
1. Family. Family can serve as family, of course—I am uber-blessed with family who like me, I think, at least they act like they do—but sometimes family members are hurting. And what they know best is how to inflict hurt on others. And so, sometimes we find ourselves needing to recruit family. Gathering around us the right kind of loving people who won't let us get away with stupid stuff.
2. Cheerleaders. Everyone needs a cheerleader. To encourage us in our dreams and goals. To say, "That's awesome", "So proud of you", "Wow." To stand on the sidelines and jump and clap and cheer, genuinely happy about our successes.
3. Mentors. The dictionary defines mentor as "an experienced or trusted advisor." Hubby was this for me. Now that he's gone, I've recruited a couple of trusted advisors who have advised on the direction of Cancer Adventures, on financial matters, with making some major decisions. Valuable, this.
4. Coaches. A coach is someone who instructs his/her players in the basics of the game. A coach has a strategy with success in mind for each player and for the team overall. Sometimes we may need a coach to look at our situation objectively, come up with a strategy and keep connected on a regular basis to see that we're sticking with the strategy. For our physical health. Our mental health. Or our financial health.
5. Peer support. I mentioned in a previous blog that I signed up for an 8-week widow's grief class beginning soon. Not because I think I need help grieving, but because I want to meet other widows in my area. Someone(s) who will be friends for a long time after the class has ended. Someone(s) who've walked the journey and understand my quirky widow stuff. And I, theirs.
6. Accountability. I keep active with my cancer-kicking hike/snowshoe posse. And with my Walk-Star group. And, get this — this walking group recently took official pickleball lessons together. Way more fun than a bunch of people dealing with cancer ought to have. Yes, I hike alone. And yes, I need accountability with regularly-scheduled activities for those days when I don't feel like hiking or pickleballing. This concept works for all those *activities* in our lives that operate best with accountability.
7. Mind-stretchers and therapy. A book club. A study group. (I recently finished a 13-week Bible study course. Learned a good deal; met some lovely ladies.) And then there's my Monday evening knitting crew. Do you know how therapeutic it is to knit against the soothing background chorus of women's voices. Talking about important things. Like, knitting patterns and recipes. And grandchildren. And road trips. (One seventy-something-young grandma from this group drove from Oregon to Texas to visit her family. Alone. Both ways. I hope I'm still doing road trips when I'm seventy-something.)
8. Second-living-room associates. In my case, these associates are coffee shop baristas. Who know my name. Well, they know a range of renditions of my name. The most common are Marlis, Marles, Marless, Marilys and Marlice.
But then there's Marnis. That's a little different.
This barista took the easy way out. Which still works.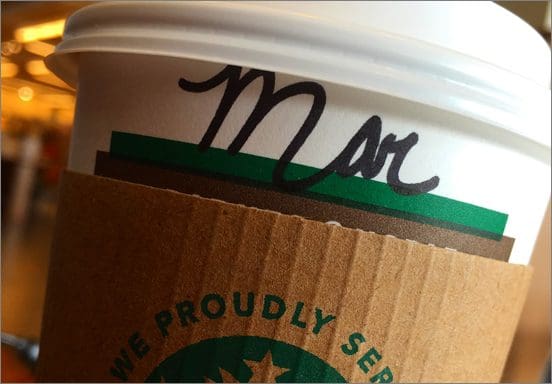 My least favorite is Marlous. Maybe because it sounds so … lousy.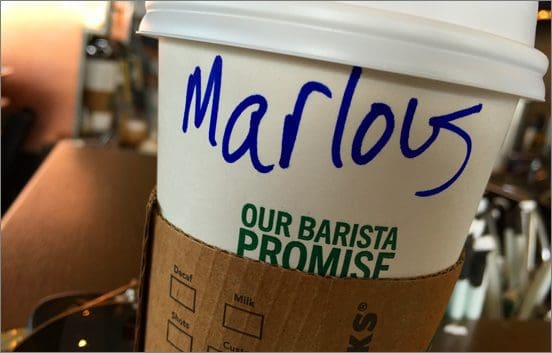 But Brooks? I'm thinking this barista needs to get hearing aids. Or I need to work on my diction.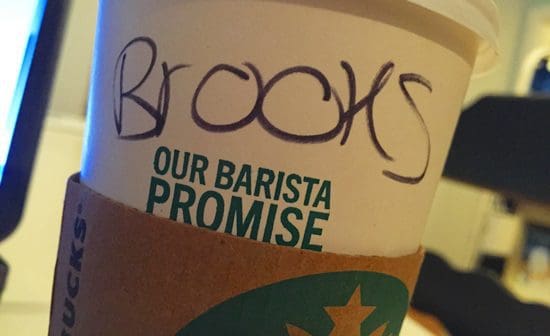 A couple of my favorites are Marta and Marley. I could be a Marta or a Marley.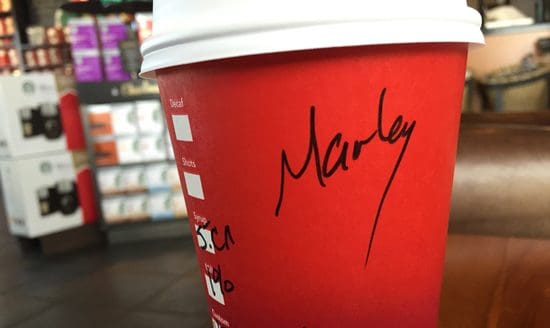 The point of this blog is not to encourage you to sit alone in cafés with distant acquaintances who don't really know your name. I have found a second living room out of necessity because I spend hours writing most days. And this is how I can work and still feel connected to people.
The point of this blog is to jog your brain to consider the essential-ness of attaching your life to the lives of others. The right kind of others. People who will love and encourage and cheer you on. People who will offer good advice and hold you accountable and help stretch you beyond your comfortable places.
And hopefully, as you stay connected, you are being this right kind of person to others.
What about you? Do you have the kind of people in your life who know your name? Your hopes and dreams? 
P.S. If you found this post (or even the spelling of my name) to be interesting, helpful or inspirational, please share, tweet or pin!