What if this holiday season you spent less and loved more? What if you did something totally out of character that she would love, that would say, "You are special to me." That wouldn't cost much money?
Like, what if you packed a picnic dinner, a thermos of hot chocolate and maybe those favorite chewy molasses cookies she likes? And what if you didn't tell her where you were taking her, but told her to dress warmly? And what if you drove out to a lake or river or scenic overlook, brought a bundle of firewood, extra blankets, candles, a CD player or iPod for some background Christmas tunes?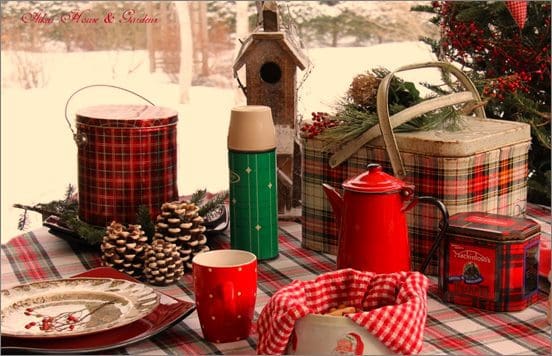 Aiken House and Gardens
How memorable would that be?
There's still a bit of snow in town after that pre-Thanksgiving dump of two feet that I got cheated out of because I was in Boise. But I'm not bitter.
With temps in the high 30s/low 40s and wearing excessive layers—and it being Friday date night (or date afternoon, whichever comes first)—I traversed the river trail that runs through the middle of our town.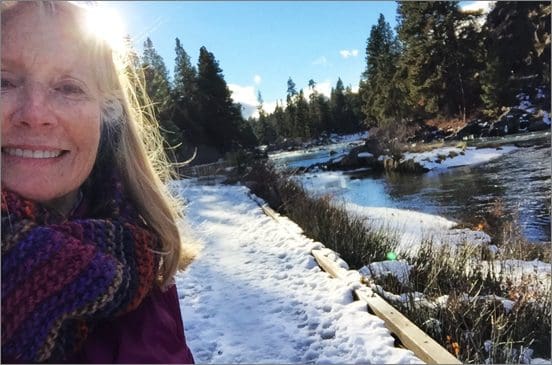 Alone. But not alone. Walking with Hubby in my heart. And being reassured that he knows I'm happy.
Hubby struggled with feeling unsuccessful as a man after cancer. One reason stemmed from his two-year joblessness just before diagnosis. And feeling that he would be leaving me in a not-so-great financial situation. (I'm fine financially.)
He worried that I would want to work late instead of coming home to care for a sickly husband in pajamas after hanging out with healthy, well-groomed men all day. (By the time he was sickly and in pajamas all day every day, I was home full time — exactly where I wanted to be. And besides, I mostly worked with healthy, well-groomed women.)
He struggled with feeling he was holding me back. Once, he talked me into going on a hike with our cancer-kicking posse. Without him. Because he was starting to slow down in a more serious way. "I don't want to leave you," I said. "I want you to go," he said. I went. But something significant was missing. (I never went hiking or snow-shoeing without him again while he was still alive.)
As I walked the snowy river trail on Friday—carrying Hubby in my heart, talking with God—I was reassured that Gary now fully knows he was no burden to me. He knows I'd rather have done cancer with him than no-cancer with anyone else.
He knows I've taken an early retirement. And I think he's delighted. It was Hubby who said, "You should write our story. And intersperse it with some of the best of your blogs." I think he's pleased that the first draft of this book is done and I'm now going about the business of procuring a literary agent.
I blogged earlier in the year about how cancer gave us date night. And how it benefited our marriage in so many ways. Think about this statement in light of Christmas gift-giving, from SexWithinMarriage.com:
Dating will not save or grow your marriage by itself. What it does is increase the time and opportunity to do those things that will make your marriage grow: real intimacy, vulnerable conversation and shared life.
As Hubby gave me the gift of date night before he left this world, there are a number of reasons I still observe it (some of which may precipitate the need for psychotherapy):
1. Anticipation. It causes me to continue looking forward to Fridays as a special day.
2. Memories. It reminds me of all the dates Hubby and I did together in this beautiful, outdoorsy town at the foot of the Cascade Range where it's easy to come up with creative date ideas.
3. Feeling pursued. Keeping Hubby in my heart as I walk a trail reminds me that I was once wanted and pursued by a most wonderful man. And for some odd reason, it feels as if he's still pursuing me.
4. Well-being. Dating is fun, and there are so many things to do that include getting outdoors for at least part of the date — hiking, snow-shoeing, horseback riding, pickleball, stacking firewood (I get a deep satisfaction from watching a pile of wood neatly grow taller and wider), geocaching, picnicking, bird-watching, rock climbing, canoeing, kayaking. So many options that relieve stress and provide a general overall sense of well-being.
5. Communication. I usually talk with Hubby on these Friday dates. And mostly my conversation is thanking him for giving me a good life. For loving me unconditionally. For setting aside his agenda, time after time, for me and our children.
6. Food. Good food. Inexpensive, health-driven foods. Like fish tacos at Spork on Newport. Shredded cabbage, slivered radish, green onion, jalapeno and cilantro piled high on catfish. Beyond yumm. Three dollars apiece.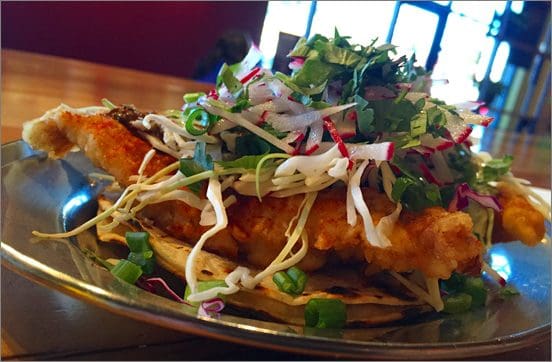 Fish tacos at Spork Restaurant
Fun, food, physical activity, managing stress, keeping the fires lit, keeping communication lines open, feeling wanted and pursued. All reasons to date. And especially during the holidays.
What better gift to give a spouse than the gift of time. The gift of undivided attention. The gift of making a memory that won't become outdated, broken, lost. Spend less. Love more.
(And if you're weird like me, what better time to keep taking your deceased husband on date night with you. At least until you have an actual date with a real live person. Then you should probably leave your deceased husband behind. He won't mind.)
How about you? If you're widowed or widowered, are there things you still do that remind you of the good life you had with your husband or wife? What memory can you create with your loved ones this Christmas that will long remain with them?
P.S. If you found this post helpful or inspiring (or even quirky), please share, tweet or pin!