Exactly a year ago, Hubby pushed me out the door to meet up with our cancer-kicking hike posse. It turned out to be a hard day. Because a critical component was missing.
From that experience, I had assumed that any future hikes on trails Hubby and I had conquered together would not be all that much fun. But I was wrong.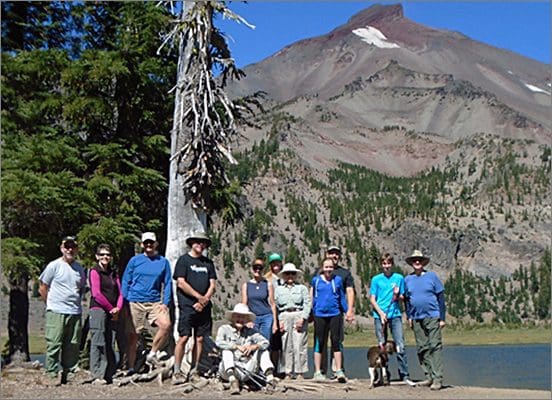 At the top of Green Lakes trail – August 15, 2015
There's a major difference between hiking and leaving your beloved at home … and hiking because your beloved is no longer in the picture and he would want you to enjoy life.
Yesterday I trekked up to Green Lakes with my posse. Nine miles round trip; 1100-ft elevation gain. And I had to borrow all my gear. Here's how not to be prepared for hiking. In six easy steps:
1. Drive to Oregon spur-of-the-moment from northern California.
2. Leave your hiking boots in southern California.
3. Along with your hat.
4. Leave your hiking pants in some Colorado cabin.
5. Pack your hydration backpack in a box wedged somewhere in a 10-foot cargo trailer in Oregon.
6. Cram your trekking poles somewhere into that same trailer.
To be honest with you, when Hubby and I first started hiking—back when we learned that pounding the trails was a good antidote to osteoporosis brought on by his hormone therapy treatments—we weren't much better organized than I was for yesterday's hike.
We hiked in heavy jeans without proper footwear.
We had seen people on the trails using trekking poles, but thought they must be visitors from Switzerland. Or some such mountainous place.
And we carried water in bottles in a backpack that had no waist strap to ease the load off the shoulders. Every time we needed water, we had to stop and dig it out of the backpack.
So, if you're thinking of doing some hiking, what should you gather before heading into the wilderness?
1. Hydration pack. It's much more efficient to carry water in a hydration backpack that houses a reservoir made of rubber. Hubby and I owned Camelbak Hydration Packs. A tube runs out of the reservoir and hangs over your shoulder for on-the-go sipping. Highly recommended.
2. Sturdy, comfortable hiking boots. I can't remember the name brand of my boots back in SoCal, but they were in the mid-priced range and have served me well. The boots I borrowed, however, are Merrell's. Excellent brand. Expect to pay more, but you'll also get a great quality boot. The most comfortable boot I've ever worn. (Since possession is nine-tenths of the law, Carolyn, good luck getting your boots back.)
3. Proper attire. I owned a perfectly fine pair of lightweight convertible pants—they convert to shorts with zip-off legs—but returned home from a Colorado hiking trip without them. I recommend a hiking pant vs. jeans. Proper attire also includes protection from the sun. There are long-sleeved shirts with UV protection built into the fabric, but I mostly rely on sunscreen. And some sort of hat. Mike, our fearless hike leader, let me borrow one of his hats. You can imagine my disappointment that it was a Cleveland Browns cap, and not the blue and orange of Denver. Not sure what he was thinking.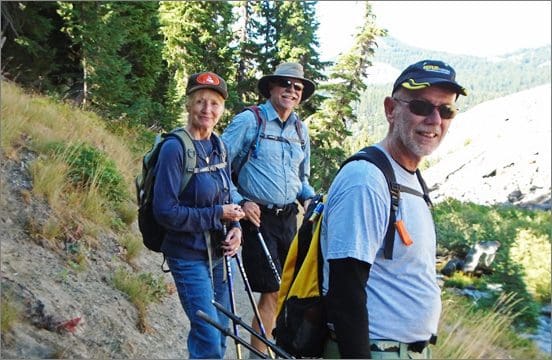 4. Trekking poles. There are pros and cons about use of poles. For me, the pros win out.
a. Hiking poles reduce knee strain by transferring downhill impact from your legs to upper body
b. Poles give your hands something to do, which helps reduce swelling
c. They help with balance while crossing narrow log bridges or streams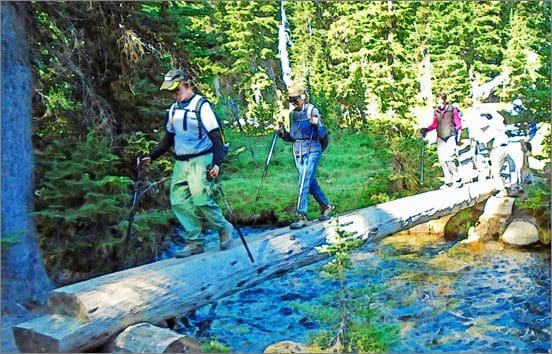 5. High protein foods. When Hubby and I hiked, I was in charge of the food department. I always packed one or more of the following. Nuts, particularly almonds. Dark chocolate. Apple slices. Cheese slices. Granola bars. Tuna or egg salad sandwiches on whole wheat. Chicken salad with grapes, celery and onion. Food never tastes better than alongside a mountain lake or atop a peak.
6. Safety equipment. Hubby always kept a plastic bag in his backpack filled with more than we ever needed. Waterproof matches, compass, reflecting mirror, waterproof ground cloth, sunscreen, insect repellant, lip balm, a basic first aid kit, flashlight and extra batteries. And duct tape. Because you never know when you'll need to duct tape something together in the wilderness. We also carried hooded wind/rain jackets — the kind that fold up into one of the pockets of the jacket.
Bottom line: If you don't have all the correct equipment, sign up for the hike anyway. Because the physical activity and the camaraderie are beyond value.
Hubby and I learned this important premise early on while battling cancer: Find something you enjoy doing. Find someone you enjoy doing it with. And get moving.
How about you? From your experiences, what can you add as advice to beginner hikers?
P.S. No wildflowers yesterday, but this photo from last year at this time shows plenty of blooms.
Green Lakes trail – August 16, 2014
P.S. If you found this post helpful or interesting, please share, tweet or pin!
Disclosure of Material Connection: Some of the links in the post above are "affiliate links." This means if you click on the link and purchase the item, I will receive an affiliate commission. Regardless, I only recommend products or services I use personally and believe will add value to my readers. I am disclosing this in accordance with the Federal Trade Commission's 16 CFR, Part 255: "Guides Concerning the Use of Endorsements and Testimonials in Advertising."