I was escorted off the Pacific Coast Highway. By two California Highway Patrol cars with lights flashing. Son Jeremy recommended I jog over to the PCH from the 101 on my drive south to their place. Beautiful scenery, less traffic, he said.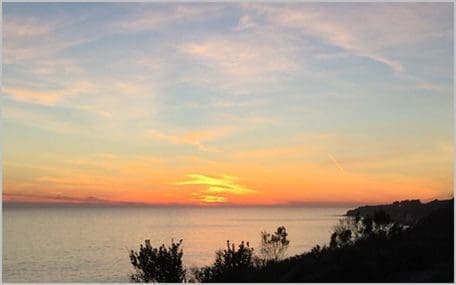 He was right. There was absolutely no traffic. None ahead of me. None behind. None coming from the opposite direction. And then these two guys in uniforms with flashing lights showed up, pinning my car so I couldn't make any fast get-aways.
Where are you going, ma'am? I could not, for the life of me, remember the name of the town where J&D live. Which didn't help in the area of don't-create-suspicion.
Where are you coming from? Oregon.
Do you live in Oregon? Yes. (I've watched enough cop shows to know you give the briefest of answers so that nothing you say can or will be used against you.)
How did you get on this highway? Drove.
Didn't you see the big flashing signs indicating the highway is closed? I didn't. Apparently the CHP neglected to place flashing highway-closed-signs on the entrance from Rice Road and now I'm going to jail. That's just great.
After further questioning, they gave me my very own private escort – one in front, one driving on my tail – back in the direction from whence I came. I didn't get a photo. Thought about it—because after all, this story would be much more interesting with a photo—but didn't want to chance the CHP confiscating my cell phone.
Welcome to southern California.