I received this card from family and its message gives pause for thought: "Hope believes anything is possible."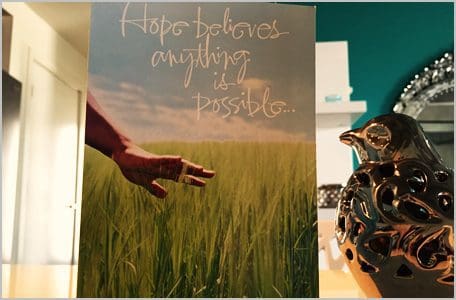 The inside reads: "Hope for the best, plan for the best, expect the best. You have every reason to keep moving forward … closer and closer to your dream."
I was thinking about these words in contrast to the hospice care message. In those last weeks of Hubby's life, more than one doctor said to us, "Hope for the best, but plan for the worst."
I understand that sentiment in context. Basically they were saying, Don't lose hope. Your loved one can live longer than expected. But know that he/she is headed toward death more quickly than the rest of us. That's the business hospice doctors and nurses are in – preparing the terminal patient and their family/friends for the inevitable.
But I like the boldness of the words in this card when it comes to pursuing dreams.
Hope for the best, plan for the best, expect the best. You have every reason to keep moving forward … closer and closer to your dream.
I hope to earn a living from writing. The world of publishing is a whole lot different today with people reading differently – as in, short snatches from the internet or via e-readers.
Nevertheless, there is the dream. And I am hoping and expecting and planning for the best. And putting in the hours at my computer every day. Writing every day. Even on the days when I ride my bike to the beach. (Did I mention the temperature today was 82 degrees?)