Two months a widow and this is my first time driving across the high desert of eastern Oregon by myself. First time visiting mom-in-law in Idaho without Hubby. I've thanked MIL several times through the years for doing such a great job of raising Hubby for me. She usually declines to take much credit. "He came that way," she says. (Hmmm … can't remember a time she's ever said that about any of her other sons.)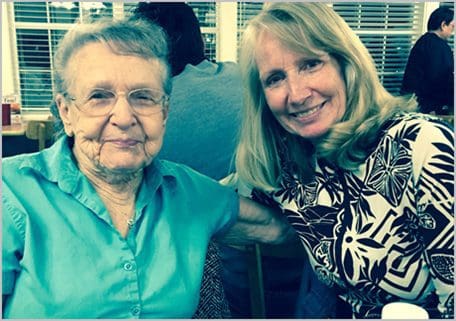 Take the pyro-maniac son, for example. Apparently you light the snow. And flame appears magically. So the girls can enjoy breakfast by the fire. This is how it's done in Idaho.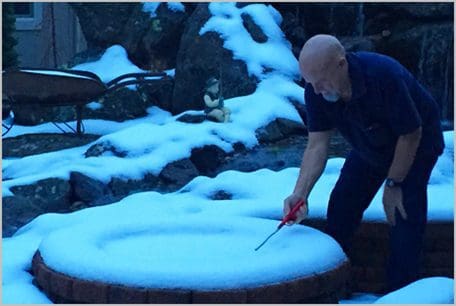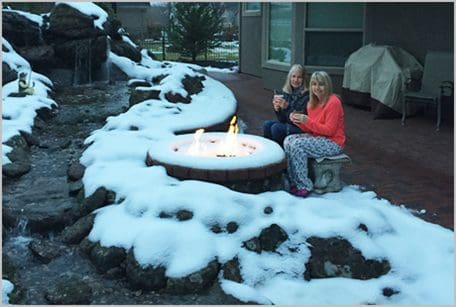 While there, one of the young cousins gave me the gift of WillowTree art. When I unwrapped the package, I was delighted to see it was the same figurine I received just last week from a high school girlfriend. The name of this particular piece is 'Surrounded by Love.'
It's as if God is saying, "You are surrounded by love. No, really. Pay attention. You are surrounded by love." If you're going through a time of sorrow, have you stopped to think about all that still surrounds you? In my case:
The love of family and friends
Peace
Provision
Health
Beauty in nature
Freedom
Joy – yes, even joy
God's unchangeable love
Open doors for new ventures
Courage
As I continue paring down and packing this week toward stepping out in a new direction—risky, exciting, uncertain thing, this stepping out—I am reminded that I don't go alone. I am surrounded.