Grandson Titus, before arriving in Oregon, wanted to know if the Starbux Fairy would still be making deliveries. Actually, her name is Porch Fairy because she's been quietly leaving gifts on our front porch for quite some time now. Flowers, bouquets of autumn leaves, fun toys for Hubby, thoughtful gifts, breakfast items. And daily, an Americano for Summer and a Chai for me. Daily deliveries in the snow and ice – against our counsel.
I e-mailed the Porch Fairy to let her know that SIL Josh and the grandkidlets were arriving and that it was time she took a much-deserved retirement. She e-mailed back to ask if she could make one more delivery. The grandkidlets were up early waiting for this event. Titus checked the porch at 7:29. Nothing. He put on his shoes, unplugged his iPod, and opened the front door a crack at 7:31. Six red cups.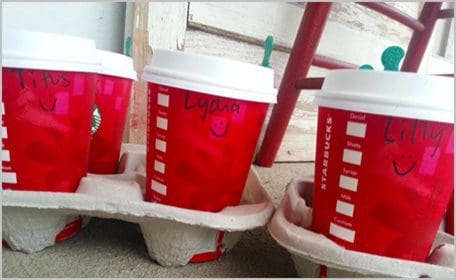 Stealth is Porch Fairy's middle name. You snooze; you lose, bud.
All along, Titus had been skeptical about there really being a Porch Fairy. Now he's a believer. Six-year-old Lydia, on the other hand, always believed. But she's more interested in knowing how big the Porch Fairy is. Because Lydia knows that all nice fairies are just a few inches tall.