Yesterday's celebration of Hubby's life was everything I had hoped it would be. A joyous occasion. Some tears, of course. But also much laughter and a catching up of memories.
I was proud of Hubby's sibs who stood up together and shared stories of their brother. Of course, for those of you at the service, you know you can only believe about 80 per cent of what they said, right?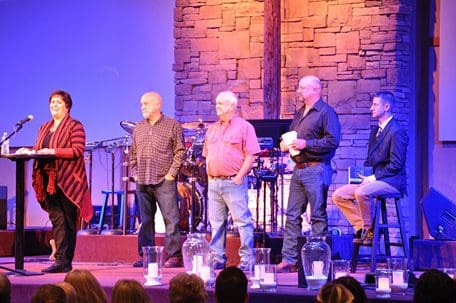 And I was particularly pleased that Grandson Titus read a letter he had written to his grandfather and Son Jeremy gave the eulogy.
Curt Floski, Director of Shepherd's House, shared what Hubby's final words were to him. Hubby—partly in childlike mode that he took on at the end and partly in good humor—uttered these ten profound words:
"It's sure hard to die with so many people visiting." I laughed, remembering those words. And the audience laughed. And laughter is good.
Most family members have left after a wonderful weekend together. As soon as the kids and grands are gone, I will take the time to read all the cards left on the table and sent in the mail, and the glass canister of signed memory rocks.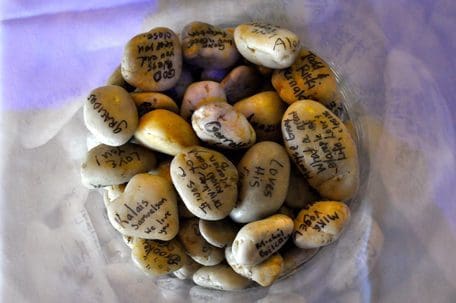 And I will eventually catch up on writing thank-you notes.
A few thoughts captured in yesterday's journal:
The sky is beginning to light up, as if this is just another ordinary day. But there's nothing ordinary about this day. Today we gather to pay tribute to a life well-lived. And even I—when I look at the whole of Gary's life through the draft of the eulogy—am amazed at what a man this was.
I was married to Hubby for a little more than forty-one years. So of course I know how wonderful he was, how easy he was to be married to, how much he loved our children—all four of them—and the grandkidlets, as well as his extended family. I know about his quiet way of doing what needed to be done without expecting any fanfare.
But to take a fresh look at the whole of his life in a few paragraphs of a eulogy was an illuminating thing for me. How blessed was I to belong to this man for a few short years here on earth.