A variety of flowers colors the trail if you take the time to look for them.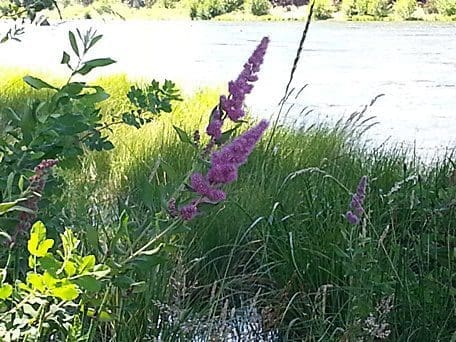 We hiked a little more than two miles today. I believe it's the furthest Hubby has walked since the start of radiation. Radiation zaps the last shreds of energy from a patient. And when you consider that Hubby was low energy before starting radiation, well then, you can see what an accomplishment.
One of our cancer team members is physical activity. Preferably outdoors. There is this fine line that the cancer caregiver walks. Do I nag encourage Hubby to get outdoors with me? Or leave him in peace? There is no such thing as leaving him in peace in our household, so I've been walking Hubby regularly.
A favorite trail is along the Deschutes River that winds lazily through our hometown of Bend, Oregon. Here the locals and tourists line up for tubing and stand-up paddle boarding. Before the Deschutes hits the tourist areas, though, there is a southern stretch that feels very wildernessy, although still within city limits.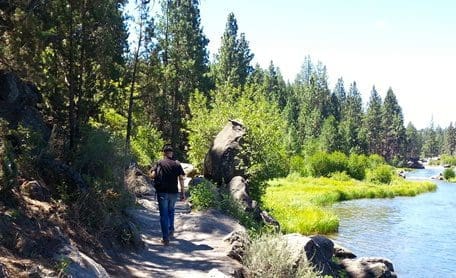 There's an overlook on the east side of the river that is a gentle climb up from the water's edge. Here we spread our picnic lunch.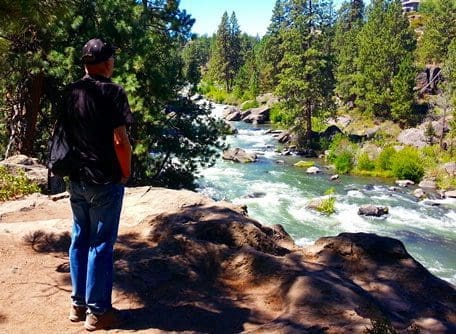 Maybe it's the sound of river rushing over large boulders. Or the cooling breeze from this vantage point. Maybe it's the simple act of breaking bread together. Or quite possibly all of the above.
Whatever it is, it's incredibly therapeutic. Those things that sneak in to cloud my mind with worries tend to scatter when I'm here. Or anywhere outdoors. With Hubby.