The first day of our planned trip to Alaska didn't go as planned.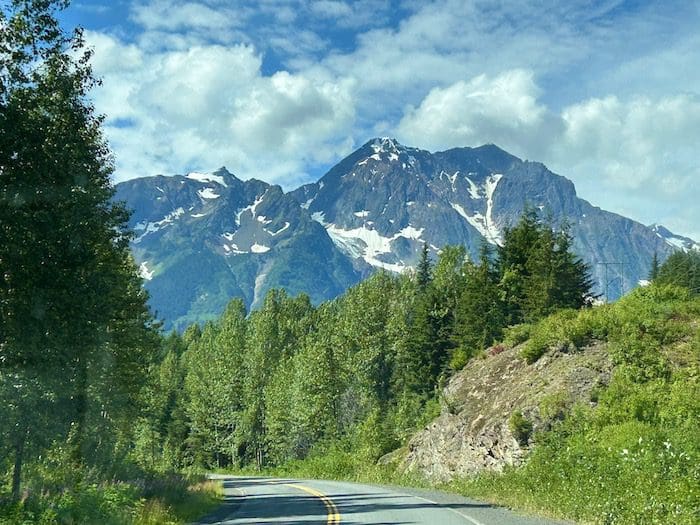 Road to Hyder, Alaska (photo: Marlys)
Dan loves mapping out long road trips. He has three books on Alaska filled with gorgeous color photos. He browsed through the travel journals and photos of friends who made the journey. He watched YouTube videos. He's figured out what to see and do along the route, and what we need to turn off the beaten track to take in.
On our first day—after 200 miles and three-and-a-half hours of driving—we pulled over at a gas station in Washington to top off the tank. That's when Dan discovered he'd left his wallet at home. You know … the wallet with his driver's license.
And so we turned south toward home.
Our grandson and granddaughter-in-law were kind enough to meet us with Dan's wallet in the small town of Madras, which saved us two hours of drive time.
And then we headed north again, making it a 14-hour drive day—747 miles to get back on track. Not what we had planned.
This past week, a family in our church lost their son, Joel, on one of the larger mountains in our area. He was an experienced hiker and climber but slipped on ice and plummeted several hundred feet. As we were leaving town in the direction of Alaska, I steadied my gaze on the mountain and said to Dan, "I bet it will be painful for David and April [Joel's parents] to catch glimpses of North Sister for a long time to come."
When we pulled over for gas on that first day of adventure, David and April were in my thoughts. So naturally, when Dan realized he'd forgotten his wallet, my first response was, "Would you rather have to turn back and lose 7 hours of drive time … or lose a son off the side of a mountain?"
During my wilderness years of experiencing loss and disappointment, I came to understand that each setback did not catch God by surprise.
Even though we'll never know the reason this side of heaven why these things happen, I know the God who is in charge, the God who never says, "Wow … didn't see that coming. Now what should I do?"
I have come to understand the notion that something we never wanted to happen can redirect us to who we will become. It can bring opportunity to better serve, or to serve a different group of people we would otherwise not have known.
During that long wilderness season of financial setback, a live-in aging parent, cancer, and eventually widowhood, writing became a passion. Writing was restorative. It helped me establish sense out of the long parade of senselessness. Writing motivated me to look for something to write about, which means I paid better attention to the heap of details that make up a life.
Flunking the history test and being dumped by the boyfriend and catching the flu and being diagnosed with cancer and running out of gas and running out of finances and losing our homes and losing our children is a guaranteed part of life. Guaranteed because we live in a broken world with fragmented people. And although God holds that world in His hands, He doesn't mess with our free will.
There's an ancient proverb that goes like this:
The heart of man plans his way, but the Lord establishes his steps.

Proverbs 16:9
Yes, it's good to make plans—for a career, for marriage and family, for epic road trips.
And then we need to hold those plans loosely. We need to release our agenda, our way, our timing to the God who sees the bigger picture.
God is an excellent planner and He always has our highest good in mind. Even when things happen that make no earthly sense.
Side note
Turns out, the forgotten wallet incident was my fault. We were expecting guests in our absence, and I needed to put fresh sheets on our bed early the morning of departure. Dan said that if I hadn't distracted him by asking for help, he wouldn't have forgotten his wallet.
I take full responsibility.
Later I asked my husband, "Is it more challenging to have a positive wife than a wife who would just get mad and yell?" (because I may or may not have kept up the 'would-you-rather' game for a little while).
Without giving it any thought, Dan answered, "Yes."