My friend Dan lost his wife to cancer in July 2019. Their daughter Carey works for Friends of Trees, a non-profit based in Portland, Oregon. When her co-workers gifted her with a grove of trees to plant in memory of her mom, Carey organized a "friends and family" tree-planting gathering.
If you want to plant a tree …
Friends of Trees sports this tagline: "We plant trees + grow community." The organization offers 4 avenues for getting involved:
1. Planting events. From October-April, Friends of Trees hosts Saturday morning volunteer events across the Portland-Metro, Salem, and Eugene-Springfield areas. In addition, there are annual planting events for neighborhoods; and Green Space events where volunteers plant native trees, shrubs, and plants in places, such as public parks.
2. Gift Trees are a great way to celebrate life events and honor loved ones. Gift Trees are planted at special designated events throughout the year. Purchasers and recipients are welcomed and encouraged to join a GT event. But if they can't, Friends of Trees will make sure their tree(s) get planted.
3. Volunteerism. Service hours, youth volunteer opportunities, and employee team-building activities are all available through the non-profit.
4. Donation opportunities. Friends of Trees relies on individual donors as well as business and organization sponsorship to help fund their tree-planting and community-building efforts. Among their numerous sponsors are Intel, Deschutes Brewery, Oregon Soap Company, Portland Timbers, Wells Fargo Advisors, and University of Oregon.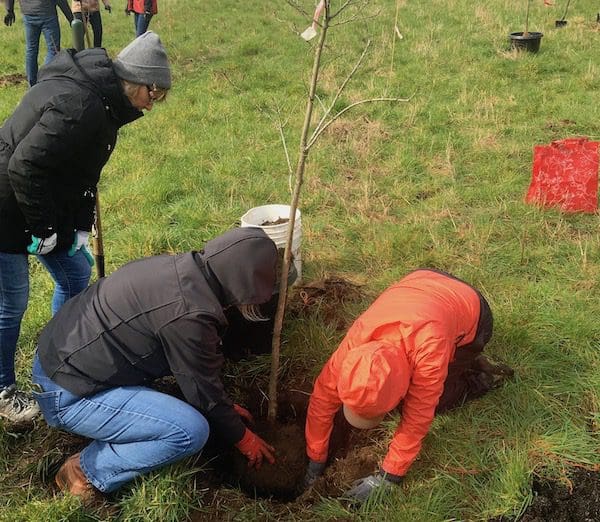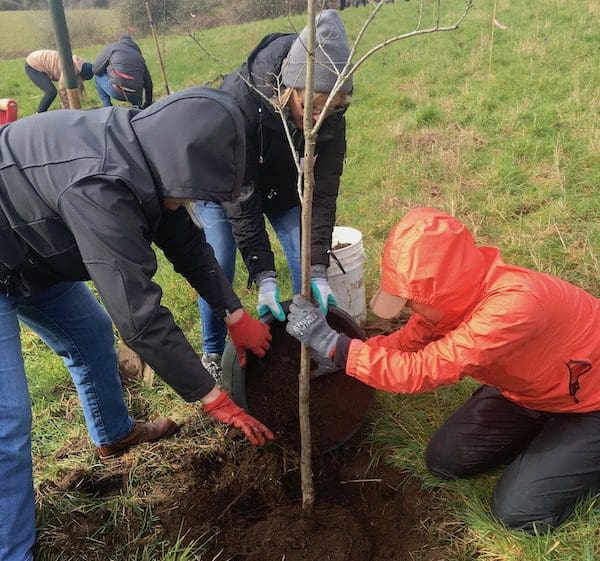 Here's an incredible statistic: Since 1989, Friends of Trees has planted 800,000+ trees and native shrubs in the Portland-Vancouver-Salem and Eugene-Springfield metro areas.
How cool is that?
Adding new people, new adventures, new experiences
Planting a tree in memory of a loved one is a really great way to stay connected with them.
Eleanor Haley and Litsa Williams, grief counselors, wrote about this Continuing Bonds Theory in a piece posted at What'sYourGrief.com:
When your loved one dies, grief isn't about working through a linear process that ends with 'acceptance' or a 'new life' where you have moved on. … Rather, when a loved one dies you slowly find ways to adjust and redefine your relationship with that person, allowing for a continued bond.
We don't forget our loved ones when they die. Instead, when we're ready to move forward with life, we take them with us as we add new people and write new adventures into our stories.
What if?
What if we could honor a deceased loved one, benefit the environment, and bring people together? All at the same time?
This is exactly what Dan and Carey and their family and friends did on a recent Saturday morning, making their corner of the great Pacific Northwest even more beautiful with stories and tears and laughter and trees.